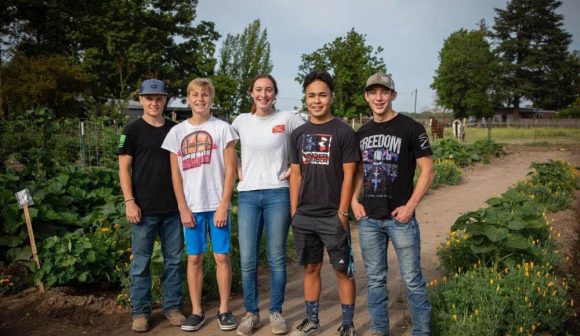 Sacramento County, CA | Northern Calif. Conference
Students from Lodi Academy were recently featured in Good Day Sacramento for a garden project called Five Teens Farm which they started to raise money for their upcoming church and class trips. Thanks to their garden, these five teens were able to pay for their sophomore year biology tour to the Mendocino Coast.
This year, the students are raising money for their East Coast history tour by growing zucchini, beets, several varieties of tomatoes, and Armenian cucumbers. Their operation also includes making homemade pickles—and they even use reclaimed wood to make decorative signs, yard art, and games.
Watch the Good Day Sacramento Interview. 
Learn more about Lodi Academy. 
"The LORD will guide you always; he will satisfy your needs in a sun-scorched land and will strengthen your frame. You will be like a well-watered garden, like a spring whose waters never fail."

– Isaiah 58:11