There are close to a quarter of a million Adventists living in the Pacific Southwest states of Arizona, California, Hawaii, Nevada, and Utah, with more than seven hundred church communities to choose from. Seventh-day Adventists have long-established passions for healthcare and education, particularly in the Pacific Southwest where our fine Christian elementary and secondary schools, universities, and health system including more than 20 first-rate hospitals make a practical difference to our communities.
Adventists in the Pacific Southwest are proud to be a part of a thriving global membership made up of 19 million people living in most of the countries in the world. This diversity is reflected in our membership here; the Pew Research Center describes our church as the most diverse in all of North America. A shared sense of community and a strong belief in Christian mission and discipleship drive our work in healthcare, education, and social justice. We enjoy worshipping together, studying the Bible together, and learning each day how to live as more effective disciples in practical ways.
Our highest priority is demonstrating the love of Jesus Christ to everyone we encounter in tangible and meaningful ways. This website highlights some of the ways we are attempting to do this without our geographical region. We hope you enjoy the site, that it provides useful and inspirational information, and most of all, that the Adventist Church can be a part of your faith journey.
A Look at the Pacific Union Region
The Pacific Union region boasts sixteen of the largest metropolitan cities in the United States. Here is a look at the people who live there.
Total Population of Major Cities in the Pacific Union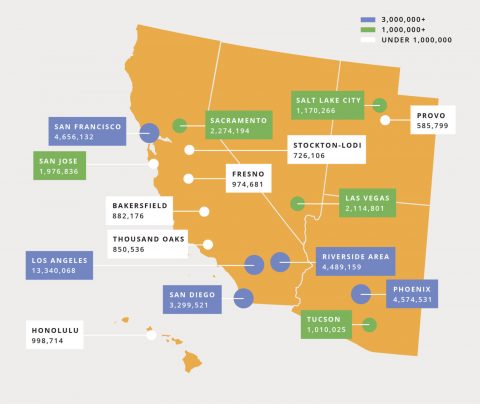 Ethnicity Breakdown of Major Cities in the Pacific Union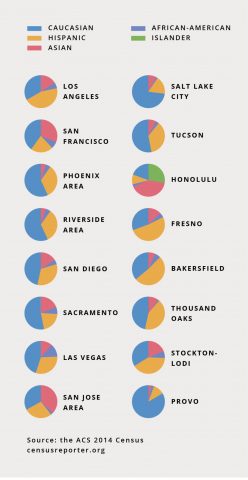 Age Breakdown of Major Cities in the Pacific Union