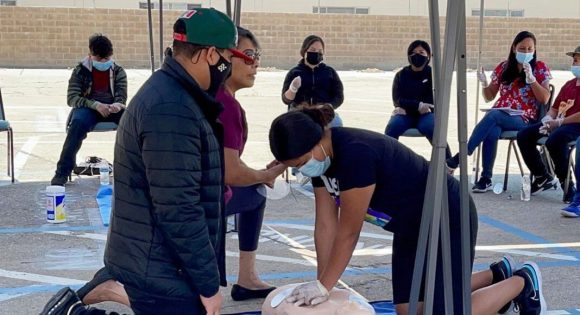 In July, seven members of the Hayward Spanish Explorers Pathfinder Club earned their First Aid and CPR certification. The youngest one to be certified is only 10 years old! Each year the club sponsors a First Aid and CPR class in Spanish for the Pathfinders and any church members who want to attend. The instruction helps the kids gain the necessary skills to complete the requirements for Pathfinder classwork and honors. Unlike many clubs, the Explorers meet year-round.
"A lot of parents are working, so we try to do more summer activities with the kids," said Cesar García, director. Running a Pathfinder club is a big investment of time and energy for the leaders. But it's worth it! "The Pathfinders are the future of our Church," said García. "They are the ones who will take our positions in the coming years."
To learn more about the Hayward Spanish SDA Church, click here. Learn more about Pathfinders in the Northern California Conference.