Have you ever wondered what happens to our students after they graduate and leave Holbrook Indian School (HIS)? For many, getting a higher education or attending trade school isn't always at the forefront of their minds. It might be due to a lack of resources to pay for college or trade school or the fact that no other member of their family has attended college. Maybe it's for other reasons. However, there are those who desire to discover what they are capable of and who want to give back to their community.
We had the blessing and privilege of catching up with three of our HIS alumni, Shawnewa, Adrienna, and Israel, to ask, "Where are they now?" Continue reading to learn more about the impact their time at HIS had on their lives.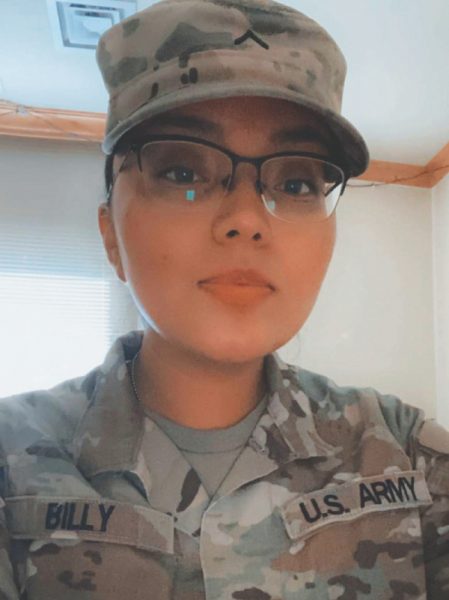 Adrienna (Class of 2019)
Adrienna is originally from Chinle and attended the Chinle Adventist Elementary School on the Navajo reservation there. After elementary school, she followed in her siblings' and cousins' footsteps to attend HIS.
Upon completion of high school, Adrienna joined the U.S. Army. When asked why she chose this route, she replied, "From early childhood, I was a supporter of the military. I worked at home after school, babysitting my niece. I wanted to do more. I wanted to be a firefighter in the Army." She spoke with a recruiter and learned about the Armed Services Vocational Aptitude Battery (ASVAB) test. The recruiter explained the job that Adrienna qualified for, and she was interested. Her Military Occupational Specialty (MOS) was 14 Echo, which is PATRIOT Fire Control Enhanced Operator Maintainer (missile systems maintenance and operation). Adrienna's Expiration Term of Service (ETS) was June 6, 2023. 
Now that she has completed her military contract, Adrienna plans to attend Northern Arizona University (NAU) Police Academy. She has a sponsoring agency while completing the program; however, she is still deciding which city she would like to work for. Adrienna said that one of the greatest impacts on her life from her time at HIS was the staff, who still keep in contact with her. "It helped me a lot during my time in the military."
Shawnewa (Class of 2020)
Shawnewa is originally from Low Mountain and is of the Navajo and Hopi tribes. She mostly attended public schools before considering HIS. During her eighth-grade year, she was asked where she would attend high school. The idea of HIS came up, but she wasn't interested. However, her grandfather wanted her to attend, and after he died, as a way of honoring his memory, she decided to enroll.
Post-graduation, she went straight into college and moved in with a host family who has supported her through college up to this point. She is currently studying human health services with the goal of becoming a doctor. She also competes in Western riding.
When asked about the impact HIS had on her, she stated, "HIS really prepared me for a lot. It served as a basis for my horse riding, helped me get where I am now, and taught me to be independent. Time management overall has helped. How things were structured at HIS prepared me for college because there are certain times to study and certain times to sleep. It helped me know how to manage my time throughout my day."
Shawnewa's plans for the future include continuing with horse competitions as well as competing in the next Miss Navajo Nation Pageant. She is pursuing a second degree at Diné College in Native American Studies, which is helping her prepare for the pageant.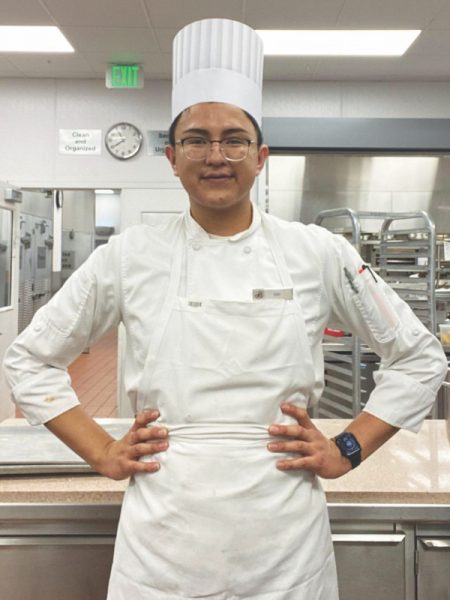 Israel (Class of 2021)
Israel is originally from the Navajo Reservation of Big Mountain. He learned of HIS because one of his sisters attended school here. He completed all four years of high school at HIS. After graduation, he stayed on campus to work for our accountant (Ms. Newhart) and business manager (Ms. Burns). He also participated in the College Transition program that we offer. After taking four classes at Northern Pioneer College (NPC), he decided that traditional college wasn't for him. 
Israel's whole family cooks. Both of his sisters were in culinary arts; they competed on a national level and won. "The one thing they always did that really intrigued me was pastry," he explained. "The details and intricacy always intrigued me." Initially, he was considering becoming an accountant, like Ms. Newhart. Then he talked with the Director of Food Services, Mrs. Espinal, who told him about culinary school. 
He prayed about it and said, "God, if you want me to do this, I'm gonna let you take the reins. I know you have a plan for me, and I don't want to ruin anything." In early spring, he started at Aguste Escoffier Culinary School. "I always knew God was there, but I never really got to know Him until I was on my own. I told Him, 'Let's do this,' and that was sort of the beginning of my relationship with Him. I didn't know how this life was going to work, this pastry chef life. You have to be perfect, on point. You have to have an 'I don't care mentality.' How do I bring [God] into this when that's the mentality? When I moved here [Colorado], I told Him, 'I want you to watch over me. Guide me through this. Guide my choices.' And that's when our relationship started to get more and more involved."
Israel says that what impacted him the most at HIS was "the care that staff had for the students. Students weren't just a 'paycheck' to staff. They got to know you, whether it was schoolwork or personal. They showed that they cared."
Although we don't always get to catch up with our students once they graduate and go out into the world to make their mark, we take advantage of whatever opportunities we are afforded to learn about their lives after Holbrook Indian School. We are grateful to the many generous friends of HIS that help us to keep our doors open to Native American children and give them the opportunity to realize their full potential as God created them to be and do. To learn more about our school, visit: HolbrookIndianSchool.org.
____________________
By Kimberly Cruz
¿Dónde están ahora?
Alguna vez se ha preguntado qué sucede con nuestros estudiantes después de graduarse y salir de Holbrook Indian School (HIS)? Para muchos obtener una educación superior o asistir a una escuela de formación vocacional no siempre está a la vanguardia en sus mentes. Puede deberse a la falta de recursos para pagar los estudios de college o de la escuela de oficios o al hecho de que ningún otro miembro de su familia lo ha hecho. Tal vez sea por otras razones. Sin embargo, hay quienes desean descubrir de lo que son capaces y quieren retribuir a su comunidad.
Tuvimos la bendición y el privilegio de ponernos al día con tres de nuestros exalumnos de HIS, Shawnewa, Adrienna e Israel, para preguntarles: «¿Dónde están ahora?» Continúe leyendo para obtener más información sobre el impacto que su tiempo en HIS tuvo en sus vidas.
Adrienna (Clase de 2019)
Adrienna es originaria de Chinle y asistió a la Chinle Adventist Elementary School en la reserva Navajo. Después de la escuela primaria, siguió los pasos de sus hermanos y primos para asistir a HIS.
Al finalizar la high school, Adrienna se unió al ejército de los Estados Unidos. Cuando se le preguntó por qué eligió eso, respondió: «Desde la infancia fui partidaria de los militares. Trabajaba en casa después de la escuela, cuidando a mi sobrina. Quería hacer más. Quería ser bombero en el ejército». Habló con un reclutador y se enteró de la prueba de Armed Services Vocational Aptitude Battery (ASVAB). El reclutador le explicó el trabajo para el que Adrienna cualificaba y ella estuvo interesada. Su especialidad ocupacional militar (MOS) era 14 Echo, que es PATRIOT Fire Control Enhanced Operator Maintainer (mantenimiento y operación de sistemas de misiles). El término del servicio (ETS) de Adrienna fue el 6 de junio de 2023. 
Ahora que ha completado su contrato militar, Adrienna planea asistir a la Northern Arizona University (NAU) Police Academy. Tiene una agencia patrocinadora mientras completa el programa; sin embargo, todavía está decidiendo para qué ciudad le gustaría trabajar. Adrienna dijo que uno de los mayores impactos en su vida en su estadía en HIS fue el personal, que todavía se mantiene en contacto con ella. «Me ayudó mucho durante mi servicio en el ejército».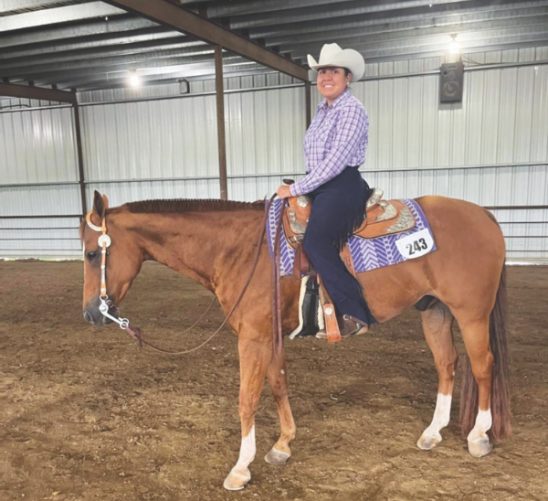 Shawnewa (Clase de 2020)
Shawnewa es originaria de Low Mountain y es de las tribus Navajo y Hopi. Asistió principalmente a escuelas públicas antes de considerar HIS. Durante su octavo grado, le preguntaron dónde asistiría a la high school. Se le sugirió ir a HIS, pero no estaba interesada. Sin embargo, su abuelo quería que asistiese y después de su muerte, como una forma de honrar su memoria, decidió inscribirse.
Después de graduarse, fue directamente a un college y se mudó con una familia anfitriona que la ha apoyado. Actualmente está estudiando servicios de salud humana con el objetivo de convertirse en doctora. También compite en equitación.
Cuando se le preguntó sobre el impacto que HIS tuvo en ella, dijo: «HIS realmente me preparó para mucho. Me sirvió de base para montar a caballo, me ayudó a llegar a donde estoy y me enseñó a ser independiente. La gestión del tiempo en general me ha ayudado. La forma como se estructuraron las cosas en HIS me preparó para el college porque me ayudó a saber cómo administrar mi tiempo a lo largo del día».
Los planes de Shawnewa para el futuro incluyen continuar con las competiciones de equitación, así como competir en el próximo concurso de Miss Nación Navajo. Está cursando un segundo título en Diné College en Estudios Nativos Americanos, que la está ayudando a prepararse para el concurso.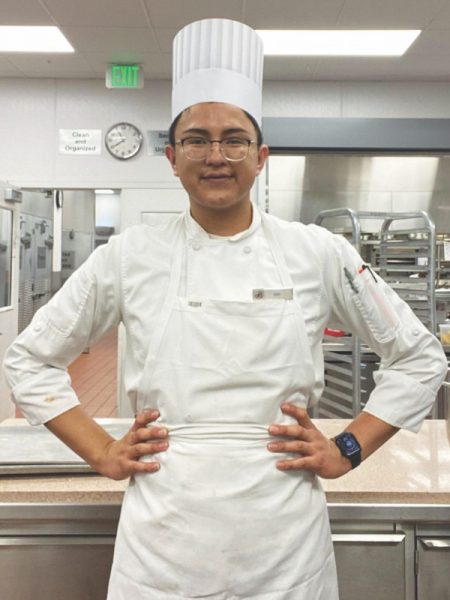 Israel (Clase de 2021)
Israel es originario de la Reserva Navajo de Big Mountain. Se enteró de HIS porque una de sus hermanas asistió a HIS. Completó los cuatro años de high school en HIS. Después de graduarse, se quedó en el campus para trabajar para nuestra contadora (la Sra. Newhart) y la gerente administrativa (la Sra. Burns). También participó en el programa de College Transition que ofrecemos. Después de tomar cuatro clases en Northern Pioneer College (NPC), decidió que los estudios tradicionales no eran para él. 
Toda la familia de Israel cocina. Sus dos hermanas estaban en artes culinarias; compitieron a nivel nacional y ganaron. «Lo que realmente me intrigó fue la pastelería», explicó. «Los detalles y la complejidad siempre me intrigaron». Inicialmente, estaba considerando ser contador, como Newhart. Habló después con la ecónoma, la Sra. Espinal, quien le habló de la escuela culinaria. 
Oró al respecto y dijo: «Señor, si quieres que haga eso, te dejaré tomar las riendas. Sé que tienes un plan para mí y no quiero arruinarlo». A principios de la primavera, comenzó en la Aguste Escoffier Culinary School. «Siempre supe que Dios existía, pero nunca llegué a conocerlo realmente hasta que estuve solo. Le dije: "Hagamos esto", y ese fue el comienzo de mi relación con él. No sabía qué iba a pasar en esta vida, esta vida de pastelero. Tienes que ser perfecto, preciso. Tienes que tener una mentalidad de "no me importa". ¿Cómo traigo [a Dios] a esto cuando esa es la mentalidad? Cuando me mudé aquí [Colorado], le dije: "Quiero que me cuides. Guía mis elecciones". Y fue entonces cuando nuestra relación comenzó a ser cada vez más profunda».
Israel dice que lo que más lo impactó en HIS fue «el cuidado que el personal tuvo por los estudiantes. Los estudiantes no eran solo un "sueldo" para el personal. Llegaron a conocerte, ya fuera trabajo escolar o personal. Demostraron que les importaba».
Aunque no siempre podemos ponernos al día con nuestros estudiantes una vez que se gradúan y salen al mundo para dejar su huella, aprovechamos cualquier oportunidad que se nos brinde para aprender de sus vidas después de Holbrook Indian School. Estamos agradecidos a los muchos amigos generosos de HIS que nos ayudan a mantener nuestras puertas abiertas a los chicos nativos americanos y les dan la oportunidad de realizar todo su potencial como Dios los creó para ser y hacer. Para obtener más información sobre nuestra escuela, visite: HolbrookIndianSchool.org.
____________________
Por Kimberly Cruz