by Becky St. Clair

When Marc Woodson, president of Northern California Conference, was in high school, the faculty yearbook sponsor gave him an opportunity that perhaps solidified his life's trajectory to land him as a leader in the church: He sent Woodson to the union's Student Leadership Conference. 

"At the time, it was really only open to student association presidents and vice presidents," Woodson recalled. "But Mr. Quinn, the yearbook sponsor, told me, 'You're a leader. You need to go.' My experience at that conference made a huge impact on me."

That was 40 years ago, and the event still serves as a bolstering and exciting opportunity for student leaders across the Pacific Union. 

"You have the cream of the crop at this event," Woodson pointed out. "The participation level is high because you have students there who are passionate about what they do and because they want to be there."

Of the 250 to 300 attendees, one of the largest groups is the religious vice presidents. When they break into groups by leadership role—what they call Birds of a Feather—this is the group Bettesue Constanzo, history teacher at La Sierra Academy, typically works with, as she has done for more than 25 years.

"During Birds of a Feather, we as group mentors help the students develop curriculum so they have tangible tools to use throughout the year," Constanzo explained.

This includes ice breakers, activities, spiritual applications, worship formats, and more. The first time they meet, the RVPs learn they will be running the early-morning worships.

"They plan it and run it; I'm just there to support," she said. "It's really cool to see kids who don't know each other working together, and it helps them practice what their job entails."

Later, Constanzo helps them debrief so they can learn from each other and make adjustments for next time.

Additionally, they talk through successful religious activities on their campuses, as well as challenges. Since everyone handles challenges in different ways, the conversation is an opportunity to help each other.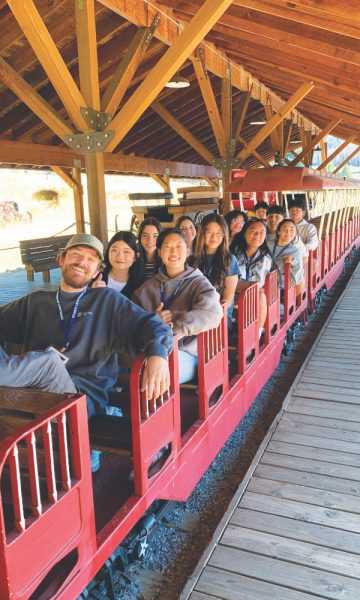 "A lot of times my role at this conference is just trying to help the student leaders problem-solve and see things in a different light so maybe they can do their job even better and feel more supported," Constanzo said.
One such student several years ago was Aren Rennacker, director of youth and young adult ministries for the Southeastern California Conference. As RVP, Rennacker attended during his senior year at Sacramento Adventist Academy. 
"It's scary to step into a leadership role as a young person," he recalled. "What made the conference meaningful to me was to be with so many other kids in the same boat as me—wondering what we'd gotten ourselves into. The community and solidarity of that space was special."
Rennacker recalled that there was meaningful worship, a great speaker, fun games, and— everyone's favorite part of the conference—Birds of a Feather. 
"Birds of a Feather shifts you from feeling unqualified and afraid to feeling qualified and excited," Rennacker said.
Even 40 years ago they were doing Birds of a Feather, and Woodson expressed fond memories of the fellowship, the education, the inspiration, and, most of all, the deep connections with other student leaders.
Those connections are not only confidence-building, they also are a crucial component to keeping young people invested in their church.
"This conference made being part of the Adventist church and school system so interesting and so valuable," Woodson recalled. "We realized during that weekend that this is our church. These leaders are investing in us, building our skills as spiritual leaders. The creativity and effort endeared me to the church and certainly played a role in me becoming a leader in the church as an adult."
An important philosophy behind the student leadership conference is that young people are not just tomorrow's leaders—they are leaders today. The goal is to equip them for continued leadership so when the time comes for them to tackle professional leadership, they're ready.
All kids, Rennacker said, have leadership qualities within them; they just have to find their unique potential and have the confidence to use it and the skills to use it well.
"Leadership doesn't happen accidentally," he added. "When we are intentional about helping these young people see they are better leaders than they realize, the payoff is tenfold."
Though the conference lasts only a couple of days, the mentoring continues. Many group leaders, like Constanzo, provide students with their contact information so they can reach out during the year with questions or for encouragement. 
Constanzo also puts together a Google Doc all attending students can access throughout the year, including Bible verses, websites, ideas, and lists. They often exchange contact information with each other and reconnect at academy events for sports and music. 
"We give them connections for added support throughout the year," Constanzo said. "It's a thankless job, really, to be a student leader, and we want to encourage and lift them up in any way we can." 
The conference isn't, Rennacker emphasized, "a factory to make pastors." Rather, it is an opportunity to show students how to use gifts they already have to make a positive impact not only on their own lives but on the lives of those around them—in whatever career they choose.
Woodson knows many people in leadership positions both within and outside of the church who attended the conference as students. "We want students to leave this conference contemplating how they can use their leadership skills for God in whatever they do in life," he said.
Though, yes, the student leadership conference is a definite benefit to the future of the church, the main focus is to shine a spotlight on the students' desire to improve their skills, gain confidence and understanding, and do their best at what they feel called to do.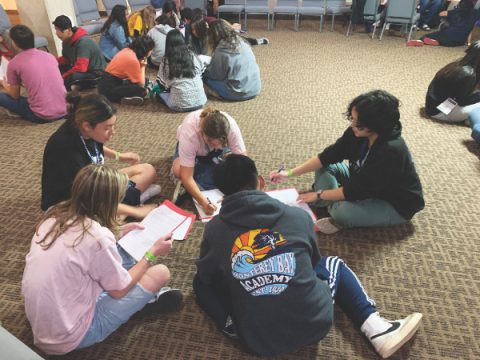 "I hope they leave the conference with the realization that within them is the ability to make a difference," Rennacker said. "We need them to show us how to be a better church."
Woodson, Rennacker, and so many others who have dedicated their lives not just to the church but to the young people within it are living proof that investing in young leaders is an investment in the future of our church, our community, and the world.
"The leadership conference helped me find my voice for leadership," Rennacker said. "Nine years later I used that voice to speak for the conference. It's a neat thing for the church to invest in leadership this way, and it really does work."
_____________________________
Becky St. Clair is a freelance writer from Angwin, California.
Cuando la iglesia invierte: el valor de la Conferencia de Liderazgo Estudiantil
Cuando Marc Woodson, presidente de la Northern California Conference, estaba en high school, el patrocinador del anuario de la facultad le dio una oportunidad que tal vez solidificó la trayectoria de su vida para llevarlo a ser un líder en la iglesia: envió a Woodson a la Conferencia de Liderazgo Estudiantil de la unión. 
«En ese momento, en realidad solo era para los presidentes y vicepresidentes de asociaciones estudiantiles», recordó Woodson. «Pero el Sr. Quinn, el patrocinador del anuario, me dijo: "Eres un líder. Tienes que ir". Mi experiencia en esa conferencia tuvo un gran impacto en mí».
Eso fue hace 40 años y el evento todavía sirve como una emocionante oportunidad de apoyo para los líderes estudiantiles de toda la Pacific Union. 
«Tienes lo más granado en ese evento», señaló Woodson. «El nivel de participación es muy elevado porque hay estudiantes que sienten pasión por lo que hacen y porque quieren estar ahí».
De los 250 a 300 asistentes, uno de los grupos más grandes son los vicepresidentes de religión (RVPs). Cuando se dividen en grupos por su papel de liderazgo —que lo llaman «Birds of a feather» [aves del mismo plumaje]—, ese es el grupo con el que Bettesue Constanzo, profesora de historia en La Sierra Academy, suele trabajar, como lo ha hecho durante más de 25 años.
«Durante Birds of a Feather, nosotros, como mentores de grupo, ayudamos a los estudiantes a desarrollar un plan de estudios para que tengan herramientas tangibles para usar durante todo el año escolar», explicó Constanzo.
Eso incluye rompehielos, actividades, aplicaciones espirituales, formatos de adoración y más. La primera vez que se reúnen, los RVPs se enteran de que llevarán a cabo los cultos matutinos.
«Los planifican y los ejecutan; solo estoy con ellos para apoyarles», dijo. «Es realmente genial ver a los chicos —que hasta ese momento no se conocían— trabajar juntos y eso les ayuda a practicar lo que implica su puesto».
Más tarde Constanzo les ayuda a hacer una evaluación para aprender unos de otros y hacer ajustes para la próxima vez.
Además, hablan sobre actividades religiosas exitosas en sus campus, así como de sus desafíos. Dado que todos lidian con desafíos de diferentes maneras, la conversación es una oportunidad para ayudarse mutuamente.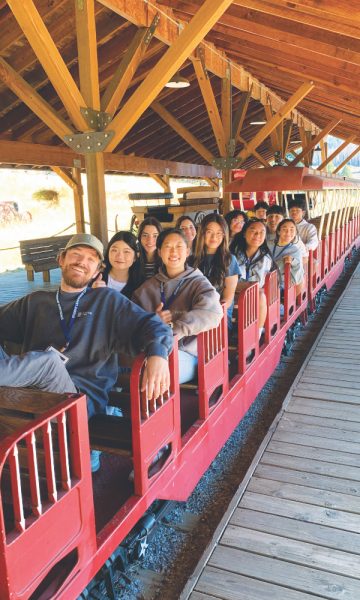 «Muchas veces mi papel en esa conferencia es solo tratar de ayudar a los estudiantes-líderes a resolver problemas y ver las cosas bajo una luz diferente para que tal vez puedan desempeñar su puesto aún mejor y sentirse más apoyados», dijo Constanzo.
Uno de esos estudiantes hace varios años fue Aren Rennacker, director de jóvenes de la Southeastern California Conference. Como RVP, Rennacker asistió durante su último año en la Sacramento Adventist Academy. 
«Da miedo asumir un papel de liderazgo cuando eres joven», recordó. «Lo que hizo que la conferencia fuese significativa para mí fue estar con tantos otros chicos en la misma situación que yo, preguntándonos en qué nos habíamos metido. La comunidad y la solidaridad de ese espacio fue especial».
Rennacker recordó que el culto fue significativo, un gran orador, juegos divertidos y, la parte favorita de todos de la conferencia: Birds of a Feather. 
«Birds of a Feather te hace ir de sentirte nada cualificado y temeroso a sentirte cualificado y emocionado», dijo Rennacker.
Incluso hace 40 años estaban haciendo Birds of a Feather y Woodson expresó buenos recuerdos de la confraternidad, la educación, la inspiración y, sobre todo, las profundas conexiones con otros líderes estudiantiles.
Esas conexiones no solo fomentan la confianza, sino que también son un componente crucial para mantener a los jóvenes involucrados en la iglesia.
«Esa conferencia hizo que ser parte de la iglesia adventista y del sistema escolar fuese tan interesante y tan valioso», recordó Woodson. «Nos dimos cuenta durante ese fin de semana que esta es nuestra iglesia. Esos líderes están invirtiendo en nosotros, desarrollando nuestras habilidades como líderes espirituales. La creatividad y el esfuerzo me hicieron querer a la iglesia y ciertamente jugaron un papel en que me convirtiese en un líder de la iglesia de adulto».
Una filosofía importante detrás de la conferencia de liderazgo estudiantil es que los jóvenes no son solo los líderes del mañana, son los líderes de hoy. El objetivo es equiparlos para un liderazgo continuo para que, cuando llegue el momento de abordar el liderazgo profesional, estén preparados.
Todos los chicos, dijo Rennacker, tienen cualidades de liderazgo en sí; solo tienen que encontrar su potencial y tener la confianza para usarlo y las habilidades para usarlo bien.
«El liderazgo no ocurre accidentalmente», agregó. «Cuando tenemos la intención de ayudar a esos jóvenes a ver que son mejores líderes de lo que creen, la recompensa se cuadruplica».
Aunque la conferencia dura solo un par de días, la tutoría continúa. Muchos líderes de grupo, como Constanzo, proporcionan a los estudiantes su información para estar en contacto durante el año con preguntas o para alentarlos. 
Constanzo también elabora un documento de Google al que todos los estudiantes asistentes pueden acceder durante todo el año, que incluye versículos bíblicos, sitios web, ideas y listas. A menudo intercambian información de contacto entre sí y se vuelven a conectar en eventos de la academia como deportes y música. 
«Les damos conexiones para un apoyo adicional durante todo el año», dijo Constanzo. «Es una labor poco apreciada, realmente, ser un líder estudiantil, y queremos alentarlos y motivarlos de cualquier manera que podamos». 
La conferencia no es, Rennacker enfatizó «una fábrica para hacer pastores». Más bien, es una oportunidad para mostrar a los estudiantes cómo usar los dones que ya tienen para tener un impacto positivo no solo en sus vidas sino en las vidas de quienes los rodean, en cualquier carrera que elijan».
Woodson conoce a muchas personas en puestos de liderazgo tanto dentro como fuera de la iglesia que asistieron a una de esas conferencias como estudiantes. «Queremos que los estudiantes salgan de esa conferencia contemplando cómo pueden usar sus habilidades de liderazgo para Dios en cualquier cosa que hagan en la vida», dijo.
Aunque, sí, la conferencia de liderazgo estudiantil es de un beneficio definitivo para el futuro de la iglesia, su objetivo principal es destacar el deseo de los estudiantes de mejorar sus habilidades, ganar confianza y comprensión, y hacer todo lo posible en lo que se sientan llamados a hacer.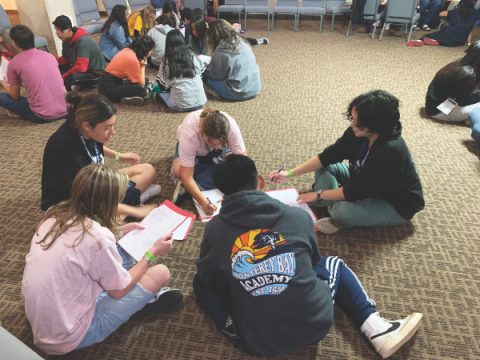 «Espero que salgan de la conferencia con la comprensión de que en ellos está la capacidad de hacer un impacto positivo», dijo Rennacker. «Necesitamos que nos muestren cómo ser una mejor iglesia».
Woodson, Rennacker, Constanzo y muchos otros que han dedicado sus vidas no solo a la iglesia sino a sus jóvenes, son una prueba viva de que invertir en líderes jóvenes es una inversión en el futuro de nuestra iglesia, nuestra comunidad y el mundo.
«La conferencia de liderazgo me ayudó a encontrar mi voz para el liderazgo», dijo Rennacker. «Nueve años después usé esa voz para hablar como invitado a una de esas conferencias. Es algo bueno para la iglesia invertir en liderazgo de esa manera y realmente funciona».
_____________________________
Becky St. Clair es una escritora de Angwin, California.