Almost 1,000 people gathered in Phoenix, Arizona, during its August heat wave for the West Coast Youth Congress (WCYC).  Every five years, youth and young adults join pastors and their families from the Pacific Union and North Pacific Union for this exciting congress.  This event aims to empower, develop, and disciple urban youth and young adults to be leaders for Christ in both their churches and communities. 
This year's theme was "Influencer."  Youth and young adults were encouraged and equipped to become an influencer for Christ, which is "a modern-day disciple who loves Christ, leads culture, and influences others to follow," said Michael Jenkins, pastor of Las Vegas Abundant Life church and one of the event organizers.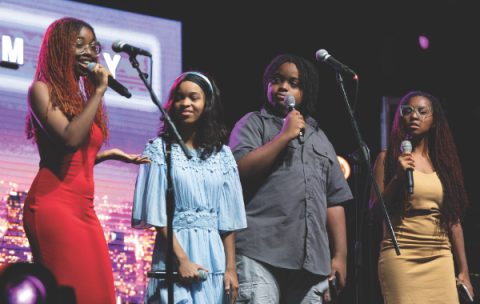 The general sessions were hosted by the Onyx family, social media influencers in their own right.  They have 3.8 million subscribers and well over 2.5 billion views on YouTube.  They shared their testimony of being influencers for Christ in social media spaces.
The young people of Southeastern California Conference (SECC) had the opportunity to partner with Feed My Starving Children (FMSC), a Christian nonprofit that provides hope through food.  SECC youth packed 121 boxes of food.  Those boxes will provide 26,000 meals and will feed 71 kids for a whole year.
The community service project was impactful to the young people. "The highlight of WCYC to me was the community service project because it was fun, and we were able to help kids in need," said Kevin Henry, one of the attendees.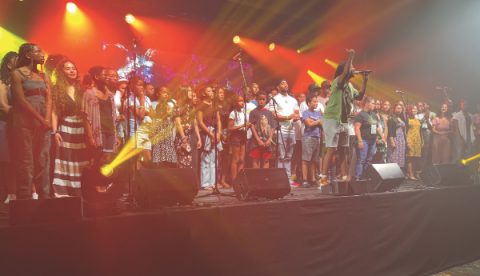 "I experienced God while helping pack food for the kids," said Jonathan Howard, another participant.
There were seminars on Christian content creation, launching tech startups, influencing in social media spaces, and leadership.  On Saturday afternoon, there was a seminar on worship.  The Holy Spirit moved, and as the young people worshipped together, they spontaneously began to write a song.  They shared it a few hours later at the closing vespers.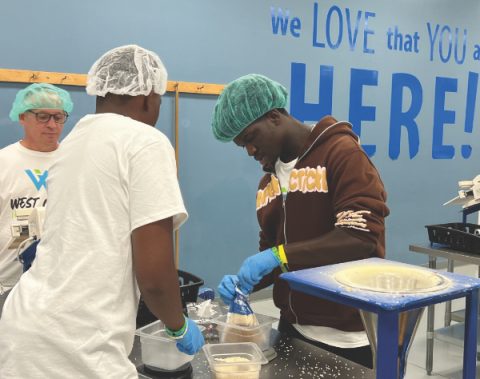 The lyrics they wrote captured the experience of attendees:
Something happened here.
Something made me change.
In the atmosphere–
Never be the same.
Over 100 people responded to the appeals, and 25 people made decisions for baptism.  "Several of my youth made decisions for baptism while attending. Kids connecting to God could be seen everywhere," said Eric Penick, pastor of Valley church and one of the organizers for the event.
___________________
By Andrea King
Congreso juvenil de la costa oeste
Casi 1,000 personas se reunieron en Phoenix, Arizona, durante su ola de calor de agosto para el West Coast Youth Congress (WCYC).  Cada cinco años, los jóvenes se unen a pastores y sus familias de la Pacific Union y la North Pacific Union para ese emocionante congreso. Ese evento tiene como objetivo empoderar, desarrollar y discipular a jóvenes urbanos para que sean líderes para Cristo tanto en sus iglesias como en su comunidad. 
El tema de este año fue «Influencer».  Los jóvenes fueron alentados y equipados para convertirse en una influencia para Cristo, que es «un discípulo moderno que ama a Cristo, lidera la cultura e influye en otros para que lo sigan», dijo Michael Jenkins, pastor de la iglesia Abundant Life de Las Vegas, uno de los organizadores del evento.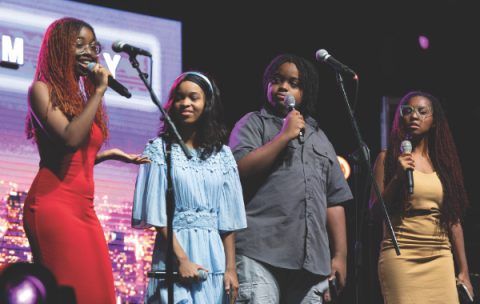 Las sesiones generales fueron organizadas por la familia Onyx, ellos mismos influencers de las redes sociales. Tienen 3.8 millones de suscriptores y más de 2.5 mil millones de visitas en YouTube. Compartieron su testimonio de ser personas influyentes para Cristo en los espacios de las redes sociales.
Los jóvenes de la Southeastern California Conferencee (SECC) tuvieron la oportunidad de asociarse con Feed My Starving Children, una organización cristiana sin fines de lucro que brinda esperanza a través de la comida.  Los jóvenes de SECC empacaron 121 cajas de alimentos. Esas cajas proporcionarán 26,000 comidas y alimentarán a 71 niños durante todo un año.
El proyecto de servicio comunitario fue impactante para los jóvenes. «Lo más destacado de WCYC para mí fue el proyecto de servicio comunitario porque fue divertido y pudimos ayudar a los niños necesitados», dijo Kevin Henry, uno de los asistentes.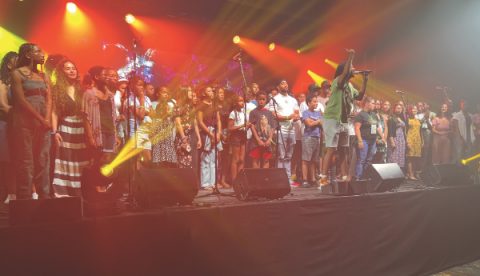 «Experimenté a Dios mientras ayudaba a empacar comida para los niños», dijo Jonathan Howard, otro participante.
Hubo seminarios sobre creación de contenido cristiano, lanzamiento de nuevas empresas tecnológicas, influencia en los espacios de redes sociales y liderazgo. El sábado por la tarde, hubo un seminario sobre la adoración. El Espíritu Santo se hizo sentir y mientras los jóvenes adoraban juntos espontáneamente comenzaron a escribir un canto. Lo compartieron unas horas más tarde en el servicio vespertino de clausura.
La letra que escribieron capturaron la experiencia de los asistentes:
Algo sucedió aquí.
Algo me hizo cambiar.
En la atmósfera–
Nunca seas el mismo.
Más de 100 personas respondieron a los llamados y 25 tomaron decisiones para el bautismo.  «Varios de mis jóvenes tomaron decisiones para el bautismo mientras asistían. Los chicos que se conectaban con Dios se podían ver en todas partes», dijo Eric Penick, pastor de la iglesia Valley y uno de los organizadores del evento.
___________________
Por Andrea King