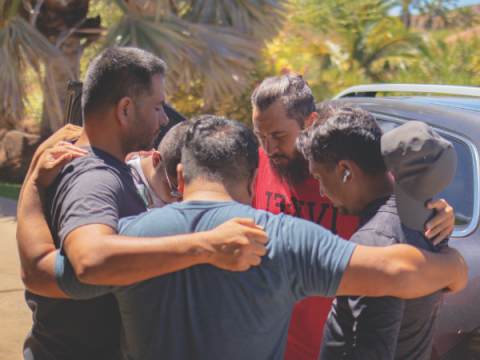 By the time the wildfires that engulfed the western portion of Maui were officially extinguished, efforts to help the community were already well underway. Untouched by the fires that had surrounded it only days before, the Kahului church became a base of operations for relief efforts in the area. 
Over the next couple of weeks, those affected by the fires were able to go to the Kahului church to receive assistance from Adventist Community Services and members of the church. This included helping them file claims for insurance and federal aid, referring them to specialists that could help with any mental or physical trauma they had experienced, finding a place for them and their families to stay, or simply offering them a warm meal. The church also provided people with a sense of normality by hosting a number of birthday parties and holding regular worship services.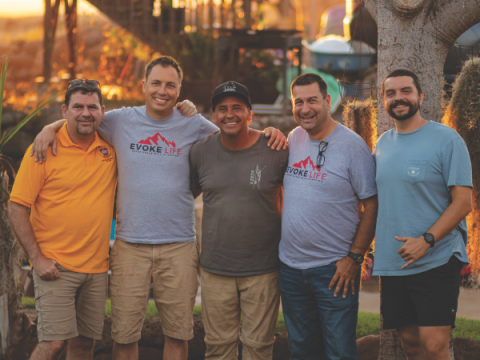 During this time of rebuilding for the community, many conference leaders and local church members stepped up to help wherever there was a need. Coordinating the relief efforts was Erik VanDenburgh, conference president, with help from Mark Tameleaa, ACS Hawaii director, and the pastor of Kahului church, Vassili Khrapov. Those in need of counseling were able to find friendly faces in the form of Pastor Ben Williams and Pastor Ramel Ramos, who offered spiritual and emotional care to those in need. A local couple, Krista and Ryan Nelson, stepped up and helped the community by building mobile showers to provide the opportunity to get clean. 
One of the biggest forms of help came from Chosen Rentals, a rental car service run by Jon and Karissa Baker. Because of the fires, Jon and Karissa were unable to rent their cars to tourists. Not seeing a point in having the cars just sit there, they generously loaned vehicles to those without a means of transportation for as long as they needed them.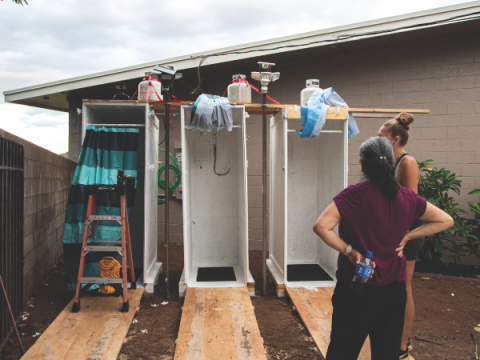 We praise God that many of those affected have been helped and are no longer in immediate need of the basic necessities; however, there is still a lot of work to be done in Maui. If you want to help support and show the love of God to the people of Maui, please consider going to www.HAWAIISDA.com and donating. Pray for us and the families on Maui as we continue down the road to recovery. 
____________________
By Caleb Schaber 
Programas de socorro en curso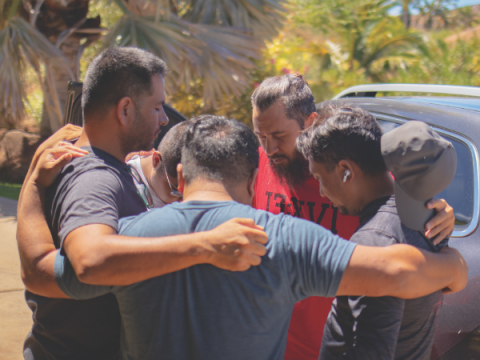 Para cuando los incendios forestales que envolvieron la parte occidental de Maui se extinguieron oficialmente, los esfuerzos para ayudar a la comunidad ya estaban en marcha. Intacta por los incendios que la habían rodeado solo unos días antes, la iglesia de Kahului se convirtió en una base de operaciones para los esfuerzos de socorro en la zona. 
Durante las dos semanas siguientes, los afectados por los incendios pudieron ir a la iglesia de Kahului para recibir ayuda de Adventist Community Services y de los miembros de la iglesia. Eso incluía ayudarlos a presentar reclamos de seguro y ayuda federal, referirlos a especialistas que pudieran ayudarlos con cualquier trauma mental o físico que hubieran experimentado, encontrar un lugar para que ellos y sus familias se quedaran, o simplemente ofrecerles una comida caliente. La iglesia también brindó a las personas una sensación de normalidad al ser anfitriona de una serie de fiestas de cumpleaños y la celebración regular de servicios de adoración.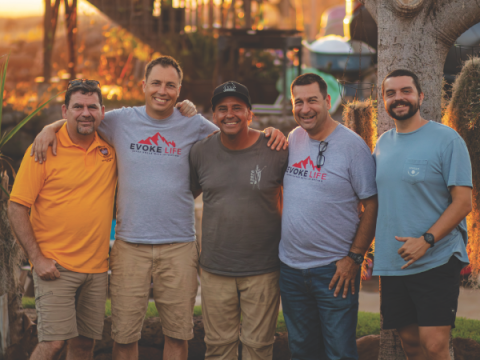 Durante ese tiempo de reconstrucción para la comunidad, muchos líderes de la conferencia y miembros de iglesia dieron un paso al frente para ayudar dondequiera que hubiera una necesidad. Erik VanDenburgh, presidente de la conferencia, coordinó los esfuerzos de socorro con la ayuda de Mark Tameleaa, director de ACS Hawaii, y el pastor de la iglesia de Kahului, Vassili Khrapov. Aquellos que necesitaban consejería pudieron encontrar rostros amigables en la forma del pastor Ben Williams y el pastor Ramel Ramos, quienes ofrecieron atención espiritual y emocional a los necesitados. Una pareja, Krista y Ryan Nelson, dieron un paso al frente y ayudaron a la comunidad construyendo duchas móviles para brindar la oportunidad de asearse. 
Una de las mayores formas de ayuda provino de Chosen Rentals, un servicio de alquiler de coches dirigido por Jon y Karissa Baker. Debido a los incendios, Jon y Karissa no pudieron alquilar sus autos a los turistas. Al no ver el sentido de que los coches estuviesen inactivos, prestaron generosamente sus vehículos a los que no tenían un medio de transporte durante el tiempo que los necesitaran.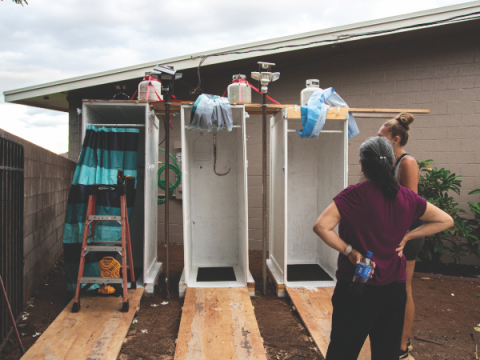 Alabamos a Dios porque muchos de los afectados han sido ayudados y ya no tienen necesidad inmediata de ayuda humanitaria para sus necesidades básicas; sin embargo, todavía queda mucho trabajo por hacer en Maui. Si desea ayudar a apoyar y mostrar el amor de Dios a la gente de Maui, considere ir a www.hawaiisda.com y donar. Oren por nosotros y las familias en Maui mientras continuamos por el sendero hacia la recuperación. 
____________________
Por Caleb Schaber