The history of the Haven congregation goes back almost five years. After Edbert Carceler returned from a six-month evangelism and church building project in the Philippines in the winter of 2018, he started a Bible study group that would meet on a weekly basis with 12 attendees.
By 2019, the group had doubled to 25 regular attendees and was meeting in a rented chapel in Anaheim. By the spring of 2020, the congregation had grown to 50 members. The pandemic affected this congregation as it did others, but the members stayed faithful, and the group continued to grow. The congregation held Bible studies on Zoom and later met outdoors for in-person worship services, all the while looking for a new home. At this time, the group's leadership was also seeking official affiliation with the Seventh-day Adventist denomination.
In 2021, the group's prayer for a new location was answered as they moved to their current rented facility in Hawaiian Gardens, where they continued to grow to around 60 attendees every Sabbath. This is the same year that Haven was recognized as a group of the Southern California Conference (SCC) under the Pasadena church. 
In the spring of 2022, the congregation had grown to welcome 100 attendees to worship. Today, the Haven company is a vibrant congregation with a passion for reaching the surrounding community for Christ. 
At the organization service this summer, SCC leaders recognized the congregation's growth and encouraged the members in their ministry as a company.
SCC Executive Secretary John H. Cress acknowledged how Haven has met, and even surpassed, the requirements for a company. "All these results and accomplishments reflect a church…that's committed to the gospel commission and to the great commandment to love one another, to love our neighbors, and love God with all our hearts," he said.
In his challenge to the company, Velino A. Salazar, SCC president, encouraged the members to be disciples who teach others as they lead them to Jesus, noting the value of cultural relevance. "Brothers and sisters, teaching takes time," Salazar said. "So the most effective way is to reach out to people for Christ with someone from the same culture, who speaks the same language and understands the same set of values." 
Kathleen Diaz, SCC treasurer/CFO, encouraged the church in outreach and provided a $2,500 gift on behalf of SCC to support the work of evangelism. "Wherever you are placed, be a blessing to your community. Go and tend to those who have never heard about Christ," she said. 
The service highlighted the active youth ministry at the church and the commitment of the congregation's leaders. "I never even expected we can be a company as soon as this," said Carceler, "but the Lord has blessed." 
____________________
By Lauren Lacson
Recién organizada compañía Haven: «un remanso de amor para la comunidad»
La historia de la congregación de Haven se remonta a casi cinco años. Después de que Edbert Carceler regresó de un proyecto de evangelismo y construcción de iglesias de seis meses en las Filipinas en el invierno de 2018, comenzó un grupo de estudio bíblico que se reunía semanalmente con 12 asistentes.
Para 2019, el grupo se había duplicado a 25 asistentes regulares y se reunía en una capilla alquilada en Anaheim. Para la primavera de 2020, la congregación había crecido a 50 miembros. La pandemia afectó a esa congregación como a otras, pero los miembros se mantuvieron fieles y el grupo continuó creciendo. La congregación realizó estudios bíblicos por Zoom y después se reunió al aire libre para servicios de adoración en persona, mientras buscaban un nuevo hogar. En ese momento, el liderazgo del grupo también buscaba la afiliación oficial con la denominación adventista del séptimo día.
En 2021, la oración del grupo por una nueva ubicación fue respondida cuando se mudaron a sus instalaciones alquiladas actuales en Hawaiian Gardens, donde continuaron creciendo a alrededor de 60 asistentes cada sábado. Ese es el mismo año en el que Haven fue reconocido como un grupo de la Southern California Conference (SCC) bajo la iglesia de Pasadena. 
En la primavera de 2022, la congregación había crecido para dar la bienvenida a 100 asistentes. En la actualidad, la Haven Company es una congregación vibrante con una pasión por alcanzar a la comunidad para Cristo. 
En el servicio de organización de este verano, los líderes de la SCC reconocieron el crecimiento de la congregación y alentaron a los miembros en su ministerio como compañía.
El Secretario Ejecutivo de la SCC, John H. Cress, reconoció cómo Haven ha cumplido, e incluso superado, los requisitos para una compañía. «Todos esos resultados y logros reflejan una iglesia... que está comprometida con la comisión del evangelio y con el gran mandamiento de amarnos unos a otros, amar a nuestro prójimo y amar a Dios con todo nuestro corazón», dijo.
En su desafío a la compañía, Velino A. Salazar, presidente de la SCC, alentó a los miembros a ser discípulos que enseñan a otros mientras los guían a Jesús, señalando el valor de la relevancia cultural. «Hermanos, enseñar lleva tiempo», dijo Salazar. «Así que la manera más efectiva es llegar a las personas para Cristo con alguien de la misma cultura, que habla el mismo idioma y entiende el mismo conjunto de valores».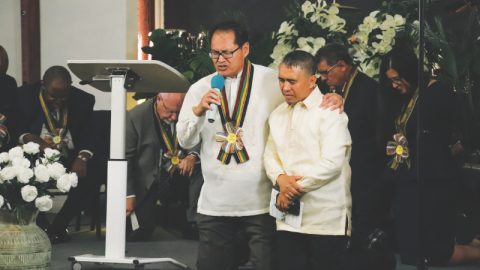 Kathleen Díaz, tesorera/CFO de SCC, alentó a la iglesia en el ministerio y proporcionó una donación de $2,500 en nombre de la SCC para apoyar el trabajo de evangelismo. «Dondequiera que se encuentren, sean una bendición para su comunidad. Vayan y atiendan a aquellos que nunca han oído hablar de Cristo», dijo. 
El servicio destacó el activo ministerio juvenil de la iglesia y el compromiso de los líderes de la congregación. «Nunca esperé que pudiésemos ser una compañía tan pronto», dijo Carceler, «pero el Señor nos ha bendecido». 
____________________
Por Lauren Lacson