In October 2021, a devastating fire consumed one-third of Bonacca cay off the island of Guanaja, Honduras. Among the more than 200 homes and businesses damaged or destroyed by the fire was the Adventist school, Instituto Adventista Guanaja, which sustained damage to its third floor. The need to rebuild what was damaged was immediate; however, since then, slow progress has been made due to few available workers and limited resources.  
This summer, a group of 10 missionaries from the Southern California Conference (SCC) arrived in Bonacca to provide relief to this community through reconstruction of the school, hosting a Vacation Bible School (VBS) program, and distributing reading glasses and sunglasses.
Bonacca is a densely populated cay located off the coast of Guanaja, the second largest of the three Bay Islands off the northern coast of Honduras. To get to the cay, you must fly into Roatán, then fly into Guanaja, and then take a small boat to Bonacca. The cay is home to about 5,000 people.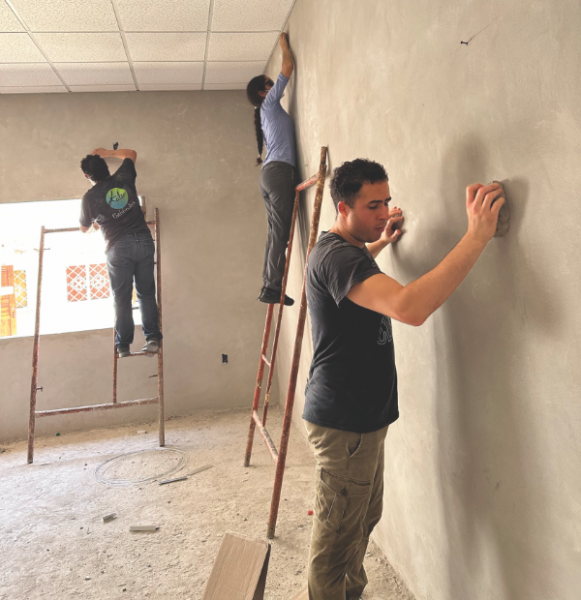 A small group of SCC youth leaders visited Bonacca in 2022 to see the damage firsthand. While there, the local pastor, school principal, and church leaders shared about the difficulty rebuilding and the school's importance to Bonacca. 
Emmanuel Olguín, associate pastor of Central Spanish church, was a part of that first trip and this year's mission. "When I went for the pre-trip, I realized how much of a need there was," Olguín said. "They told us, 'We wish we could hire people, but there's no one to hire.' So they rely on groups who come in and work for a few weeks at a time until the next group comes in."
Each day, the team, led by Jaime Heras, SCC Hispanic Region director, worked on construction in the morning and ran the Stellar VBS program in the evening. On the first night, 75 kids arrived for VBS, most of whom attended the local public school. As the week went on, more kids joined.
One evening, Heras shared the story of Jesus riding on a donkey into Jerusalem. Heras asked the kids what they would shout if Jesus did this today. As the kids took his question literally by shouting their replies, one pulled Heras aside to whisper, "If Jesus was here today, I would scream and say, 'Jesus, I love you with all my heart.'" "I thought in that moment," Heras recalled, "this mission trip was worth it, just because of that one kid."
The turnout of kids at VBS each night showed the SCC missionaries how crucial the completion of this school is to the Guanaja community. SCC donated $50,000 to purchase land for expansion, but there is still much work to be done. "This work is ongoing," Heras said. "There's still a long way to go." If you would like to get involved, reach out to Principal Rigoberto Dawkins, rdawkinsb@hotmail.com.
____________________
By Araya Moss
Misioneros ayudan a reconstruir la esperanza en Guanaja, Honduras
En octubre de 2021, un devastador incendio consumió un tercio del cayo Bonacca frente a la isla de Guanaja, Honduras. Entre las más de 200 casas y negocios dañados o destruidos por el incendio estaba la escuela adventista, Instituto Adventista Guanaja, que sufrió daños en su tercer piso. La necesidad de reconstruir lo dañado fue inmediata; sin embargo, desde entonces, se ha avanzado lentamente debido a la escasez de trabajadores disponibles y los limitados recursos.  
Este verano, un grupo de 10 misioneros de la Southern California Conference (SCC) llegó a Bonacca para brindar alivio a esa comunidad a través de la reconstrucción de la escuela, organizando un programa de Escuela Bíblica de Vacaciones (EBV) y distribuyendo anteojos para leer y lentes de sol.
Bonacca es un cayo densamente poblado ubicado frente a la costa de Guanaja, la segunda más grande de las tres Islas de la Bahía frente a la costa norte de Honduras. Para llegar al cayo, se debe volar a Roatán, después volar a Guanaja y entonces tomar un pequeño bote a Bonacca. El cayo es el hogar de unas 5.000 personas.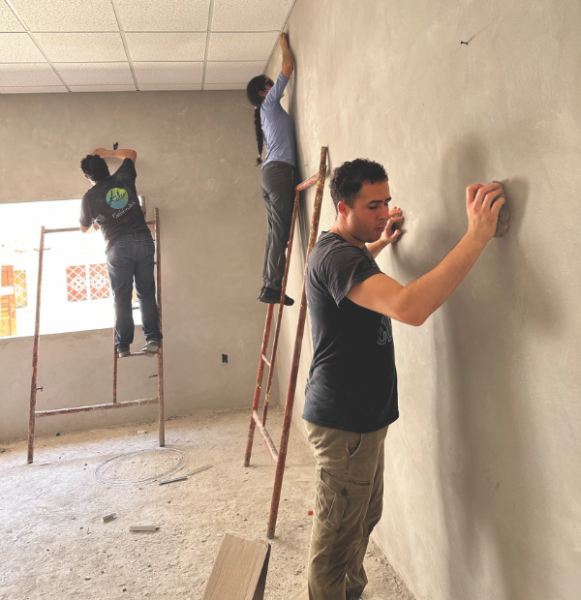 Un pequeño grupo de líderes juveniles de SCC visitó Bonacca en 2022 para ver el daño de primera mano. Mientras estaban ahí, el pastor, el director de la escuela y los líderes de la iglesia compartieron sobre la dificultad de reconstruir y la importancia de la escuela para Bonacca. 
Emmanuel Olguín, pastor asociado de la Iglesia Central, fue parte de ese primer viaje y de la misión de este año. «Cuando fui para el viaje previo, me di cuenta de cuánta necesidad había», dijo Olguín. «Nos dijeron: "Ojalá pudiésemos contratar gente, pero no hay nadie a quien contratar". Así que dependen de grupos que vienen y trabajan durante unas semanas a la vez hasta que llega el siguiente grupo».
Cada día, el equipo, dirigido por Jaime Heras, director de la Región Hispana de la SCC, trabajó en la construcción por la mañana y dirigió el programa Stellar VBS por la noche. En la primera noche, 75 niños llegaron para la EBV, la mayoría de los cuales asistían a la escuela pública. A medida que avanzaba la semana, más niños se unieron.
Una noche, Heras compartió la historia de Jesús montado en un burro en Jerusalén. Heras preguntó a los niños qué gritarían si Jesús hiciese esto hoy. Mientras los niños tomaban su pregunta literalmente gritando sus respuestas, uno apartó a Heras para susurrarle: «Si Jesús estuviese aquí hoy, gritaría y diría: "Jesús, te amo con todo mi corazón"». «Pensé que en ese momento», recordó Heras, «este viaje misionero valió la pena, solo por ese niño».
La participación de niños en la EBV cada noche mostró a los misioneros de la SCC cuán crucial es la finalización de esa escuela para la comunidad de Guanaja. SCC donó $50,000 para comprar un terreno para su expansión, pero todavía hay mucho trabajo por hacer. «Este trabajo está en curso», dijo Heras. «Todavía hay un largo camino por recorrer». Si desea participar, comuníquese con el director Rigoberto Dawkins, rdawkinsb@hotmail.com.
____________________
Por Araya Moss