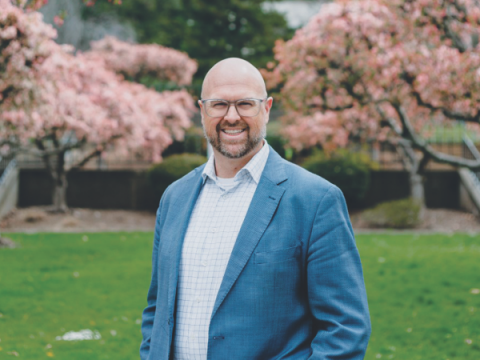 Nate Furness is the new lead pastor for the Pacific Union College church. Born in Seattle, Wash., and raised in Orange County, Calif., Pastor Nate began his pastoral ministry at Westminster Good Samaritan church, then became the lead pastor at the Costa Mesa church, and then was offered the same position at Napa Community church. Having a passion for Adventist education made him decide to accept this position at PUC, and the college could not be more excited to see Pastor Nate lead the students and church.
What did you want to be when you were younger?
I wanted to be a pastor or a fireman. I am a pastor's kid, and as I was growing up, I watched my father. I knew I wanted to be like him. In college, I didn't choose a religion degree. I knew what it meant to be a pastor, and I wasn't ready to fulfill that obligation. I graduated with an education degree in health, wellness, and physical education.
When did you first feel the call to be a pastor?
Early on, but I didn't think I was ready. I had some growing to do. After I married Jennie in 2005, I knew it was time to become a pastor.
What made you decide to accept this position?
I have a passion for Adventist education. I want to be part of preparing young adults to serve Jesus in their context. We want to prepare nurses, psychologists, filmmakers, teachers, pastors, and others to share the love of Jesus with everyone they encounter.
What are your spiritual goals for the campus?
To prepare young people to be missionaries in their professional context, to disciple and mentor young people, and to demonstrate that life is joyful and that we are better in community.
What methods do you use to stay connected with young people and be a mentor to them throughout their spiritual lives?
I like to connect with them in the classroom and during intramurals and invite students into our home. I plan to be present in the student center and available to chat. For those wishing to go deeper, I would schedule meetings where we can listen and encourage.
What makes pastoring a campus church special to you?
Community. I love that there is a variety of people on campus. I look forward to working with administration and the various departments to lean into our spiritual development.
How can your new PUC family serve and support you and your family as you minister to us?
Encouragement. We all need to be encouraged, even the pastors.
What is your favorite thing about being part of the PUC family?
The people. I love that we live in a community where we run into people we know all the time. I love the campus. I love that PUC has hundreds, if not thousands, of acres to explore on bike and foot.
What do you enjoy doing outside of work?
Cycling, snowboarding, wakeboarding, and being with my family.
Conozca a Nate Furness: Nuevo Pastor de Pacific Union College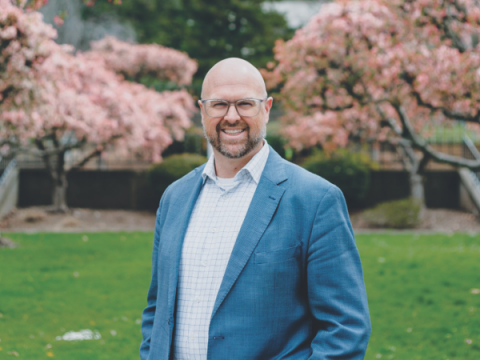 Nate Furness es el nuevo pastor de la iglesia de Pacific Union College. Nacido en Seattle, Washington, y creció en el condado de Orange, California, comenzó su ministerio pastoral en la iglesia Westminster Good Samaritan, después fue pastor de la iglesia de Costa Mesa, y más tarde se le ofreció el mismo puesto en la iglesia Napa Community. Tener una pasión por la educación adventista lo hizo decidir aceptar ese puesto en PUC, y el college no podría estar más entusiasmado de ver al pastor Nate dirigir a los estudiantes y a la iglesia.
¿Qué quería ser cuando era más joven?
Quería ser pastor o bombero. Soy hijo de un pastor y mientras crecía, observaba a mi padre. Sabía que quería ser como él. En college, no elegí una carrera en religión. Sabía lo que significaba ser pastor y no estaba listo para cumplir con esa obligación. Me gradué con un título en educación en salud, bienestar y educación física.
¿Cuándo sintió por primera vez el llamado a ser pastor?
Al principio, pero no pensé que estuviese listo. Tenía que crecer en algunas áreas. Después de casarme con Jennie en 2005, supe que era hora de ser pastor.
¿Qué le hizo aceptar este puesto?
Tengo una pasión por la educación adventista. Quiero ser parte en la preparación de jóvenes para servir a Jesús. Queremos preparar enfermeras, psicólogos, cineastas, maestros, pastores y muchos más para compartir el amor de Jesús con todos.
¿Cuáles son sus metas espirituales para el campus?
Preparar a los jóvenes para ser misioneros en su contexto profesional, para discipular y guiar a los jóvenes, y para demostrar que la vida es alegre y que somos mejores en comunidad.
¿Qué métodos utiliza para mantenerse conectado con los jóvenes y ser un mentor para ellos a lo largo de su vida espiritual?
Me gusta conectarme con ellos en el aula y durante los intramuros e invitar a los estudiantes a nuestra casa. Planeo estar presente en el centro estudiantil y disponible para charlar. Para aquellos que deseen profundizar, programaría reuniones donde podamos escuchar y alentar.
¿Qué hace especial ser el pastor de esta iglesia?
Comunidad. Me encanta que haya una variedad de personas en el campus. Espero trabajar con la administración y los diversos departamentos para apoyar en nuestro desarrollo espiritual.
¿Cómo puede su nueva familia de PUC servirle y apoyarle y a su familia mientras?
Estímulo. Todos necesitamos ser alentados, incluso los pastores.
¿Qué es lo que más le gusta de ser parte de la familia de PUC?
La gente. Me encanta que vivamos en una comunidad donde todo el tiempo nos encontramos con personas que conocemos. Me encanta el campus. Me encanta que PUC tenga cientos, si no miles, de acres para explorar en bicicleta y a pie.
¿Qué le gusta hacer fuera de su trabajo?
Ciclismo, snowboard, wakeboard y estar con mi familia.