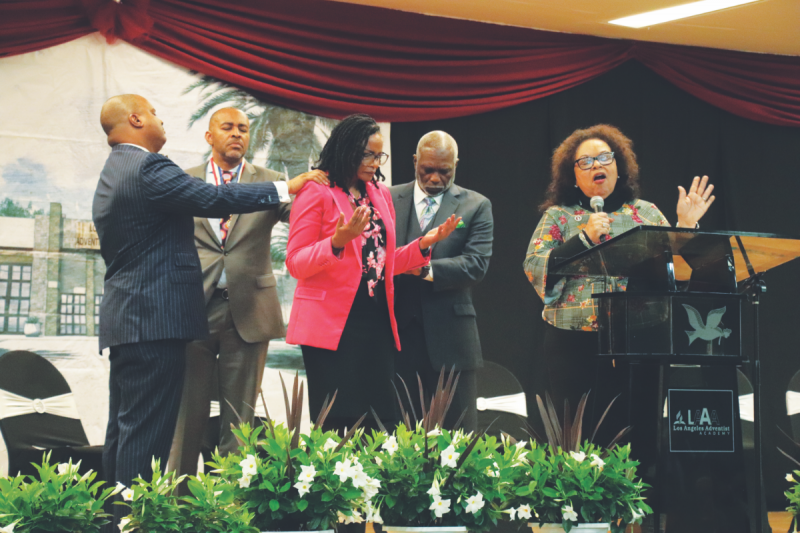 Since its start as a one-teacher school in 1923 and its expansion 23 years later to offer grades 1-12, Los Angeles Adventist Academy (LAAA) has had a rich history. Over the course of 100 years, challenges have come up, as they inevitably do; however, through it all, the school has stayed committed to the quality, life-changing education it was founded to provide.
The centennial celebration this March consisted of an entire weekend packed with activities, kicking off with a career day and concluding with a golf tournament. 
The Sabbath service was a time of reflection on God's leading of the school for the past century as well as a time to look forward to His leading in the future. The program featured various musical performances, recognition of alumni in attendance, remarks from numerous elected officials, and a powerful message from Carlton P. Byrd, president of the Southwest Regional Conference.
"The founders who established these schools [LAAA and its predecessors] in this sector of Los Angeles envisioned serving the spiritual, economic, and physical needs of our boys and girls from our Adventist churches and from the surrounding communities," said James P. Willis II, Southern California Conference (SCC) vice president for education. "We look around this room and see the fulfillment of their visions. And we are here to celebrate all of what God has done in answer to their prayers."
As the program began, SCC leadership recognized the significance of this occasion. "On behalf of the Southern California Conference, we thank you for being home to thousands of students for 100 years," said Velino A. Salazar, SCC president. "Your influence has been felt in the southern tier of the Los Angeles metropolis, across the conference territory, and beyond." SCC Treasurer/CFO Kathleen Diaz presented a gift of $10,000 to LAAA Principal Carol Todd.
Todd celebrated the school's achievements, such as enhanced technology and continued support of both virtual and in-person learning. She recognized a significant increase in student enrollment, where "over 60% of our students come from the surrounding areas and may not experience Jesus in the homes or weekly church services." Todd also shared initiatives in the works for LAAA in partnership with other entities.
Elected officials, including Maxine Waters, California congresswoman for the 43rd district, were in attendance to give support on this special occasion. Greg Mathis, star of the television courtroom series Judge Mathis and an Adventist education alumnus, was also present.
"I thank God for this institution that has prepared so many geniuses to make an impact around the world," shared Anthony Paschal '73. "We have seen attorneys, sports figures, doctors, and other professionals take off from the teachers that spent their time with us in this institution." 
If you wish to support the future of the school, follow this link to donate: https://scc.adventist.org/LAAA-giving. 
To watch the Sabbath morning celebration, visit: https://scc.adventist.org/LAAA-100-years. 
___________________
By Lauren Lacson
Los Angeles Adventist Academy Celebra 100 años de educación cristiana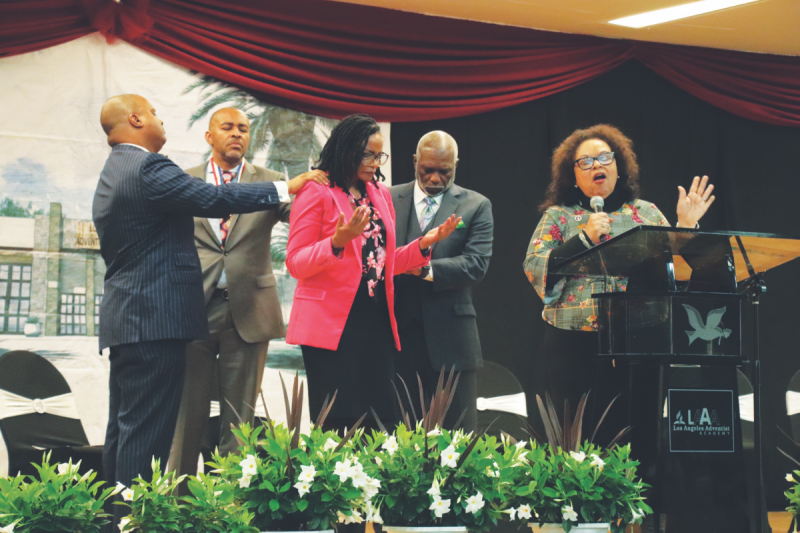 Desde su inicio como una escuela de un solo maestro en 1923 y su expansión 23 años más tarde para ofrecer los grados 1-12, Los Angeles Adventist Academy (LAAA) ha tenido una rica historia. A lo largo de 100 años, han surgido desafíos, como inevitablemente sucede; sin embargo, a pesar de todo, la escuela se ha mantenido comprometida con la educación de calidad para la que fue fundada.
La celebración del centenario en el mes de marzo consistió en un fin de semana lleno de actividades, comenzando con un día de orientación profesional y concluyendo con un torneo de golf. 
El servicio sabático fue una ocasión de reflexión sobre la dirección de Dios a la escuela durante el siglo pasado, así como para contar con su dirección en el futuro. El programa tuvo varias actuaciones musicales, reconocimiento de exalumnos presentes, comentarios de numerosos funcionarios electos y un poderoso mensaje de Carlton P. Byrd, presidente de la Southwest Regional Conference.
«Los fundadores que establecieron esas escuelas [LAAA y sus predecesoras] en este sector de Los Angeles previeron servir a las necesidades espirituales, económicas y físicas de los chicos y chicas de nuestras iglesias adventistas y de las comunidades circundantes», dijo James P. Willis II, vicepresidente de educación de la Southern California Conference (SCC). «Miramos alrededor de esta sala y vemos el cumplimiento de sus visiones. Estamos aquí para celebrar todo lo que Dios ha hecho en respuesta a sus oraciones».
Cuando comenzó el programa, el liderazgo de SCC reconoció la importancia de esa ocasión. «En nombre de la Southern California Conference, les agradecemos por ser el hogar de miles de estudiantes durante 100 años», dijo Velino A. Salazar, presidente de SCC. «Su influencia se ha sentido en el nivel sur de la metrópolis de Los Angeles, en todo el territorio de la conferencia y más allá». La tesorera/directora financiera de SCC, Kathleen Díaz, presentó un regalo de $10,000 a la directora de LAAA, Carol Todd.
Todd celebró los logros de la escuela, como las mejoras a la tecnología y el apoyo continuo al aprendizaje virtual y en persona. Reconoció un aumento significativo en la inscripción de estudiantes, donde «más del 60% de ellos provienen de las áreas circundantes y es posible que no experimenten a Jesús en sus hogares o en los servicios semanales de la iglesia». Todd también compartió iniciativas en proceso para LAAA en asociación con otras entidades.
Funcionarios electos, incluyendo a Maxine Waters, congresista de California por el distrito 43, asistieron para brindar apoyo en esa ocasión especial. Greg Mathis, estrella de la serie de televisión Judge Mathis y exalumno de educación adventista, también estuvo presente.
«Doy gracias a Dios por esta institución que ha preparado a tantos genios para tener un impacto en todo el mundo», compartió Anthony Paschal. «Hemos visto a abogados, figuras deportivas, médicos y otros profesionales surgir de los maestros que tomaron su tiempo con nosotros en esta institución». 
Para ver la celebración del sábado por la mañana, visite: https://scc.adventist.org/LAAA-100-years. 
___________________
Por Lauren Lacson