This evangelistic series really never should have happened," said Marco Topete, Van Nuys church pastor. "It was planned to be at a totally different place, at a different time. It was planned even before I knew that I was going to be a pastor. But God wanted it to be there."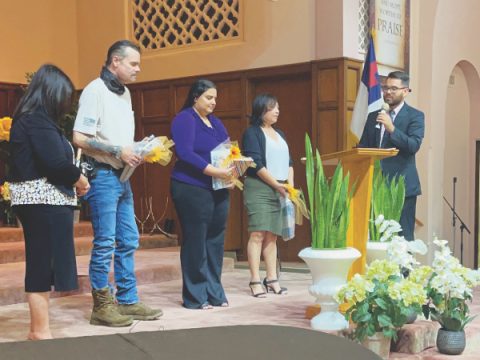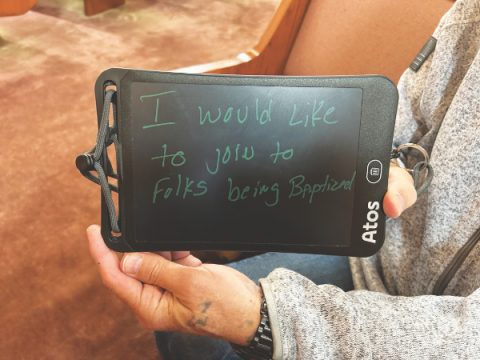 While the timing was a bit unexpected, Topete felt God's leading to hold an evangelistic series at the church just a month after his installation. Resulting in 11 decisions for baptisms and six weekly Bible studies, the series gave the opportunity for Topete and the church to hit the ground running. 
The series ran for eight days and presented topics including: "Is the Bible trustworthy?" "How can we trust God in the midst of evil?" "How can we be certain Jesus was the Messiah?" and "Is Jesus really coming?"
One church member invited their neighbor, John, to the series. He attended consistently, sat in the front row, and was engaged in the messages. Due to a throat surgery, John can't speak, so he carries a tablet he uses to communicate by writing.
"During the series, I made several baptismal calls, and he never came up," Topete recalled. "On the very last night of the series, I made another baptismal call, and after the series, I went and checked on John because he didn't come up. I sat next to him, and we were talking, and he motions to me to hold on, and I saw him start scribbling away. Then he turned the tablet toward me, and it said, 'I want to get baptized.'" 
John's story is just one of the many testimonies that resulted from this event, from community and church members alike. "It really brought our church together," Topete said of the series. "Having something for us to do together with the same purpose, same heart, and same mind really brought us together." 
While putting an evangelistic series together as a new pastor in a short time period is no easy task, the support of SOULS West and the Pacific Union Conference made it possible. The students assisted with marketing and door knocking before the series began, plus they helped implement the series itself. "It's wonderful to see these young people getting a taste of what local church ministry looks like very practically," Topete said. "At the same time, it got the church excited to see this group of young people who, week after week, had amazing testimonies." 
As for what's next for Van Nuys church, it's unknown for now. "I don't want to be too quick to say what's next," Topete noted. "I haven't heard from God yet. I don't want to just make myself busy. We'll take a season where leadership prays, 'God, what would you like us to do?'"
___________________
By Lauren Lacson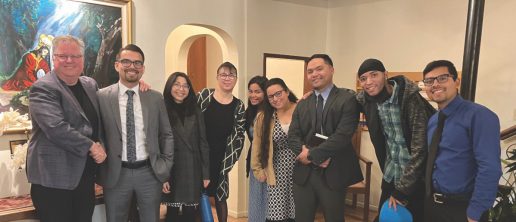 Serie evangelística de último minuto siega una cosecha en la iglesia de Van Nuys
Esa serie evangelística realmente nunca debería haber sucedido», dijo Marco Topete, pastor de la iglesia de Van Nuys. «Fue planeada para estar en un lugar totalmente diferente, en un momento diferente. Fue planeada incluso antes de que supiese que iba a ser su pastor. Pero Dios quería que se hiciese».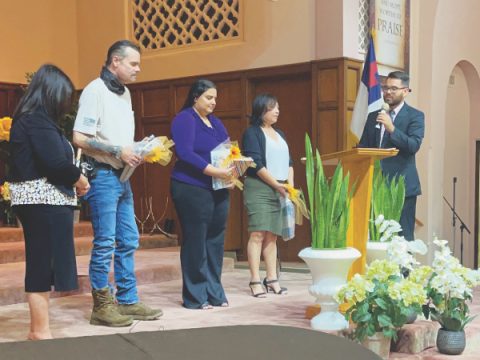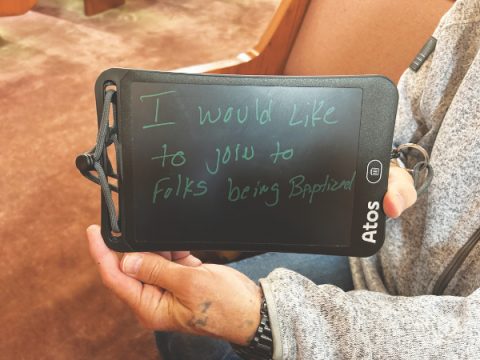 Si bien el momento fue un poco inesperado, Topete sintió la guía de Dios para llevar a cabo una serie evangelística en la iglesia solo un mes después de su llegada. Resultando en 11 decisiones para bautismos y seis estudios bíblicos semanales, la serie dio la oportunidad para que Topete y la iglesia comenzasen a trabajar. 
La serie duró ocho días y presentó temas como: «¿Es confiable la Biblia?» «¿Cómo podemos confiar en Dios en medio del mal?» «¿Cómo podemos estar seguros de que Jesús es el Mesías?» y «¿Jesús viene realmente?»
Un miembro de la iglesia invitó a su vecino, John, a la serie. Asistió constantemente, se sentó en la primera fila y participó en los mensajes. Debido a una cirugía de garganta, John no puede hablar, por lo que lleva una tableta que usa para comunicarse escribiendo.
«Durante la serie hice varios llamados bautismales, y él nunca reaccionó», Topete recordó. «En la última noche de la serie, hice otro llamado bautismal y después de la serie, John tampoco reaccionó. Me senté a su lado, y estábamos hablando. Me hizo un gesto para que esperase y lo vi comenzar a garabatear. Giró la tableta hacia mí, con el mensaje: "Quiero ser bautizado"». 
La historia de John es solo uno de los muchos testimonios que resultaron de ese evento, tanto de la comunidad como de los miembros de la iglesia. «Realmente unió a nuestra iglesia» Topete dijo de la serie. «Tener algo que hacer juntos con el mismo propósito, el mismo corazón y la misma mente realmente nos unió». 
Mientras se organizaba una serie evangelística con un nuevo pastor en un corto período de tiempo no es una tarea fácil, el apoyo de SOULS West y la Pacific Union Conference lo hicieron posible. Los estudiantes ayudaron con el marketing y tocaron puertas antes de que comenzase la serie, además de ayudar a implementar la serie en sí. «Es maravilloso ver a esos jóvenes probar cómo es el ministerio de la iglesia de manera muy práctica», dijo Topete. «Al mismo tiempo, hizo que la iglesia se emocionase al ver a ese grupo de jóvenes que, semana tras semana, tenían increíbles testimonios». 
En cuanto a lo que sigue para la iglesia de Van Nuys, se desconoce por ahora. «No quiero apresurarme a decir lo que sigue» Topete señaló. «Todavía no he escuchado de Dios. No quiero simplemente estar ocupado. Con el liderazgo de la iglesia oraremos: "Señor, ¿qué deseas que hagamos?"».
___________________
Por Lauren Lacson