Herpetologists from La Sierra University and the Cologne Zoological Garden in Germany embarked on a project last fall slated to take place at La Sierra this school year—a conservation breeding program designed to mitigate the extinction of five threatened tiger gecko species native to Vietnam.
It is referred to as a modern ark by Thomas Ziegler, Cologne Zoo aquarium curator and coordinator of biodiversity and nature conservation projects in Vietnam and Laos. It will function as the first such program in the U.S. for the vulnerable tiger geckos, which have been bred thus far by Ziegler's team and a support station in Vietnam.​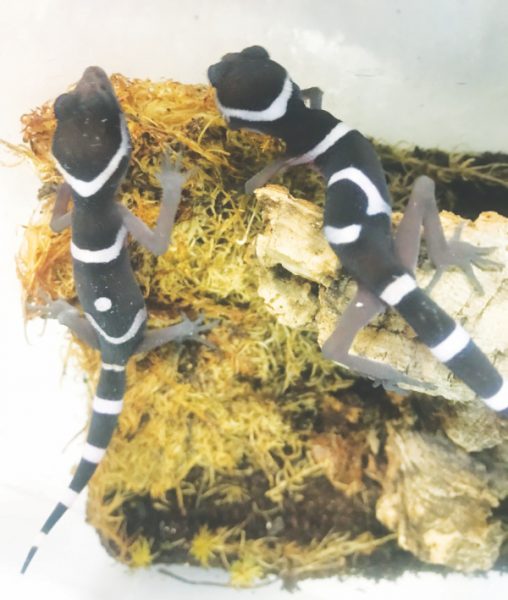 ​The success of the La Sierra University gecko ark hinges on 22-year-old La Sierra undergraduate Sarah Goymer from Paradise, Calif., whose interest in herpetology, love of nature, advocacy for conservation, and academic acumen made her a perfect fit for the job, say her biology professors, herpetologists Lee Grismer and his son, Jesse Grismer. Goymer's task will be the daily care of 50 beautifully marked tiger gecko offspring. They will arrive to La Sierra's campus this spring from the zoo in Germany.
The ark project's ultimate goal is the successful raising of the threatened species into healthy adults who can then be released into their natural habitat in Vietnam.
In preparation for the geckos' eventual arrival, Goymer spent Thanksgiving break at the Cologne Zoo under the guidance of Ziegler and his team. She learned how to feed adult and juvenile geckos, care for their eggs, and provide appropriate habitat. La Sierra's College of Arts & Sciences dean's office covered all expenses for her trip.
I see it as my role to protect what I can of nature and hopefully encourage others to do likewise.
Goymer is a biological science major whose career goal is conservation and exploration to discover new species. "I see it as my role to protect what I can of nature and hopefully encourage others to do likewise," she said. "We are all intertwined in this tapestry we call life. Even in Genesis we are asked to be caretakers of the garden, and so, my career goal really is just that—taking care of our garden. Our home."
"It was a really cool experience," Goymer said of the training at the zoo in November. The tiger geckos are "absolutely gorgeous," she said, and "a little bitey, so you have to be careful. They like to latch onto you." 
____________________
By Darla Martin Tucker
---
La Sierra se asocia con zoológico alemán en el primer programa «arca» de geckos tigres
Herpetólogos de La Sierra University y el Jardín Zoológico de Colonia en Alemania se embarcaron en un proyecto el otoño pasado programado para llevarse a cabo en La Sierra este año escolar: un programa de cría de conservación diseñado para mitigar la extinción de cinco especies amenazadas de geckos tigre nativas de Vietnam.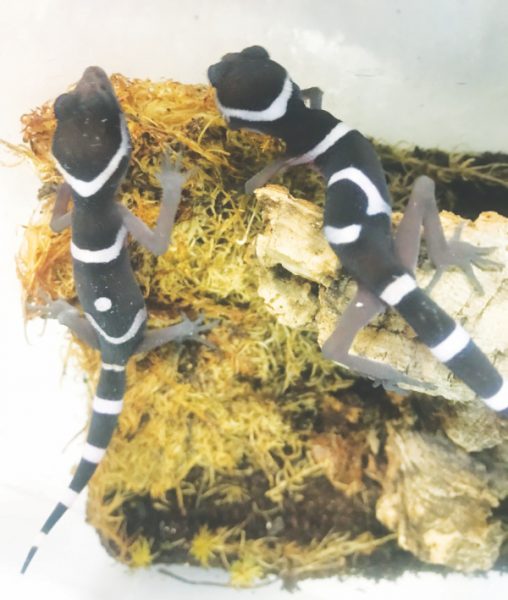 Thomas Ziegler, curador del acuario zoológico de Colonia y coordinador de proyectos de biodiversidad y conservación de la naturaleza en Vietnam y Laos, se refiere al programa como un «arca» moderna. Funcionará como el primer programa de ese tipo en los Estados Unidos para geckos tigre vulnerables, que han sido criados hasta ahora por el equipo de Ziegler y una estación de apoyo en Vietnam.
El éxito del arca para geckos de La Sierra University depende de Sarah Goymer, estudiante de 22 años de La Sierra de Paradise, California, cuyo interés en la herpetología, el amor por la naturaleza, la defensa de la conservación y la perspicacia académica la hicieron perfecta para ese proyecto, según sus profesores de biología, los herpetólogos Lee Grismer y su hijo, Jesse Grismer. La tarea de Goymer será el cuidado diario de 50 crías de geckos tigre bellamente marcadas. Llegarán al campus de La Sierra esta primavera desde el zoológico en Alemania. 
El objetivo final del proyecto del arca es la cría exitosa de las especies amenazadas hasta que sean adultos sanos que después puedan ser liberados en su hábitat natural en Vietnam.
En preparación para la eventual llegada de los geckos, Goymer pasó las vacaciones del día de acción de gracias en el zoológico de Colonia bajo la guía de Ziegler y su equipo. Aprendió a alimentar a los geckos adultos y juveniles, cuidar sus huevos y proporcionar un hábitat apropiado. La oficina del decano de la Facultad de Artes y Ciencias de La Sierra cubrió todos los gastos de su viaje.
Goymer es una estudiante de ciencias biológicas cuyo objetivo profesional es la conservación y la exploración para descubrir nuevas especies. «Veo como mi papel proteger lo que pueda de la naturaleza y, con suerte, alentar a otros a hacer lo mismo», dijo. «Todos estamos entrelazados en este tapiz que llamamos vida. Incluso en Génesis se nos pide que seamos cuidadores del jardín y así mi objetivo profesional realmente es solo eso: cuidar nuestro jardín. Nuestro hogar».
«Fue una experiencia realmente genial», dijo Goymer sobre el entrenamiento en el zoológico en noviembre. Los geckos tigre son «absolutamente hermosos», dijo, y «algo mordaces, así que hay que tener cuidado. Les gusta agarrarse de uno». 
____________________
Por Darla Martin Tucker