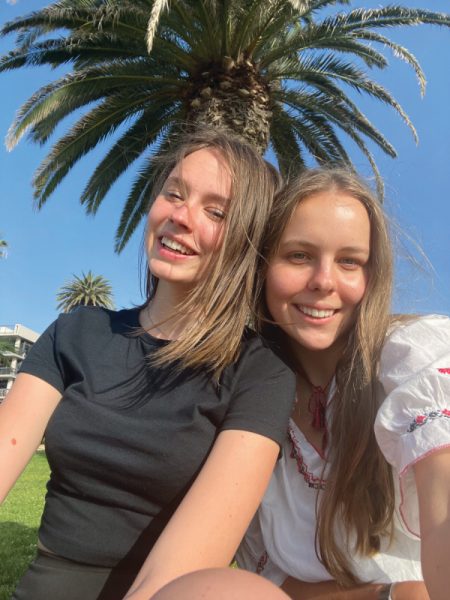 Kateryna Vechkanova tried not to text Katya too often as the weeks went by. But it was hard not knowing her childhood friend's fate as 22-year-old Katya fled from Kyiv, Ukraine, in March under a hail of Russian rockets that destroyed her apartment.
Vechkanova, who completed her freshman year at La Sierra University in June, watched in horror along with the rest of the world as Russia's unprovoked military invasion of her Ukrainian homeland unfolded on Feb. 24. After several anxious weeks during which she was also fearful for her family living in eastern Ukraine, Vechkanova was finally able to greet Katya with a hug on April 6. The two connected at the San Ysidro Port of Entry in San Diego where Katya arrived with a couple of Ukrainian friends among hundreds of fleeing Ukrainians.
That Vechkanova, a Seventh-day Adventist and native of Russian-occupied eastern Ukraine, was in Southern California at that crucial time was in itself a miracle. Over the past three years she had experienced a series of last-minute providential opportunities and interventions that landed her at Milo Adventist Academy in Oregon in 2019 and then at La Sierra University in Riverside, California, just months before Russia began its attack. 
Vechkanova's hometown of Simferopol lies in Crimea in the eastern section of Ukraine, which in 2014 fell under illegal Russian control. To allow for higher education options outside of Russia, Vechkanova took online classes at a high school across the border in mainland Ukraine while attending the Russian-controlled high school nearby.
In 2019 Vechkanova, with two high school diplomas under her belt, was accepted into the Adventist college in Bucha, Ukraine, near the capital Kyiv. That summer she traveled with her family to the International Pathfinder Camporee in Oshkosh, Wisconsin, where she was placed on the camporee program to deliver a prayer in Ukrainian before the crowd of many thousands.
While there, a chance meeting with a man whose daughters attended Milo Adventist Academy in Oregon and Andrews University in Michigan resulted in a conversation about the advantages of a high school diploma from a U.S. Adventist school. A subsequent connection with Milo principal Randy Thornton, who was also at the camporee, led to the securing of tuition sponsors that same day for Vechkanova's enrollment in classes that started within a couple of days.
Vechkanova graduated from Milo Adventist Academy in 2020. She now had three high school diplomas and had been accepted to Adventist colleges around the U.S. While she worked as a food service intern over the next year, many prayers and efforts ensued to secure tuition for an Adventist college in the states—but without results.
In early 2021, the academy campus chef suggested she write a letter to a former boss of his, but again there was no response. The school year drew to a close. "I said, 'Jesus, today's the day; if you're not going to show me what I'm going to do next, I'm going to buy a ticket to go back to Ukraine tomorrow,'" Vechkanova recalled.
Later that same day she received a call from the school's secretary about a letter that had arrived. It was a check for $30,000 to cover the first year's tuition at La Sierra University, sent by the chef's former employer.
"And the secretary just started crying and I was like in shock," Vechkanova said. "I could not even like realize what is happening."
Says Vechkanova, "I don't know where I would be today without my mighty and gracious God. He never failed me. And I trust and know that as He provided for me before, He will do it again." 
____________________
By Darla Martin Tucker