This summer, 50 young people answered God's call to arise and go by serving as student literature evangelists for 10 weeks across the Central California Conference.
They started off in the Central Valley for the first five weeks and then moved to the Silicon Valley and the coast, working in over 58 cities. Students saw God use them and answer their prayers on a daily basis.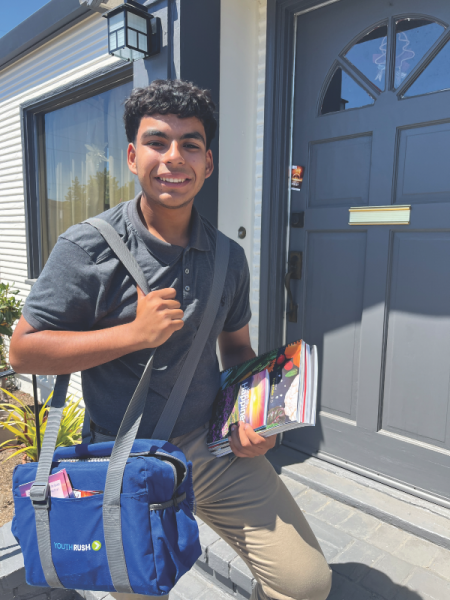 Gaby, a student at Bakersfield Adventist Academy, had an amazing experience in Fresno. She was walking down the street with her leader, Peter. As they were walking, they heard loud music coming from a house, and Peter said, "Have fun with that house; just make conversation." Gaby walked onto the lawn and approached the guy who was blasting music. She started showing him the books she had, but he said that he couldn't afford any because he was homeless. He mentioned that he had been homeless for 11 years. He asked what church she attended, and when she told him, his eyes got big and he said, "Seventh-day Adventist?" She replied, "Yes," and he said, "The Seventh-day Adventist church helped me find my family." He explained that back in 2011, when he became homeless, he lost his family. However, one day, he walked into an Adventist church, explained his situation, and they opened the church directory. He chose the first person with his last name, and it turned out to be his cousin. Through his cousin, he reconnected with his sister. After he shared this, he mentioned that he watched Adventist programs online. He then agreed that "Saturday is the last day of the week and the day to worship God." After their conversation, he signed up for Bible studies and ended up giving what he could. Gaby left him with Keys to Happiness, which is Steps to Christ.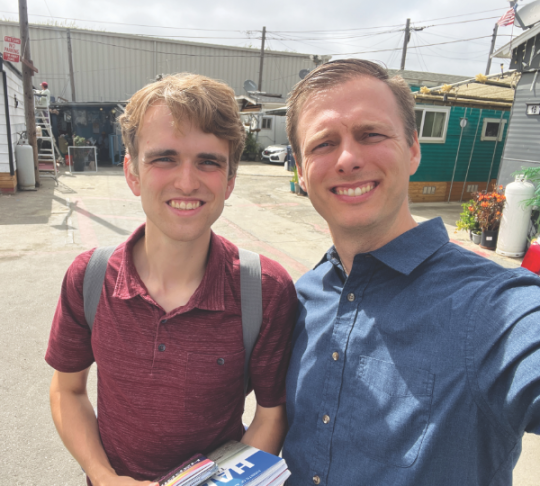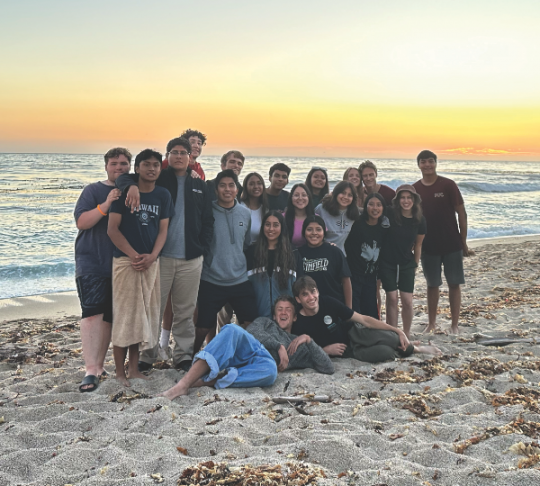 Erick Mendez, a student at Armona Union Academy, had an impactful experience in Merced. Just as he was about to finish visiting houses before lunch, he saw a couple sitting outside. Although he felt like skipping the house, he felt impressed to talk with them and asked God to guide his conversation. As he spoke with them, the lady started crying unexpectedly. Erick didn't know exactly what to do, but he gave her a hug. When the lady calmed down, she explained that the night before, she'd had a dream in which an angel came to her with a message from God and told her about some books. As she shared the dream, Erick felt impressed to recite Psalm 91 to her from memory. When he finished, she started crying even more. Then she said that the angel recited Psalm 91 to her in her dream. She asked Erick if he was an angel, and he said he wasn't but that he was a messenger trying to spread God's love. He found out she had been an Adventist over 20 years ago in Mexico but hadn't gone to church since she'd been in the United States. He invited her to come back to church, and she said she planned to. By God's grace, she ended up getting all the Spanish books in his bag.
Not only did our Youth Rush team impact the community by distributing over 22,000 books, but their lives were profoundly transformed as they worked for God on the front lines.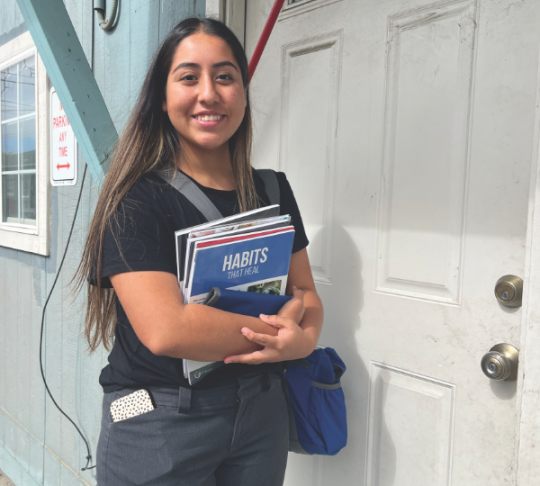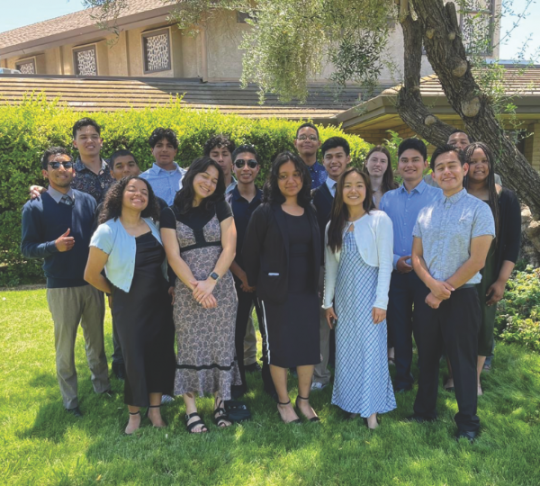 Christiana, one of the participants, reflected on the transformative nature of the experience, stating, "Youth Rush was the perfect experience that I needed for my life, and God knew it. I loved the strong community that was built there, encouraging me toward uplifting things and giving me the courage to go out to do work for God. It has made everything about being a Christian more meaningful, amazing, and real. Seeing God work every day and give me guidance throughout countless different interactions has done so much for me. I've learned to trust God more and see how much He cares about everything. He guided me to Youth Rush exactly when I needed it most. I can't say enough how positive this summer was for me."
In the words of Jesus, "It's more blessed to give than to receive." These young people devoted their summer to serving, and in return they received profound blessings—transformative experiences, strengthened faith, and a deepened understanding of the impact of selfless service.
Learn more about the Central California Conference Youth Rush program and apply to be part of it in 2024 at www.youthrushcentral.com.
____________________
By John Miller
Jóvenes empoderados: levántate y ve
Este verano, 50 jóvenes respondieron al llamado de Dios para levantarse e ir, sirviendo como evangelistas de literatura estudiantil durante 10 semanas en toda la Central California Conference.
Comenzaron en el Valle Central durante las primeras cinco semanas y después se trasladaron a Silicon Valley y a la costa, trabajando en más de 58 ciudades. Los estudiantes vieron a Dios usarlos y contestar sus oraciones de día a día.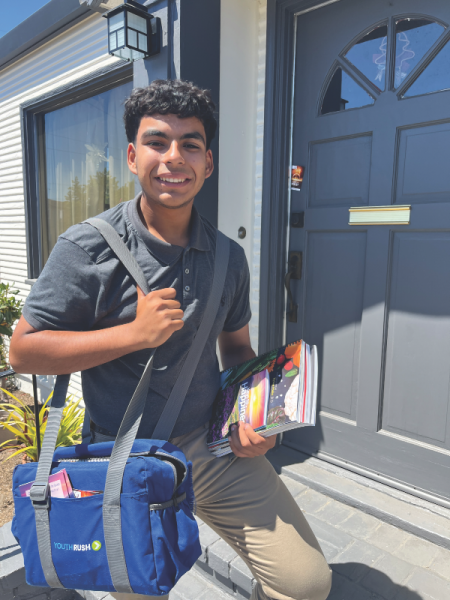 Gaby, estudiante de la Bakersfield Adventist Academy, tuvo una experiencia increíble en Fresno. Caminaba por la calle con su líder, Peter. Mientras caminaban, oyeron una música fuerte que venía de una casa, y Pedro dijo: «Diviértanse con esa casa; solo conversen». Gaby caminó hacia el césped y se acercó al tipo que estaba poniendo esa música a todo volumen. Comenzó a mostrarle los libros que tenía, pero él dijo que no podía comprar ninguno porque no tenía hogar. Mencionó que había estado sin hogar durante 11 años. Le preguntó a qué iglesia asistía y cuando ella se lo dijo, sus ojos se agrandaron y él dijo: «¿Adventista del Séptimo Día?» Ella respondió: «Sí», y él dijo: «La Iglesia Adventista del Séptimo Día me ayudó a encontrar a mi familia». Explicó que en 2011, cuando se quedó sin hogar, perdió a su familia. Sin embargo, un día, entró en una iglesia adventista, explicó su situación y abrieron el directorio de la iglesia. Eligió a la primera persona con su apellido y resultó ser su primo. A través de su primo, se reconectó con su hermana. Después de compartir eso, mencionó que veía programas adventistas en línea. Luego estuvo de acuerdo en que «el sábado es el último día de la semana y el día para adorar a Dios». Después de su conversación, se inscribió en estudios bíblicos y terminó dando lo que pudo. Gaby lo dejó con Keys to Happiness, que es El camino a Cristo.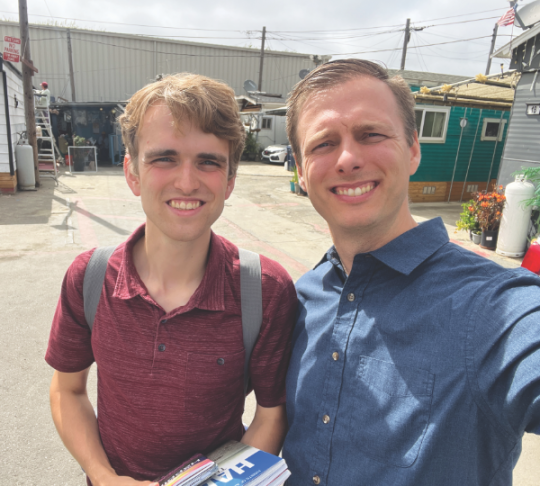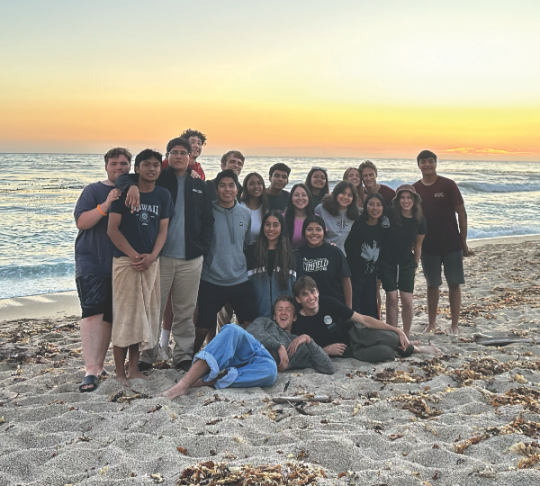 Erick Méndez, estudiante de la Armona Union Academy, tuvo una experiencia impactante en Merced. Justo cuando estaba a punto de terminar de visitar las casas antes del almuerzo, vio a una pareja sentada afuera. Aunque tenía ganas de saltarse la casa, sintió la impresión de hablar con ellos y le pidió a Dios que guiara su conversación. Mientras hablaba con ellos, la señora comenzó a llorar inesperadamente. Erick no sabía exactamente qué hacer, pero le dio un abrazo. Cuando la señora se calmó, le explicó que la noche anterior había tenido un sueño en el que un ángel se le acercó con un mensaje de Dios y le habló de unos libros. Mientras compartía el sueño, Erick sintió la impresión de recitarle el Salmo 91 de memoria. Cuando terminó, ella comenzó a llorar aún más. Luego dijo que el ángel le recitó el Salmo 91 en su sueño. Ella le preguntó a Erick si era un ángel y él dijo que no, pero que era un mensajero que intentaba difundir el amor de Dios. Se enteró de que ella había sido adventista hace más de 20 años en México, pero que no había ido a la iglesia desde que estaba en Estados Unidos. La invitó a regresar a la iglesia y ella dijo que planeaba hacerlo. Por la gracia de Dios, terminó metiendo todos los libros en español en su bolso.
Nuestro equipo de Youth Rush no solo impactó a la comunidad al distribuir más de 22,000 libros, sino que sus vidas se transformaron profundamente mientras trabajaban para Dios en la primera línea.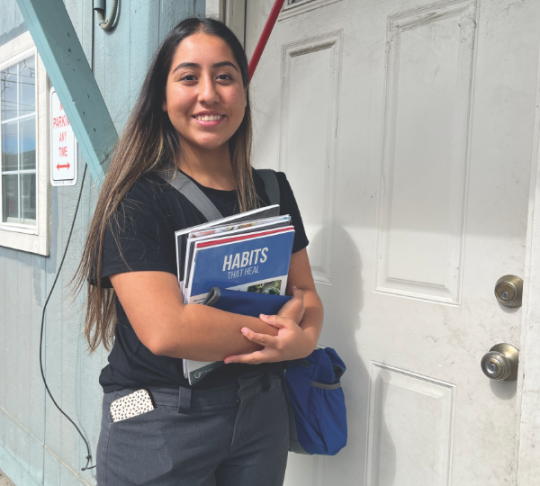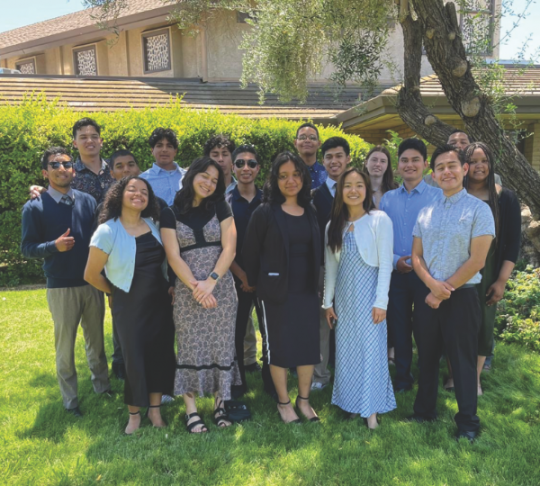 Christiana, una de las participantes, reflexionó sobre la naturaleza transformadora de la experiencia, afirmando: «Youth Rush fue la experiencia perfecta que necesitaba para mi vida y Dios lo sabía. Me encantó la sólida comunidad que construyó, animándome para elevar las cosas y darme el valor para salir a trabajar para Dios. Ha hecho que todo lo relacionado con ser cristiana sea más significativo, sorprendente y real. Ver a Dios trabajar todos los días y guiarme a través de innumerables interacciones diferentes ha hecho mucho por mí. He aprendido a confiar más en Dios y a ver cuánto le importa todo. Me guió a Youth Rush exactamente cuando más lo necesitaba. No puedo decir lo suficiente lo positivo que fue este verano para mí».
En las palabras de Jesús: «Más bienaventurado es dar que recibir». Esos jóvenes dedicaron su verano a servir y, a cambio, recibieron profundas bendiciones: experiencias transformadoras, fe fortalecida y una comprensión más profunda del impacto del servicio desinteresado.
Obtenga más información sobre el programa Youth Rush de la Central California Conference y solicite ser parte de él en 2024 en www.youthrushcentral.com.
____________________
Por John Miller