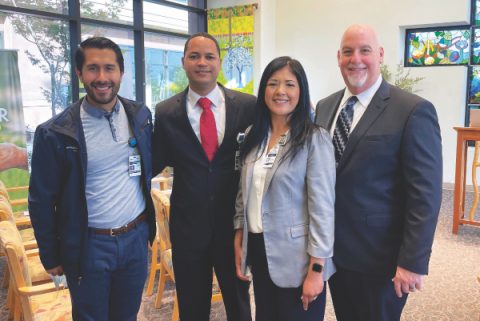 The new center for Clinical Pastoral Education (CPE) at Adventist Health White Memorial (AHWM) has enrolled three full cohorts—24 students—since opening in August 2022. The center provides in-person and online professional chaplaincy training in English and Spanish for individuals from a variety of faith traditions.
"We were working very hard to launch the program and praying as a team that God would bless the center. Before we finished producing informational materials about the program, God sent us the people," said Roberto Vizcaino, CPE supervisor and AHWM senior chaplain.
CPE training includes in-depth study of ethics, psychology, sociology, family and group interactions, trauma and crisis management, and more. Faculty come from diverse backgrounds, including professional chaplains, doctors, nurses, and psychologists. The AHWM CPE center is currently in a pre-accreditation process and will be considered for seven-year accreditation by the College of Pastoral Supervision and Psychotherapy.
Each of the four CPE units offered at the center involves 300 hours of clinical visitation in the hospital and 100 hours in group dynamic meetings. At the end of each unit, participants receive a certificate. To qualify for the program, participants must have a bachelor's degree; most participants have a master's degree in theology or similar area of study and many years of experience in pastoral care.
The center has attracted students from across the country and from a variety of religious cultures. Current cohorts include pastors from a variety of denominations and graduate students from Azusa Pacific University and Fuller Theological Seminary. "They come from all areas," Vizcaino said. "Part of CPE training is about how we can understand other faiths and religious cultures. CPE is about respecting the religious culture of different people and how they can receive and provide support using their own faith and religious culture."
"Every hospital needs people to provide spiritual care who are trained in how to listen to the patient, how to identify their concerns, how to respect their religious culture, how to be a facilitator in the spiritual process of dying, how to help them manage the crisis of their situation. Chaplains need to be trained in order to provide this care," said Vizcaino.
Prior to joining the AHWM team, Vizcaino established a CPE center at Bella Vista Hospital in Puerto Rico and supervised the program for more than 10 years. He has bachelor's and master's degrees in theology, a Master of Ministry degree, and is working on a doctoral degree. He was a pastor for eight years before becoming board certified as a chaplain, counselor, and CPE diploma supervisor.
Chaplains carry heavy responsibilities to provide emotional and spiritual support and to help alleviate fears during some of life's most difficult moments. Vizcaino says the most important thing about the new AHWM CPE center is that the training he and his team provide will help develop chaplains who will in turn provide excellent spiritual care for patients, their family members, and their healthcare providers.
____________________
By Kim Strobel