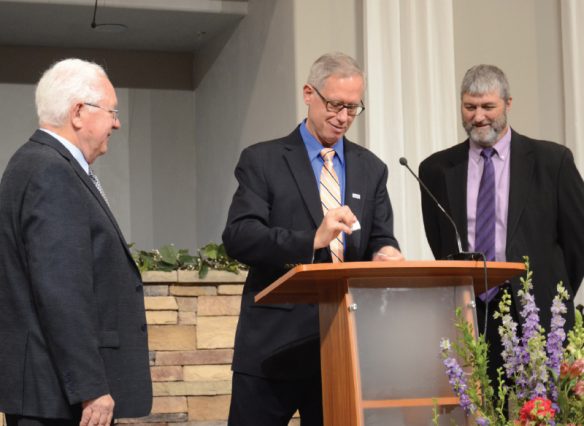 Traditionally, when there is a mortgage burning ceremony at a church, a mortgage is burned. On April 9, the members of the Bullhead City church in Bullhead, Arizona, felt that their brand-new sanctuary should be fire free. Instead of burning the mortgage, Arizona Conference Treasurer Reggie Leach tore up the mortgage into as many tiny pieces as he could.
Sitting atop a hill with the sparkling blue Colorado River in the distance, the church still shows signs of its recent construction. Stacks of stone lay next to exterior walls, waiting for a mason's touch to finish the stone siding. A dirt parking lot to the north side of the church is waiting for funds for paving.
The church members are noticeably proud of having a brand-new church that is debt free. It is a testament to the faithfulness of the church members and to their stalwart belief in God's blessings.
"What a fabulous new facility this church now has," Arizona Conference President Ed Keyes said. "I was blown away with all the work they did to make this church a very representative facility to that community."
Just prior to the mortgage being torn to shreds, Dr. Robert Leo gave his testimony of the building project. "I voted against it," he recalled. "I was the only vote against proceeding with the building plan because I didn't think we would be able to do it." Then after a short pause, with a smile across his face, he said, "But time after time God provided the funds." His smile displayed his pride in both the new building and the faith of the church members that was rewarded by God.
____________________
By Jeff Rogers