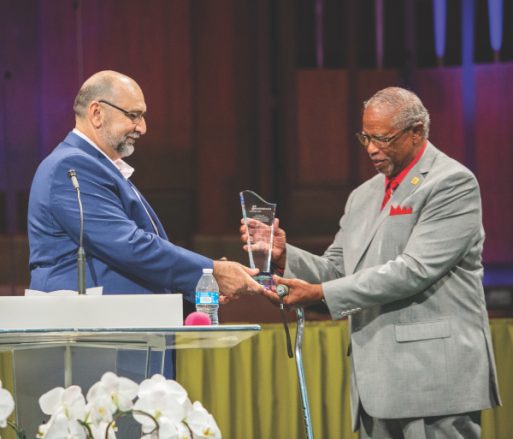 A palpable sense of celebration and belonging marked the close-knit community gathered at the White Memorial church on Oct. 8 for the 12th annual Hospital Sabbath. The event brought together nurses, doctors, administrators, and hospital employees from the Adventist Health White Memorial (AHWM) medical center, along with church and community members, to celebrate the unique blend of physical, mental, and spiritual ministry that marks Adventist healthcare.
Hospital employees and administrators led the Hospital Sabbath church service by providing music, Scripture reading, prayer, the children's story, and other special features. This year also featured music by the San Gabriel Academy Chorale and the AHWM Praise Team. The guest speaker for the service was Terry Swenson, director of spiritual care and assistant professor of religion and theological studies at Loma Linda University.
"Hospital Sabbath is a reminder for hospital caregivers of the importance of spirituality in caring for patients and the importance of rest—of a Sabbath when they can rest and recharge their batteries both physically and spiritually. For our staff members who aren't Adventist, it is a reminder of how White Memorial is a place that supports Sabbath rest," said Edgar Urbina, director of Mission and Spiritual Care for AHWM.
The relationship between the medical center and the White Memorial church goes back more than 100 years. The church opened in 1913, the same year the precursor to AHWM, the College of Medical Evangelists, opened a small storefront clinic in the heart of Los Angeles. The hospital—named in honor of Ellen White—opened in 1918. The two entities share a spirit of compassion and a deep commitment to provide healing for the people of Los Angeles.
There's always darkness before God shows up.
"There was something special that happened when I first got to White Memorial," said now-retired hospital chaplain James Patterson. "When I got here, I felt like I had just met my family. I love it here and I believe that God put me here because He wanted me to be in the center of loving people." During the Hospital Sabbath service, Patterson was awarded the annual Christian Service Award by AHWM President John Raffoul.
The spiritual care that Chaplain Urbina and his team provide at AHWM is one of the hallmarks of Adventist Health, where healthcare is a humanitarian expression of the Adventist faith and a contemporary expression of the healing ministry of Jesus.
"In the Adventist faith, in our culture, we believe in whole-person care," said Raffoul. "We believe there are three components of every human being—the mental, physical, and spiritual. You need to treat the entire human being—each of those three components—for a person to become well and be healthy. Spiritual care is an essential component. Any hospital that practices caring for all three components needs a church connection to be able to achieve that spiritual well-being. AHWM is very fortunate because of the close relationship we have had with the White Memorial church over the years. We work together very closely, and we're very blessed because of that—and very grateful too."
____________________
By Kim Strobel