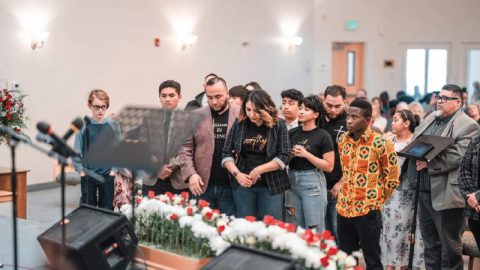 "Here I Am" was the theme of the Youth and Young Adult Retreat hosted by the Sparks and Riverview churches. In addition to the young people from the Salt Lake City area, Las Vegas area, and Reno area, the Holy Spirit showed up in a big way.
Because the Nevada-Utah Conference (NUC) is the largest, geographically, in the Pacific Union, it has been a challenge to create events that everyone is able to attend. After a lot of planning and even more prayer, Delberth Castillo and Neat Randriamialison, both from the Reno area; Kevin Barrientos, from Provo; and Lorraine Descutido, from Las Vegas, worked together to plan and organize a beautiful weekend filled with testimonies, Bible studies, and music. With only two exceptions, the presenters and music leaders were youth and young adults from around the conference.
The two exceptions were NUC President Carlos Camacho and one of the newest additions to the conference, Children, Family, and Youth Director Rudy Alvir. Both pastors spoke several times throughout the weekend, and each time their passion for God and love for His family was clear. "My experience at this event was a blessing," Alvir said. "I was most impressed with the Spirit manifested by the young people that attended. They just had a different attitude that I have not seen often. They were there to bless and be blessed. They were all very friendly and approachable; we made new friends. The testimonies on Saturday afternoon were very powerful!"
For Sabbath School, questions submitted anonymously by attendees were answered by a panel of pastors. Although the panel only had time for a handful of the submissions, the questions started some very open and honest discussions.
Sabbath afternoon's breakout sessions were focused on practical application. Titled "How to Study Your Bible," "Living in Ministry," and "How to Study Daniel and Revelation," each of the sessions was packed, and all the attendees came away with a better understanding of how to make Bible study and the Christian walk a part of their daily lives.
Pastor Camacho expressed his delight with the outcome of the weekend.  "Even though the weekend was targeted for the youth and young adult age range, it was attended by elementary through retirees, with every person coming away blessed. I was especially impressed with the personal testimonies of the young adults. They made themselves very vulnerable and were a great encouragement to the listeners. I am proud of our young people as I see God working through them, and I look forward to more events like this!"
____________________
By Moriah Ward