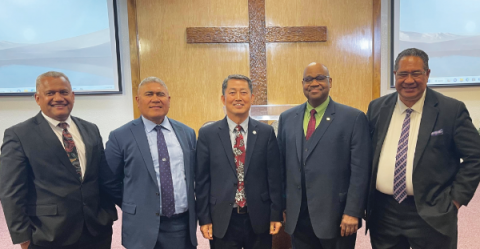 On February 25, the Sacramento Samoan church hosted a combined service, inviting the Sacramento Tongan and Fijian churches to join them. Michael Harpe, director of stewardship for the NAD, presented to over 200 people. Piano, ukulele, and a cappella music were abundant. Each church participated by providing two songs and one testimonial.
According to one member, "The message Pastor Harpe shared hit the point that God is Lord of the universe and that our faithfulness in giving back is a privilege and one way to honor God."
Pastor Tui Finau of the Tongan church stated, "Bringing the church families of Tonga, Samoa, and Fiji together was a 'High Sabbath' for us. We share a part of the South Pacific, each with distinct cultures, but all loving Jesus. This celebration weekend was inspirational; our three churches are planning similar events regularly." 
____________________
By NCC Communication and Development Department
Convocación de las iglesias Tonga, Fiji y Samoa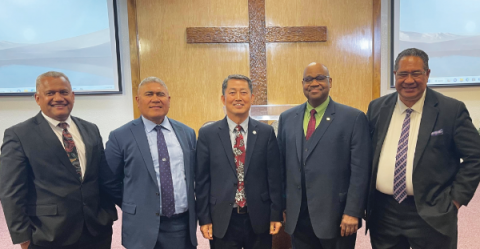 El 25 de febrero, la iglesia de Sacramento Samoa organizó un servicio combinado invitando a las iglesias Tongan y Fijian de Sacramento a unirse con ellos. Michael Harpe, director de mayordomía de la División Norteamericana, predicó a más de 200 personas. La música de piano, ukelele y a cappella fue abundante. Cada iglesia participó proporcionando dos canciones y un testimonio.
Según un miembro, «El mensaje que el pastor Harpe compartió llegó al punto de que Dios es el Señor del universo y que nuestra fidelidad en retribuir es un privilegio y una forma de honrar a Dios».
El pastor Tui Finau de la iglesia de Tonga declaró: «Reunir a las familias de las iglesias de Tonga, Samoa y Fiji fue un "Gran Sábado" para nosotros. Compartimos una parte del Pacífico Sur, cada uno con culturas distintas, pero todos amamos a Jesús. Este fin de semana de celebración fue inspirador; nuestras tres iglesias están planeando eventos similares regularmente». 
____________________
Por el Departamento de Comunicación y Desarrollo