The Radicals is a stage production about the Reformation written by Pacific Union College (PUC) professor Laura Wibberding. The play tells the story of early Anabaptist leaders. Their role in the Reformation was arguably more impactful to the heritage of the Seventh-day Adventist Church than even Martin Luther himself.
In the early 1500s, two Protestant movements were sweeping across Europe. The Magisterial Reformation, with leaders like Luther in Germany and Zwingli in Switzerland, was supported by civil magistrates who enforced conformity to the faith. However, the Radical Reformation shunned state support. The most well-known group was the Anabaptists, who held that Christianity was a personal decision.
The play features a conversation between Menno Simons, a former Catholic priest who became a prominent Anabaptist leader, and a young female character named Rachel. Their conversation frames each of the play's episodes.
"The radical ideas the Anabaptists were promoting—believer's baptism, separation of church and state, freedom of conscience, social equality—don't seem radical to us today," Wibberding said. "They embraced them not as a way out of the endless religious wars of their time but because of their reading of the Bible."
Greg Schneider, professor emeritus of psychology at PUC, played Simons in the production and agrees with Wibberding on the importance of the Anabaptist movement.
"The profound respect for individual conscience, the insistence on a religion that shapes the whole of life and sets believers apart from the world's powers and authorities, the hunger for authenticity and perfection in the service of God's kingdom—all these things are themes found repeatedly in many American religions," he said. "Adventism not least."
Wibberding, assistant professor of history, said the idea for the play originated several years ago during a Bible costume party held in place of Halloween. "I thought, 'Why not do Reformation Day?'" Wibberding said. She began to create Sabbath programs every year to share some of the stories of the Reformation—focusing on different characters or events.
"At first, it was just church participants in costumes telling a little history," she said. "Eventually, I replaced the narrator with a conversation between two people, and it became a full drama."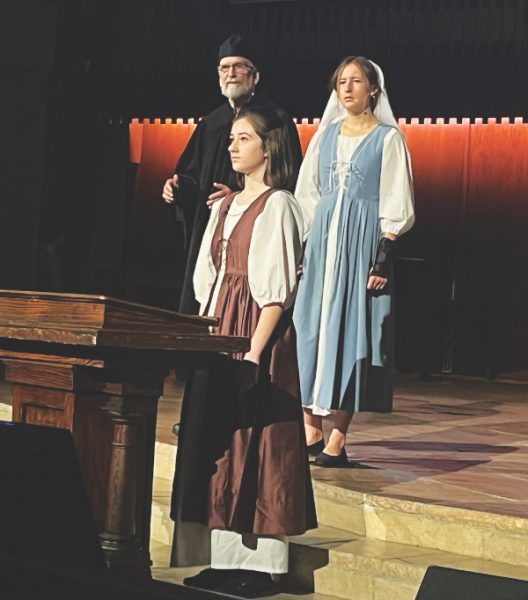 PUC Prep senior Lawren Slack played Rachel and connected with the character's journey. "I'm a teenage girl fighting to figure out how faith will guide my future," Slack said. "Rachel was a teenage girl whose faith determined hers."
The Radicals most recently was performed at PUC church on Sabbath, Nov. 5, 2022. Most actors were PUC Prep students, and there were a few PUC professors and students in the production. Along with Wibberding, PUC church student pastor Audry Guzman and PUC Prep Principal Heather Denton helped direct the play.
The Anabaptists were witnesses to the truth that God speaks to each of us directly through the Bible and that the Christian life is a choice. As Simons says in the play, "No one can force you to make it."
____________________
By Laura Gang
The Radicals ponen en relieve la fe de los anabaptistas
The Radicals es una producción teatral sobre la Reforma escrita por la profesora Laura Wibberding de Pacific Union College (PUC). Cuenta la historia de los primeros líderes anabaptistas. Su papel en la Reforma fue posiblemente más impactante para la herencia de la Iglesia Adventista del Séptimo Día que incluso el propio Martín Lutero.
A principios de 1500, dos movimientos protestantes se extendían por toda Europa. La Reforma Magistral, con líderes como Lutero en Alemania y Zuinglio en Suiza, fue apoyada por magistrados civiles que impusieron la conformidad con la fe. Sin embargo, la Reforma Radical rechazó el apoyo estatal. El grupo más conocido fueron los anabaptistas, que sostenían que el cristianismo era una decisión personal. 
La obra presenta una conversación entre Menno Simons, un exsacerdote católico que se convirtió en un prominente líder anabaptista y una jovencita llamada Rachel. Su conversación enmarca cada uno de los episodios de la obra.
«Las ideas radicales que los anabaptistas estaban promoviendo —el bautismo de los creyentes, la separación de la iglesia y el estado, la libertad de conciencia, la igualdad social— no nos parecen radicales», dijo Wibberding. «Los tomaron no como una forma de salir de las interminables guerras religiosas de su tiempo, sino por su lectura de la Biblia».
Greg Schneider, profesor emérito de psicología de PUC, interpretó a Simons en la producción y está de acuerdo con Wibberding en la importancia del movimiento anabaptista.
«El profundo respeto por la conciencia individual, la insistencia en una religión que da forma a toda la vida y separa a los creyentes de los poderes y autoridades del mundo, el hambre de autenticidad y perfección al servicio del reino de Dios, todas esas cosas son temas que se encuentran repetidamente en muchas religiones estadounidenses», dijo. «El adventismo no menos importante».
Wibberding, profesora asistente de historia, dijo que la idea de la obra se originó hace varios años durante una fiesta de disfraces bíblicos celebrada en lugar de Halloween. «Pensé: "¿por qué no hacer el Día de la Reforma?"» Dijo Wibberding. Ella comenzó a crear programas sabáticos cada año para compartir algunas de las historias de la Reforma, centrándose en diferentes personajes o eventos.
«Al principio, solo eran participantes de la iglesia disfrazados que contaban un poco de la historia», dijo. «Eventualmente, reemplacé al narrador con una conversación entre dos personas, y se tornó en un drama completo».
Lawren Slack, estudiante de último año de PUC Prep, interpretó a Rachel y se conectó con la experiencia del personaje. «Soy una adolescente que lucha por descubrir cómo la fe guiará mi futuro», dijo Slack. «Rachel era una adolescente cuya fe determinó su futuro».
The Radicals se realizó más recientemente en la iglesia de PUC el sábado 5 de noviembre de 2022. La mayoría de los actores eran estudiantes de PUC Prep, y había algunos profesores y estudiantes de PUC en la producción. Junto con Wibberding, el pastor de jóvenes de la iglesia, Audry Guzmán, y la directora de PUC Prep, Heather Denton, ayudaron a dirigir la obra.
Los anabaptistas fueron testigos de la verdad de que Dios habla a cada uno de nosotros directamente a través de la Biblia y que la vida cristiana es una elección. Como dice Simons en la obra: «Nadie puede obligarte a hacerlo».
____________________
Por Laura Gang