Sunday, January 22, was a special day for the women's ministries leadership of the Arizona Conference. Approximately 65 women from around the state convened at the Mesa Palms church in Mesa, Arizona, for a full day of fellowship and training. Lynn Ortel, Arizona Conference women's ministries coordinator, opened the meeting with a welcome for the group. Lillian Keyes gave a devotional, followed by a series of presenters who shared ideas, stories, testimonies, and tips on creating a successful women's ministries program in the local church.
The presentations included ways to develop a women's ministries team through prayer, organizing key members of the church such as the church secretary and head deaconess, and training members. Leadership skills were discussed, including how to define responsibilities, mentor others, and communicate effectively.
How to get organized was another highlight of the meeting, which went beyond the usual calendars, lists, notes, etc. Suggestions for staying organized included following God's principles of order and remembering who called you into ministry. Mentoring was a topic that crossed over into several of the presentations. Active listening, nurturing, and discovering the needs of various age groups are key components of mentoring members.
The Creating a Stress-Free Environment presentation encouraged participants to laugh, exercise, delegate, unwind, and connect with others. Honoring the Sabbath was the final seminar, which brought together several of the points from the other presentations. A life full of prayer was discussed as being a foundation to any ministry—one which is vitally critical to women's ministries in the local church.
The event culminated with Elisa Navarro anointing the hands of first the conference women's ministries leaders and then every woman who was in attendance. It was a Spirit-filled day, and the leaders of the event were grateful for the volunteers that made the day a joy for all.
____________________
By Alice Ray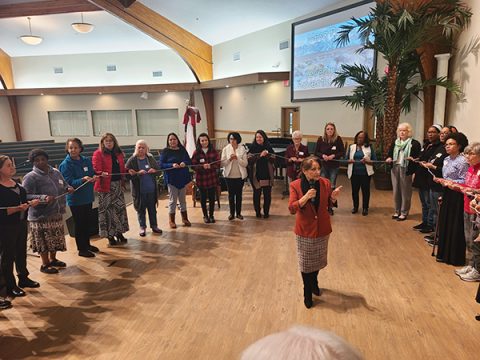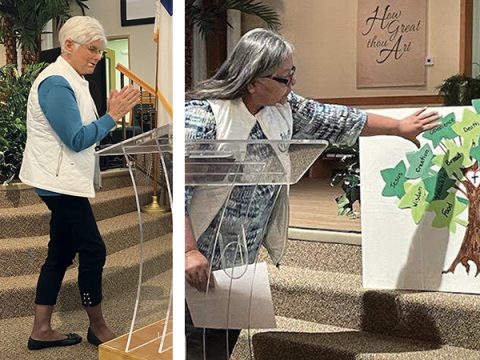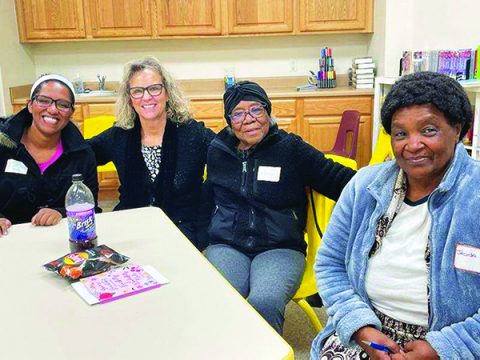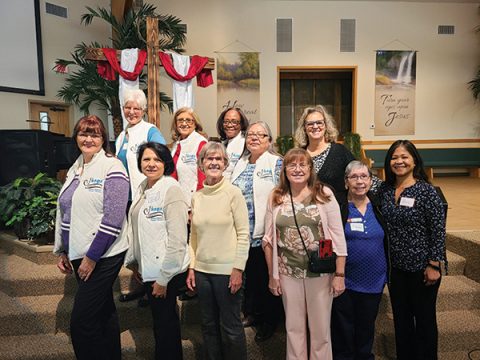 Servir de corazón, como Jesús
El domingo 22 de enero fue un día especial para el liderazgo del ministerio de la mujer de la Arizona Conference. Aproximadamente 65 mujeres de todo el estado se reunieron en la iglesia Mesa Palms en Mesa, Arizona, para un día completo de compañerismo y capacitación. Lynn Ortel, coordinadora de ministerio de la mujer de la Arizona Conference, abrió la reunión con una bienvenida al grupo. Lillian Keyes dio un devocional, seguido de una serie de presentadoras que compartieron ideas, historias, testimonios y consejos sobre cómo crear un programa exitoso de ministerio de la mujer en la iglesia local.
Las presentaciones incluyeron formas de desarrollar un equipo de ministerio de la mujer a través de la oración, organizando a miembros clave de la iglesia, como la secretaria de la iglesia y la diaconisa principal, y capacitando a los miembros. Se discutieron las habilidades de liderazgo, incluyendo la forma de definir responsabilidades, guiar a otros y comunicarse de manera efectiva.
Cómo organizarse fue otro punto culminante de la reunión, que fue más allá de los calendarios, listas, notas, etc., habituales. Las sugerencias para mantenerse organizada incluyeron seguir los principios de orden de Dios y recordar quién las llamó al ministerio. La mentoría fue un tema que se cruzó en varias de las presentaciones. La escucha activa, la crianza y el descubrimiento de las necesidades de varios grupos de edad son componentes clave de la tutoría de los miembros.
La presentación «Crear un ambiente libre de estrés» alentó a las participantes a reír, hacer ejercicio, delegar, relajarse y conectarse con los demás. «Honrar el sábado» fue el seminario final, que reunió varios de los puntos de las otras presentaciones. Una vida llena de oración fue discutida como un fundamento para cualquier ministerio, uno que es vitalmente crítico para el ministerio de la mujer en la iglesia.
El evento culminó con Elisa Navarro ungiendo las manos primero de las líderes del ministerio de la mujer de la conferencia y después las de todas las mujeres que asistieron. Fue un día lleno del Espíritu y las líderes del evento estuvieron agradecidas por las voluntarias que hicieron del día una alegría para todos.
____________________
Por Alice Ray