by Alberto Valenzuela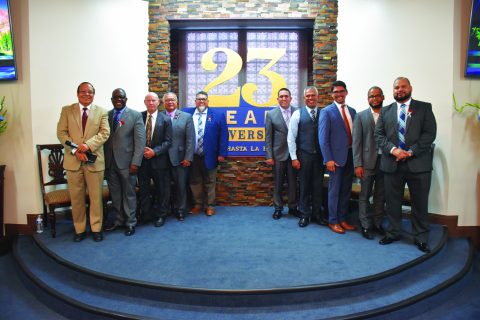 From a small group of believers without a church to call home to a thriving and engaged congregation, the Reno-Sparks Hispanic church in Reno, Nevada, has come a long way since its inception in 1991. The church recently celebrated a mortgage burning ceremony after making the final payment on the church they purchased in 1995.
The weekend of July 23 and 24 was marked as a joyful celebration as the church not only burned its mortgage but also celebrated the nearly 30 years of the church's beginnings. All the previous pastors were invited to the celebration, and they participated by making both historical and devotional presentations. Elders Leon B. Brown, Sr., then-president of the Nevada-Utah Conference, and Carlos Camacho, then-executive secretary of the conference, attended the Sabbath morning service and participated in the mortgage burning ceremony.
One of the founding members of the congregation, Amado Gomez, shared his perspective of the church's early days and how God led them to where they are.
Showing that God works in many ways, the members of this newly formed group all ended up in Reno looking for new work when the broom factory where they worked in another town closed down. Among them was Gomez, their supervisor at the factory. While some of the people from the factory were Adventist, not everyone was; however, several of them were soon attending Sabbath services with their Adventist friends.
If we hadn't moved to Reno, there wouldn't be a Hispanic church there. We grew so fast, and we always had a place to worship.
Like many congregations, the Reno-Sparks Hispanic church started as a small group who worshiped together every Sabbath wherever they could find an available spot, including rooms or gyms in other churches who were kind enough to welcome them.
One of the first churches where they met was an African American church. The pastor of the church was very supportive of having them there, and the Spanish-speaking group even met someone who began translating the English services to Spanish. After a while, they were blessed to find their own Spanish-speaking pastor.
In order to grow their small congregation and share the gospel with others, the group began running a short weekly Spanish-language radio sermon called La Verdad Presente (The Present Truth). As a result of the radio program, more people started attending and Gomez began giving Bible studies to those who were interested in learning more.
As can happen with groups with no church building of their own, circumstances changed unexpectedly and the growing Spanish-speaking group had to move, this time renting from a Pentecostal church. Ministry didn't stop though. Through a $180 donation, the weekly radio sermon continued to run, bringing even more people to church—and Gomez kept giving more Bible studies.
By now, there had been approximately 19 baptisms, and there were more than 35 people in the group. Among those baptized were two young Brazilians from the Pentecostal congregation. The Pentecostal church was not too pleased, and the Adventist group was asked to leave.
After a few years of moving from building to building, what is now the Reno-Sparks Spanish church finally had the opportunity to purchase its own church building. Through effort, donations, and fundraisers, including food sales of Salvadoran pupusas, they purchased their current building.
"If we hadn't moved to Reno, there wouldn't be a Hispanic church there," said Gomez, who now resides in California, as he reflected on how God led the group during their early days. "We grew so fast, and we always had a place to worship," he said of God's provision. "He finally allowed us to have our own church."
---
By Cynthia Mendoza and Alberto Valenzuela