This year's theme at Pacific Union College is "Revival." Certainly, there's no better metaphor for renewal than spring. It's a time when we witness the glorious rebirth of nature all around us. The sun finally casts its warm light after a long, cold winter. Spring brings a revitalized sense of optimism.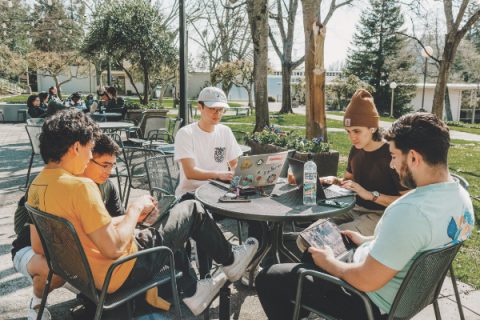 Likewise, there's optimism on the horizon for PUC. For the first time in over a decade, PUC has the highest number of new students enrolled for spring. Additionally, Economic Full-Time Equivalent (EFTE) enrollment has increased each quarter this year—something that has never happened before in the modern history of the college. 
Many factors have contributed to these successes. Kharolynn Pascual Smith, director of orientation, transitions, and retention, said the return to pre-pandemic conditions has made it possible for many students to move forward with their college plans. Pascual Smith, who focuses primarily on re-enrollment, regularly checks in with her students and helps them through difficult obstacles. That kind of personal care is another reason students are more likely to stay. 
Pascual Smith also cited the enrollment team's "intentional approach in seeking out and cultivating potential students for whom PUC could be a good fit." 
Indeed, PUC enrollment counselors have worked with genuine care and purpose to build relationships and be actively present at events, including academy visits, fairs, camp meetings, and camps in the summer. Director of Recruitment Pauline Cidro said her team's strength is customer service. "We make sure our students know that we are their go-to people, ready to provide them with ongoing support as they go through their decision-making processes."
Another outstanding achievement is that retention of returning students is currently tied for the highest rate in recent history. Director of Admissions Craig Philpott said this retention is a significant component of the growth at PUC. There is a growing message that PUC cares about each student and their success in life—beyond grades. "This messaging is already having an impact on our current students," Philpott said.
Online offerings and programs on other campuses are also supporting growth. Philpott said there is a growing number of "drive-in" students—new and local new-transfer students who are choosing PUC as their college. Many of them are nursing and healthcare students. The online BSN program has also attracted working nurses. "Gradually, we are developing a customer base that is seeking the education products of PUC without a commitment to residential campus programs," Philpott said. 
This good news has far-reaching effects. Commitments for next fall are the highest they've been in five years. Philpott said that spring typically predicts growth for the fall quarter—particularly the number of returning on-campus students combined with strong retention and growth in online and off-campus programs. 
This rise in enrollment and retention did not just result from the hard work of PUC's enrollment staff. It was because of faculty, staff, and others who took extra time with students and kept PUC in prayer. 
"Many people in a variety of spheres—whether they're students, staff, faculty, alumni, board members, or community members near and far—care deeply about PUC and our students," Pascual Smith said. "They're using their influence to encourage new students to attend, current students to persist, and stop-out students to return. I also know there are prayer warriors out there, specifically praying for PUC's success in fulfilling its mission. It truly is a team effort!"
____________________
By Laura Gang
Matricula de primavera de PUC la más alta en más de 10 años
El tema de este año en Pacific Union College es «Reavivamiento». Ciertamente, no hay mejor metáfora para la renovación que la primavera. Es un momento en el que somos testigos del glorioso renacimiento de la naturaleza. El sol finalmente proyecta su cálida luz después de un largo y frío invierno. La primavera trae una sensación revitalizada de optimismo.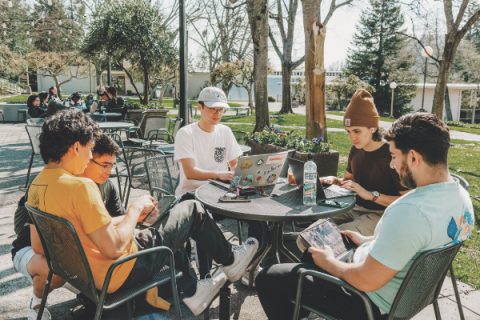 Asimismo, hay optimismo en el horizonte en PUC. Por primera vez en más de una década PUC tiene el mayor número de nuevos estudiantes matriculados. Además, la matricula económica equivalente a tiempo completo (EFTE) ha aumentado cada trimestre este año, algo que nunca había sucedido en la historia moderna del college. 
Muchos factores han contribuido a esos éxitos. Kharolynn Pascual Smith, directora de orientación, transiciones y retención, dijo que el regreso a las condiciones anteriores a la pandemia ha hecho posible que muchos estudiantes sigan adelante con sus planes de estudio. Pascual Smith, quien se enfoca principalmente en la reinscripción, se comunica regularmente con sus estudiantes y los ayuda a superar obstáculos difíciles. Ese tipo de atención personal es otra razón por la que probablemente los estudiantes se queden. 
Pascual Smith también citó el «enfoque intencional del equipo de matriculación en la búsqueda y el cultivo de estudiantes potenciales para quienes PUC pudiese ser una buena opción». 
De hecho, los consejeros de matriculación de PUC han trabajado con verdadero ahínco y propósito para establecer relaciones y estar activamente presentes en eventos, incluyendo visitas a academias, ferias, campestres y campamentos de verano. La directora de reclutamiento, Pauline Cidro, dijo que la fortaleza de su equipo es el servicio al cliente. «Nos aseguramos de que nuestros estudiantes sepan que somos su personal de referencia, listos para brindarles apoyo continuo a medida que avanzan en sus procesos en la toma de decisiones».
Otro logro sobresaliente es que la retención de estudiantes está actualmente empatada con la tasa más alta en la historia reciente. El director de admisiones, Craig Philpott, dijo que esa retención es un componente significativo del crecimiento en PUC. PUC se preocupa por cada estudiante y su éxito en la vida, más allá de las calificaciones. «Ese mensaje ya está teniendo un impacto en nuestros estudiantes», dijo Philpott.
Las opciones y programas en línea en otros campus también están apoyando el crecimiento. Philpott dijo que hay un número creciente de estudiantes «drive-in», estudiantes nuevos y locales de nueva transferencia que eligen a PUC como su college. Muchos son estudiantes de enfermería y del área de la salud. El programa BSN en línea también ha atraído a enfermeras y enfermeros que trabajan. «Poco a poco, estamos desarrollando una base de clientes que está buscando los productos educativos de PUC sin un compromiso con los programas de campus residenciales», dijo Philpott. 
Esta buena noticia tiene efectos de largo alcance. Los compromisos para el próximo otoño son los más elevados que han habido en cinco años. Philpott dijo que la primavera generalmente predice un crecimiento para el trimestre de otoño, particularmente el número de estudiantes que regresan al campus combinado con una fuerte retención y crecimiento en los programas en línea y fuera del campus. 
Este aumento en la matricula y la retención no solo ha sido el resultado del arduo trabajo del personal de reclutamiento de PUC. Fue debido a la facultad, el personal de reclutamiento y otros que tomaron tiempo extra con los estudiantes y mantuvieron a PUC en sus oraciones. 
«Muchas personas en una variedad de esferas ya sean estudiantes, personal, profesores, exalumnos, miembros de la junta o miembros de la comunidad cercanos y lejanos, se preocupan profundamente por PUC y nuestros estudiantes», dijo Pascual Smith. «Están usando su influencia para alentar a los nuevos estudiantes a asistir, a los estudiantes actuales a continuar y a animar a estudiantes a regresar. También sé que contamos con guerreros de oración, específicamente orando por el éxito de PUC en el cumplimiento de su misión. ¡Realmente es un esfuerzo de equipo!»
____________________
Por Laura Gang