Blake Jones –Orangevale
Blake Jones was installed at Orangevale Church on Jan. 21. He joins our territory from the Florida Conference. He said, "I wasn't looking to move to California until my friend talked me into it. From there, I felt this is where God wanted me to go."
That friend was Kevin Robert, church growth and evangelism director. "I got him into this," Robert explained. "Blake clearly sees the pastoral ministry and how it is a calling to be an equipper of the saints. He will do a great job!" Jones is passionate about, as he said, "equipping people to be fruitful disciples of Jesus." Blake has been married to his wife, Cris, for 16 years. They have two children, Lucas, 12, and Sofia, 8.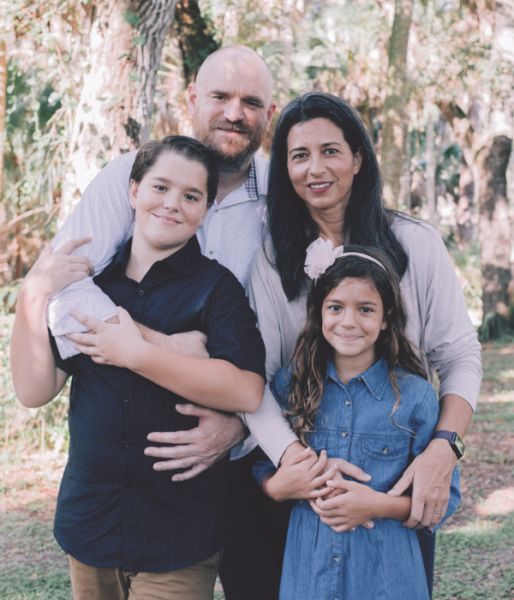 Blake Jones—Orangevale     
Blake Jones fue presentado en la Iglesia Orangevale el 21 de enero. Se une a nuestro territorio desde la Florida Conference. Ha dicho: «No estaba buscando mudarme a California hasta que mi amigo me convenció de hacerlo. A partir de ahí, sentí que aquí es donde Dios quería que estuviese».
Ese amigo era Kevin Robert, director de crecimiento y evangelismo de iglesia. «Lo metí en esto», explicó Robert. «Blake ve claramente el ministerio pastoral y cómo ha sido llamado a ser un equipador de los santos. ¡Hará un gran trabajo!» A Jones le apasiona, como ha dicho, «equipar a las personas para que sean discípulos fructíferos de Jesús». Blake ha estado casado con su esposa, Cris, durante 16 años. Tienen dos hijos, Lucas, de 12 años, y Sofía, de 8.
Robert Benardo – Sacramento Central
Rob Benardo was installed as pastor at Sacramento Central Church on Jan. 21. Benardo returned to our territory from the Michigan Conference. He pastored at the Milpitas church in the early 2000s and is pleased to be back in Northern California. His working title for what he hopes to accomplish in Sacramento is S.P.E.C.S.—Strategic Planned Evangelism for the City of Sacramento.
Lynette Stansfield, a church member, said, "Sacramento Central is excited and grateful that God has led Pastor Rob and his wife, Olga, to Sacramento. We are particularly thrilled with his vision to grow our church by reaching out and serving those in Sacramento."
Bernardo shares his life with Olga, his wife of 32 years. They have two grown daughters, Amaris and Alexia, and his life motto is, "God's glory is my greatest joy."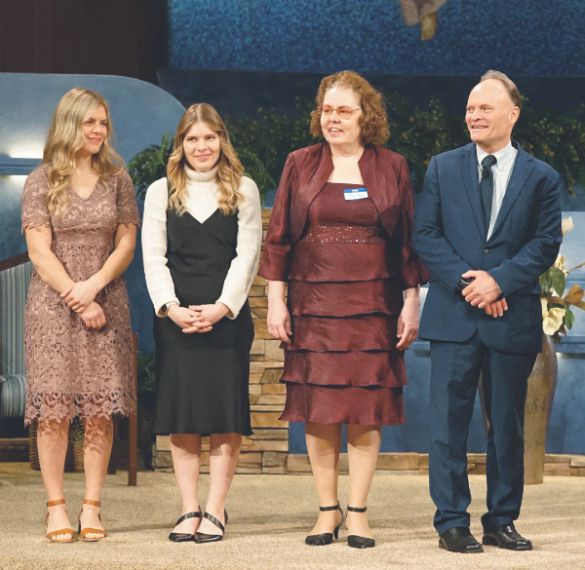 Robert Benardo–—Sacramento Central
Rob Benardo fue presentado como pastor en la Iglesia Central de Sacramento el 21 de enero. Benardo regresó a nuestro territorio de la Michigan Conference. Pastoreó en la iglesia Milpitas a principios de la década de 2000 y se complace en estar de vuelta en el norte de California. Su título provisional para lo que espera lograr en Sacramento es S.P.E.C.S.—Strategic Planned Evangelism for the City of Sacramento.
Lynette Stansfield, miembro de la iglesia, dijo: «Sacramento Central está emocionada y agradecida de que Dios haya llevado al pastor Rob y a su esposa, Olga, a Sacramento. Estamos particularmente encantados con su visión de hacer crecer nuestra iglesia al ministrar y servir a Sacramento».
Bernardo comparte su vida con Olga, su esposa de 32 años. Tienen dos hijas adultas, Amaris y Alexia, y su lema de vida es: «La gloria de Dios es mi mayor alegría».
Keitrich Germany – Rancho Cordova and Stockton Mayfair
In November, the Rancho Cordova and Stockton Mayfair churches welcomed Kietrich Germany as their new district pastor. Both congregations received the Germanys with open arms and excitement. Rudy Peters, African American Ministries coordinator, exclaimed, "I am excited about what God is going to do in the lives and communities of these two churches."
A native of Sacramento, Kietrich shares his life with Teairra, his wife of 13 years. When asked about his focus, Germany said, "My spiritual gift is public and personal evangelism, and it's nice to be back home in the Sacramento area. I have a lot of friends and community connections here. As I get to know members in my district, I will enjoy researching our community needs."
Keitrich Germany—Rancho Cordova y Stockton Mayfair
En noviembre, las iglesias Rancho Cordova y Stockton Mayfair dieron la bienvenida a Kietrich Germany como su nuevo pastor de distrito. Ambas congregaciones recibieron a los Germany con los brazos abiertos y entusiasmo. Rudy Peters, coordinador de Ministerio Afroamericano, exclamó: «Estoy entusiasmado con lo que Dios va a hacer en las vidas y comunidades de esas dos iglesias».
Nacido en Sacramento, Kietrich comparte su vida con Teairra, su esposa de 13 años. Cuando se le preguntó sobre su enfoque, Germany dijo: «Mi don espiritual es el evangelismo público y personal y es agradable estar de vuelta en casa en el área de Sacramento. Tengo muchos amigos y conexiones comunitarias aquí. A medida que conozca a los miembros de mi distrito, disfrutaré investigando las necesidades de nuestra comunidad».
Randy Speyer – Sacramento Woodside
Randy Speyer was installed as the pastor of Sacramento Woodside church on Nov. 5. Before joining Woodside; he was the director of mission and spiritual care at Adventist Health. He was also pastor of care and counseling at Loma Linda University church and former lead pastor at Palo Cedro church.
Jim Lorenz, the ministerial director, said, "Randy has so many talents and has worked in health ministry, been a church pastor, a counselor; we are blessed to have him choose church ministry again at Woodside."
Speyers hopes to empower the growth of a loving and healthy community whose joyful pursuit is a spiritual life with God. As he explained, "I have a love for storytelling, music, and art with a passion for shaping people who will go out and shape the communities they are a part of." Randy has been married to his high school sweetheart, Jewel Tryon-Speyer, for 42 years.
Randy Speyer—Sacramento Woodside
Randy Speyer fue presentado como pastor de la iglesia Sacramento Woodside el 5 de noviembre. Antes de unirse a Woodside fue director de misión y cuidado espiritual en Adventist Health. También fue pastor de atención y consejería en la iglesia de Loma Linda University y ex pastor principal en la iglesia de Palo Cedro.
Jim Lorenz, el director ministerial, dijo: «Randy tiene tantos talentos y ha trabajado en el ministerio de salud, ha sido pastor de iglesias, consejero; tenemos la bendición de que elija nuevamente el ministerio en la iglesia en Woodside».
Speyers espera potenciar el crecimiento de una comunidad amorosa y saludable cuya búsqueda gozosa es una vida espiritual con Dios. Como explicó: «Me encanta contar historias, la música y el arte con una pasión por formar personas que saldrán y darán forma a la comunidad de la que son miembros». Randy ha estado casado con su novia de la escuela secundaria, Jewel Tryon-Speyer, durante 42 años.