Family issues at home, vast weather changes around the world, travel restrictions, problems that arise and are out of our control: While this is the reality in some of our lives, for a brief moment at summer camp, these issues fade away as our campers and camp staff understand how much bigger our God is.
This summer at Camp Waianae the theme was "Never-Ending," based on the passage found in Lamentations 3:22-23: "The steadfast love of the Lord never ceases; his mercies never come to an end; they are new every morning; great is your faithfulness" (ESV). 
We explored this theme of God's never-ending love with a creative skit retelling the story of the prodigal son. The evening skits were about a farmer who had a son and daughter. While the daughter was content staying home and living a farmer's life, the son wanted to venture off into the city and leave the farm and his family behind. Each night the skit would explore troubles that the son would run into. By the end of the week, the son came home, worried that he would no longer be accepted, but his father welcomed him home with open arms. 
The camp counselors and campers would have cabin worship after each evening's skit. During cabin worship, they would have time to reflect together on what they had seen. Because of these worship times, the campers had the opportunity to ask questions about the Bible and dig deeper into what this story meant. Our camp staff have countless stories of campers, from the ages of 6-17, who finally understood what the never-ending love of God looked like.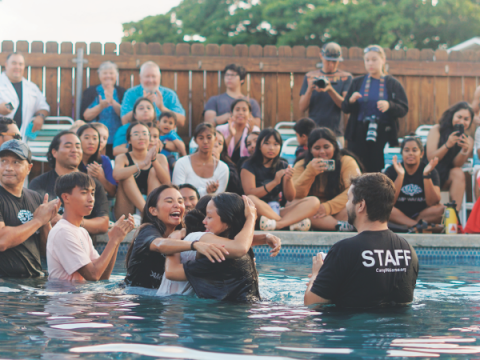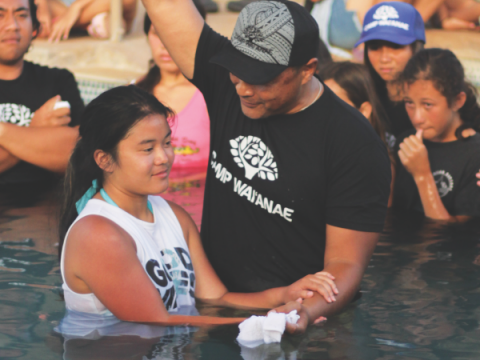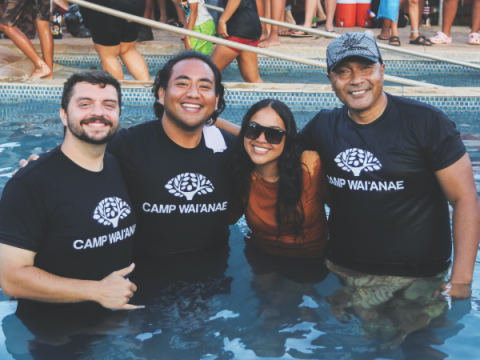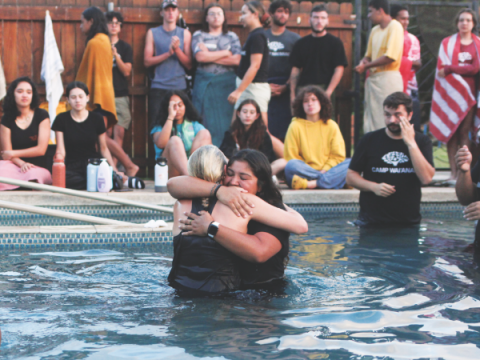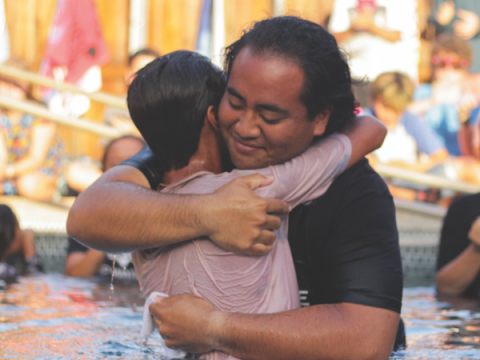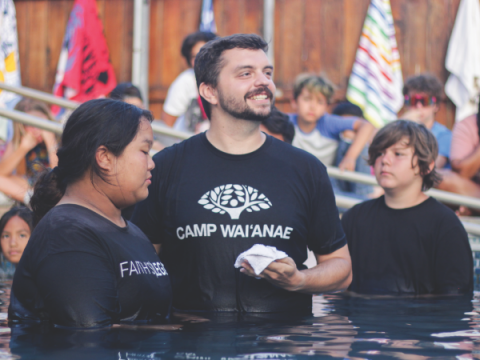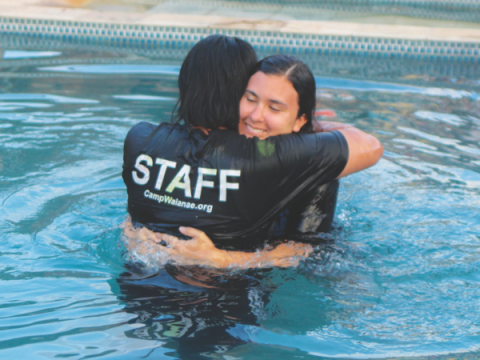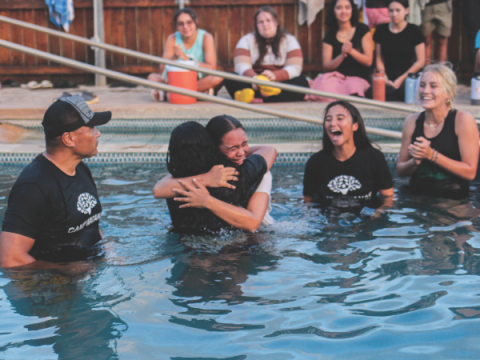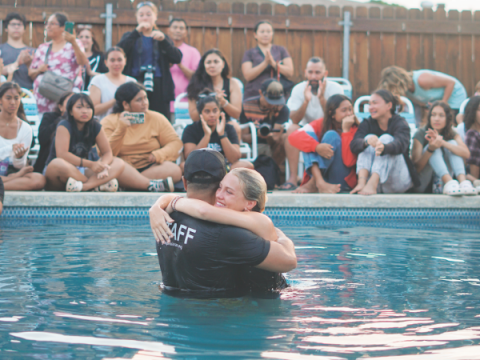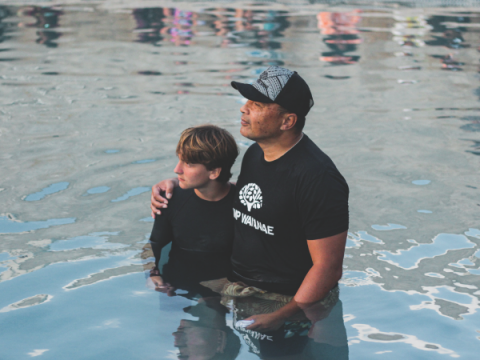 At the end of our summer, we were blessed to have had 40 baptisms at Camp Waianae—17 campers during Junior Week, 19 campers during Teen Week, and four staff members. We are also excited that four more of our campers have decided to be baptized back at their home church. With a total of 44 lives changed, these campers and staff were able to declare their love for God in front of their camp family, as well as their own family watching either online or in person.
The chorus from our theme song this summer brings this all together: 
Canyons wide, oceans deep, 
Can't contain all Your love for me. 
No matter how high or far I reach, 
There's no end to Your love for me. 
While summer camp may come to an end, the love of God never does. We want to thank all the families who entrusted us with your children this summer. Join us in prayer for the campers who found that never-ending love this summer.
____________________
By Miguel Manzo
Interminable
Problemas en el hogar, grandes cambios climáticos en todo el mundo, restricciones de viaje, problemas que surgen y están fuera de nuestro control: si bien esa es la realidad en algunas de nuestras vidas, por un breve momento en el campamento de verano, esos problemas se desvanecen a medida que nuestros acampantes y el personal del campamento entienden cuánto más grande es nuestro Dios.
Este verano en Camp Waianae el tema fue «Interminable», basado en el pasaje que se encuentra en Lamentaciones 3:22-23: «¡El fiel amor del Señor nunca se acaba! Sus misericordias jamás terminan. Grande es su fidelidad; sus misericordias son nuevas cada mañana» (NTV). 
Exploramos ese tema del interminable amor de Dios con parodias creativas que volvieron a contar la historia del hijo pródigo. Las parodias de la noche eran sobre un granjero que tenía un hijo y una hija. Mientras la hija se contentaba con quedarse en casa y vivir la vida de un granjero, el hijo quería aventurarse en la ciudad y dejar atrás la granja y su familia. Cada noche, la parodia exploraba los problemas con los que se encontraba el hijo. Al final de la semana, el hijo llegó a casa, preocupado de que ya no sería aceptado, pero su padre lo recibió en casa con los brazos abiertos. 
Los consejeros del campamento y los acampantes tenían adoración en su cabaña después de la parodia de cada noche. Durante el culto en su cabaña, tenían tiempo para reflexionar sobre lo que habían visto. Debido a esos tiempos de adoración, los acampantes tuvieron la oportunidad de hacer preguntas sobre la Biblia y profundizar en lo que significaba esa historia. Nuestro personal del campamento tiene innumerables historias de acampantes, de 6 a 17 años, que finalmente entendieron cómo era el amor interminable de Dios.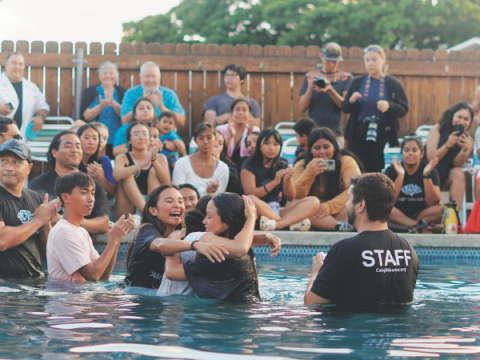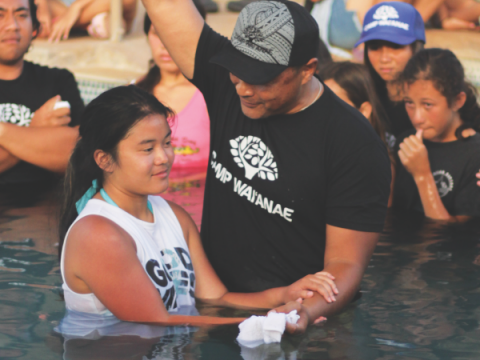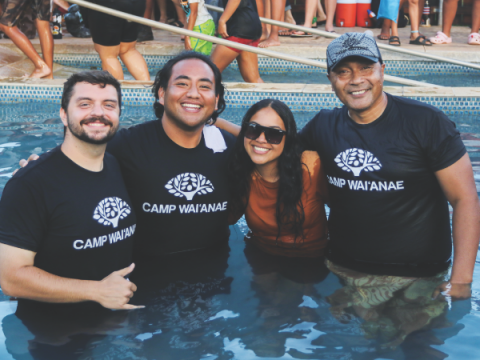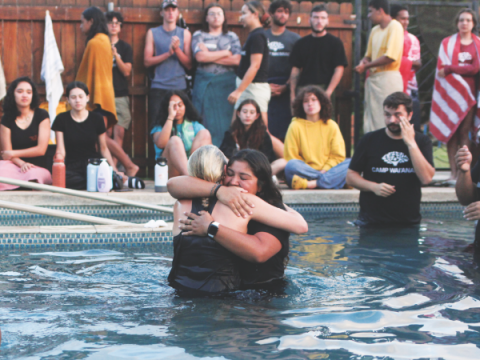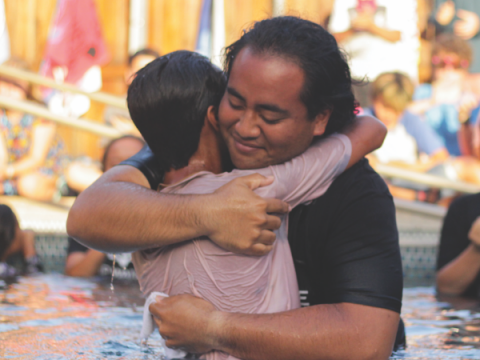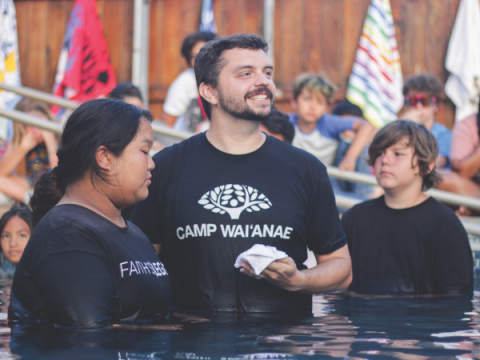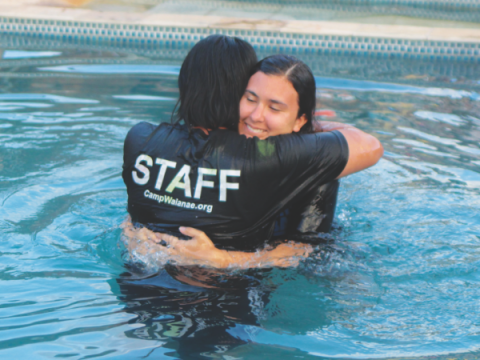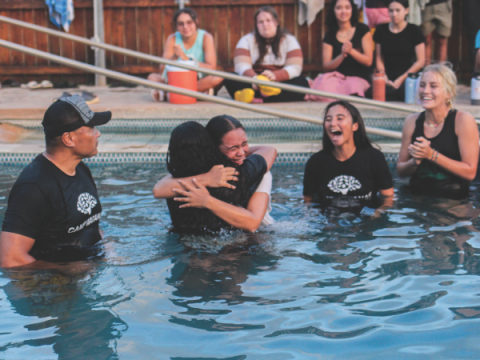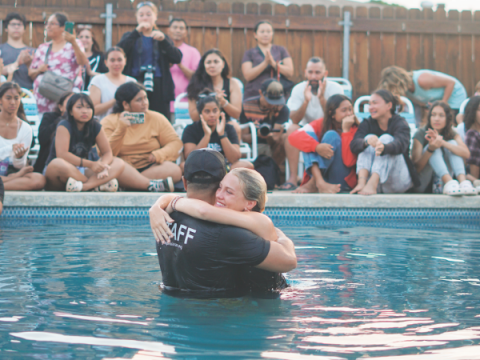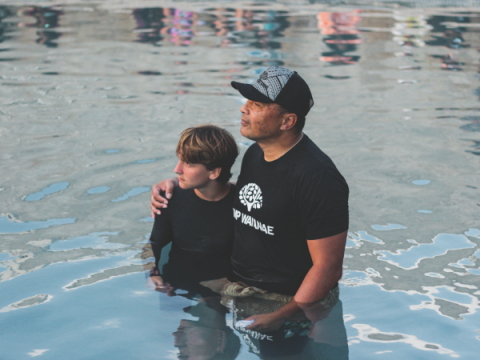 Al final del verano, tuvimos la bendición de haber tenido 40 bautismos en Camp Waianae: 17 acampantes durante la Semana Junior, 19 acampantes durante la Semana de la Adolescencia y cuatro miembros del personal. También estamos emocionados de que cuatro de nuestros acampantes hayan decidido ser bautizados en su iglesia. Con un total de 44 vidas transformadas, esos acampantes y el personal pudieron declarar su amor por Dios frente a su familia del campamento, así como su familia que veía en línea o en persona.
El coro de nuestro canto tema de este verano lo reúne todo: 
Cañones anchos, océanos profundos, 
No pueden contener todo tu amor por mí. 
No importa cuán alto o lejos llegue, 
Tu amor por mí no tiene fin. 
Mientras que el campamento de verano puede llegar a su fin, el amor de Dios nunca termina. Queremos agradecer a todas las familias que nos confiaron sus hijos este verano. Únase a nosotros en oración por los acampantes que encontraron ese amor interminable este verano.
____________________
Por Miguel Manzo