This year's Pathfinder Honor Day, which usually spans a weekend at Camp Cedar Falls, took place in one day for the first time at Glendale Adventist Academy. More than 400 Pathfinders from the Southern California Conference (SCC) met to take classes to receive honors in various categories. Twenty honors were offered, such as Camping Skills, Pin Trading, Social Media, Human Trafficking, Video, Accounting, Wood Carving, and more.
Most of the Pathfinder honor classes were taught by SCC Pathfinder area coordinators, the Pathfinder advisory team, and SCC office personnel. Two of the honors were taught by Southeastern California Conference Pathfinder leaders: Christian Storytelling by Joel Milla and Fire Building by JJ and Mercy Martinez.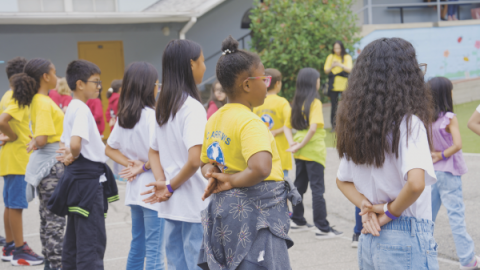 "Many of our attendees were new to Pathfinders, and in one day they were able to earn multiple honors to place on their sash," said Steve Clement, Pathfinder area coordinator. "This is a proud achievement for these Pathfinders. For others, it was an opportunity to add to the honors they had earned in prior years. The attendance was so much greater than we anticipated!"
Logan Parchamento, a Pathfinder from the Indonesian-American church, shared a message for the Pathfinders taking the Preach It honor with Sal Garcia, SCC youth ministries director. Parchamento, who has been preaching to children and youth since he was seven years old for organizations like Amazing Facts and 3ABN, encouraged all Pathfinders and leaders to allow God to use them in sharing their faith.
"Do not be afraid or embarrassed about telling others about your faith in God," Parchamento said in his message.
Though the honors classes were the focus of the day, many Pathfinder clubs took advantage of the number of people present by selling food—such as tacos, pizza, and nachos—to fundraise for the upcoming international camporee. More than 40 SCC Pathfinder clubs are preparing to take that journey to Gillette, Wyoming, next August.
Garcia reminded the Pathfinders and leadership team about the importance of not forgetting the purpose of the Pathfinder Honor Day. Referring to Jeremiah 29:11, Garcia challenged all Pathfinders: "God's plan for each of you Pathfinders is to prosper you and to give you a hope and a future," Garcia said. "Being here today is part of God's plan for your life. He is preparing you for something great!" 
____________________
By Sal Garcia and Araya Moss
Más de 400 Conquistadores participan en Pathfinder Honor Day
El Día de Honores de los Conquistadores de este año, que generalmente abarca un fin de semana en Camp Cedar Falls, se llevó a cabo en un solo día por primera vez en Glendale Adventist Academy. Más de 400 Conquistadores de la Southern California Conference (SCC) se reunieron para tomar clases y recibir honores en varias categorías. Se ofrecieron veinte honores como habilidades para acampar, intercambio de distintivos, redes sociales, trato de personas, video, contabilidad, tallado en madera y más.
La mayoría de las clases de honores de Conquistadores fueron impartidas por los coordinadores de área de Conquistadores de SCC, el equipo asesor de Conquistadores y el personal de la oficina de SCC. Dos de los honores fueron impartidos por los líderes de los Conquistadores de la Southern California Conference: narración cristiana por Joel Milla y como hacer una fogata por JJ y Mercy Martínez.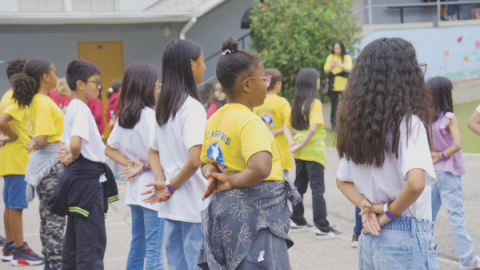 «Muchos de los asistentes eran nuevos Conquistadores y en un día pudieron obtener múltiples honores para colocar en su banda», dijo Steve Clement, coordinador de área de Conquistadores. «Ese es un logro del que esos Conquistadores se sienten orgullosos. Para otros, fue una oportunidad para añadir a los honores que habían ganado en años anteriores. ¡La asistencia fue mucho mayor de lo que esperábamos!»
Logan Parchamento, un Conquistador de la iglesia indonesio-estadounidense, compartió un mensaje para los Conquistadores que toman el honor «Predícalo», con Sal García, director de ministerio juvenil de SCC. Parchamento, quien ha estado predicando a niños y jóvenes desde que tenía siete años para organizaciones como Amazing Facts y 3ABN, animó a todos los Conquistadores y líderes a permitir que Dios los use para compartir su fe.
«No tengas miedo ni vergüenza de contarles a otros acerca de tu fe en Dios», dijo Parchamento en su mensaje.
Aunque las clases de honores fueron el foco del día, muchos clubes de Conquistadores aprovecharon la cantidad de personas presentes vendiendo comida, como tacos, pizza y nachos, para recaudar fondos para el próximo camporí internacional. Más de 40 clubes de Conquistadores de SCC se están preparando para emprender ese viaje a Gillette, Wyoming, el próximo mes de agosto.
García recordó a los Conquistadores y al equipo de liderazgo sobre la importancia de no olvidar el propósito del Día de Honores de los Conquistadores. Refiriéndose a Jeremías 29:11, García desafió a todos los Conquistadores: «El plan de Dios para cada uno de ustedes, los Conquistadores, es prosperarlos y darles una esperanza y un futuro», dijo García. «Estar aquí hoy es parte del plan de Dios para tu vida. ¡Él te está preparando para algo grandioso!» 
____________________
Por Sal García y Araya Moss