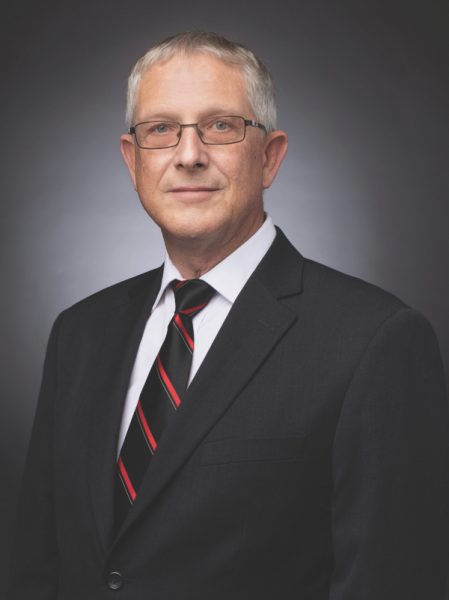 I always knew teaching was what I wanted to do, and it was the impact of my own teachers on my life that influenced me," explained Teryl Loeffler, associate director of education for the Pacific Union Conference. "I wanted to be that person for the generations that came after me."
Since 1975, Loeffler has been doing just that for students across the country—California, Tennessee, Kansas, Hawai'i, and back to California. From the classroom to the principal's office to superintendent to associate director of education, Loeffler has touched thousands of lives over the course of his nearly 47 years in Adventist education.
"Anyone who has interacted with Teryl has great appreciation for his work and the way he conducts himself," shared Ricardo Graham, retired president of the Pacific Union Conference, who was part of the committee that hired Loeffler as superintendent in 2012. 
Loeffler feels each level of working in education has potential to touch students' lives, and he has enjoyed each one in different ways. Teaching in the classroom, he said, is the most important role, because it has the most direct impact and carries the most significant opportunity for influence. 
"Being a principal is rewarding because you get to guide other teachers in that process and lead school improvement efforts," he asserted. "Superintendent is where you get to see the big picture of the whole reason you're there."
In his role as associate director, Loeffler also serves as the union's representative between academies and their accrediting body (Western Association of Schools and Colleges—WASC). This liaison has an important role to play in ensuring all students are learning. If any of them aren't, it's the associate director's role to support the superintendent in their work with the principal to create an action plan going forward.
"When the accreditors leave, you don't just go back to life as it was; you find ways to adjust to ensure learning," said Berit von Pohle, vice president for education at the Pacific Union Conference. "Teryl's personality is particularly valuable for this role, because he's very relationship-oriented and is there to be helpful, rather than simply giving orders."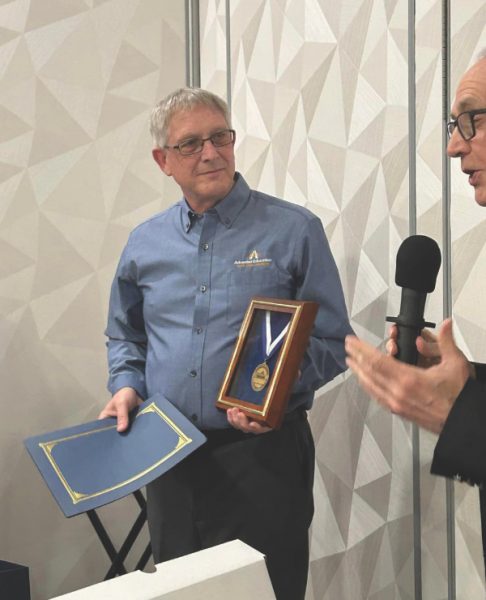 As of July 1, 2023, Loeffler will be officially retired. In honor of his exemplary and meaningful service to the church and its young people, von Pohle nominated Loeffler for the General Conference Award of Excellence. In May, Loeffler was surprised to find he had been selected for an award he didn't even know existed until that moment.
"It was a total shock," he stated. "I'm still trying to wrap my head around it."
The Award of Excellence is the second-highest award conferred by the General Conference Department of Education. Eligibility requirements are stringent, limiting qualified candidates to a small pool every year. The candidate "must be broadly recognized as a model of an educator who has integrated professional excellence with a dynamic Christian faith." Specific evidence must also be provided that the candidate has made significant "enduring contribution" to Adventist education. 
Von Pohle said Loeffler clearly exemplifies the ideal candidate for this award. "He's easy-going, even-keeled, dependable, loyal, and committed to Adventist education," she stated. 
"He's spent way too many years being part of improving Adventist education for that work to go unnoticed. I can think of no one more deserving of this award than him."
Anyone who has ever worked in education or been in a school classroom for any length of time knows teaching is not for the faint of heart. It has its challenges and tough days just like any other job. Loeffler says his spiritual life and his passion for the students serve to get him through even the most difficult of experiences. 
"There's nothing perfect about life," he said. "However, when you care about something, you're willing to go through whatever you need to in order to make it successful."
In the meantime, Teryl looks forward to life slowing down a little. Retiring from a job that entails a lot of travel has him anticipating more quality time at home and more time with his family. 
"Regardless of my new 'retired' label," he said, "I'll always be a teacher who loves his kids."
Solo un maestro que ama a sus alumnos: Teryl Loeffler se retira después d 46 años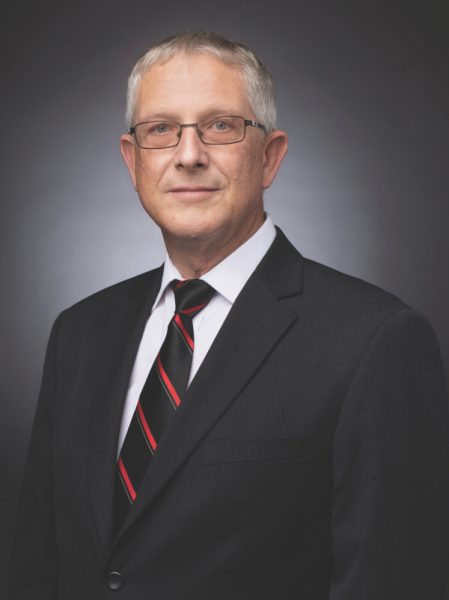 Siempre supe que enseñar era lo que quería hacer y fue el impacto de los maestros en mi vida lo que influyó en mi», explicó Teryl Loeffler, director asociado de educación de la Pacific Union Conference. «Quería ser ese tipo de persona para las generaciones que viniesen después de mí».
Desde 1975, Loeffler ha estado haciendo precisamente eso para los estudiantes de todo el país: California, Tennessee, Kansas, Hawaii y de regreso a California. Desde el aula hasta la oficina de director, pasando por el puesto de superintendente y de director asociado de educación, Loeffler ha tocado miles de vidas en el transcurso de sus casi 47 años en la educación adventista.
«Cualquiera que haya interactuado con Teryl tiene un gran aprecio por su trabajo y la forma como se comporta», compartió Ricardo Graham, expresidente de la Pacific Union Conference, quien formó parte del comité que contrató a Loeffler como superintendente en 2012. 
Loeffler considera que cada nivel de trabajo en educación tiene el potencial de tocar la vida de los estudiantes y ha disfrutado cada uno. «La enseñanza en el aula», dijo, «es el papel más importante, porque tiene el impacto más directo y conlleva la oportunidad de influencia más significativa. Ser director es gratificante porque puedes guiar a otros maestros en ese proceso y liderar los esfuerzos de mejora escolar», afirmó. «Como superintendente es donde puedes ver el panorama general de toda la razón por la que estás ahí».
En su papel de director asociado, Loeffler también se desempeña como representante de la unión entre las academias y su organismo de acreditación (Western Association of Schools and Colleges, WASC). Ese enlace tiene un papel importante que desempeñar para garantizar que todos los estudiantes aprendan. Si alguno de ellos no lo hace, es el papel del director asociado apoyar al superintendente en su trabajo con el director para crear un plan de acción en el futuro.
«La personalidad de Teryl es particularmente valiosa para ese papel, porque está muy orientado a las relaciones y está en ese puesto para ser útil, no simplemente para dar órdenes», dijo Berit von Pohle, vicepresidenta de educación de la Pacific Union Conference.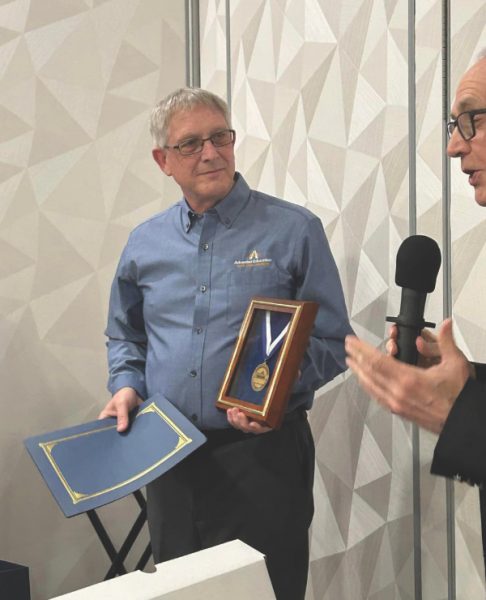 A partir del 1 de julio de 2023, Loeffler se retirará oficialmente. En honor a su servicio a la iglesia y sus jóvenes, von Pohle nominó a Loeffler para el Premio a la Excelencia de la Conferencia General. En mayo, Loeffler se sorprendió al descubrir que había sido seleccionado para un premio que ni siquiera sabía que existía hasta ese momento.
El Trofeo a la Excelencia es el segundo premio más alto conferido por el Departamento de Educación de la Conferencia General. Los requisitos de elegibilidad son estrictos. El candidato «debe ser ampliamente reconocido como un modelo de educador que ha integrado la excelencia profesional con una dinámica fe cristiana». También se debe proporcionar evidencia específica de que el candidato ha hecho una «contribución duradera» significativa a la educación adventista. 
Von Pohle dijo que Loeffler ejemplifica claramente al candidato ideal para este premio. «Es de trato fácil, ecuánime, confiable, leal y comprometido con la educación adventista», afirmó. «Ha pasado una enorme cantidad de años siendo parte de la mejora de la educación adventista para que ese trabajo pase desapercibido. No puedo pensar en nadie más merecedor de este premio que él».
Mientras tanto, Teryl espera que la vida se ralentice un poco. Retirarse de un trabajo que implica muchos viajes lo hace anticipar más tiempo de calidad en casa y más tiempo con su familia.