The darkened auditorium quickly filled with guests as Elder Abimael Escalante welcomed the audience to the Arizona Conference Hispanic Ministries Convocation 2023. Finding a facility large enough to hold the constituents of the Hispanic Ministries churches can be challenging. This year the event was held at the Carl Hayden Community High School in downtown Phoenix. 
During the Sabbath School program, the Hispanic Ministries team rolled out their small groups and evangelism plans for the upcoming year. The foundation of the program relies heavily on local church members reaching out into their neighborhoods and community. Over the course of the next year, church members will pass out 20,000 door hanger pamphlets in their neighborhoods—with the plan that each church member will make contact with 10 neighbors. That first introduction will then lead to further conversations, which can lead to giving a Steps to Christ and an invitation to attend a local church meeting. The ultimate goal is to pass out 10,000 El camino a Cristo (Steps to Christ) books, 3,000 La fe de Jesús (a Bible Study in Spanish), and 3,500 Biblias.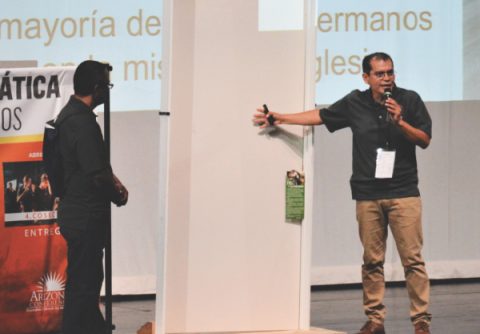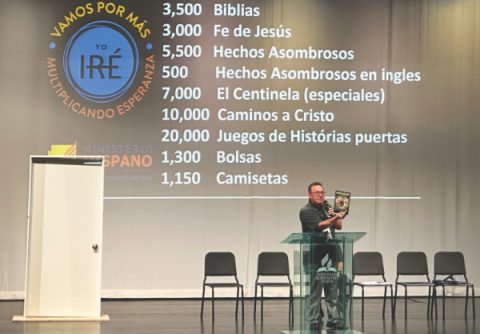 This small groups evangelism leads into the larger evangelistic programs beginning in December of 2023 with events in both Tucson and Phoenix. The small groups will be active throughout 2024 and conclude with the large evangelistic event taking place in January 2025 with Elder Alejandro Bullón. He will be leading weeklong evangelism meetings in Phoenix, Tucson, and Yuma consecutively. 
After a "parade" of church delegations on the main stage, Dr. José Espinoza presented his message for the day about the four characteristics of being a disciple of Jesus. Special music and an afternoon concert were provided by Felipe Garibo.
____________________
By Jeff Rogers
Convocación del ministerio hispano
El auditorio a oscuras se llenó rápidamente de invitados cuando el pastor Abimael Escalante dio la bienvenida a la audiencia a la convocación del ministerio hispano de la Arizona Conference para 2023. Encontrar una instalación lo suficientemente amplia como para albergar a los constituyentes de las iglesias del ministerio hispano puede ser un desafío. Este año, el evento se llevó a cabo en la Carl Hayden Community High School en el centro de Phoenix. 
Durante el programa de Escuela Sabática, el equipo del ministerio hispano presentó sus planes de grupos pequeños y evangelismo para el próximo año. La base del programa depende en gran medida de que los miembros de iglesia trabajen en sus vecindarios y comunidades. En el transcurso del próximo año, los miembros de iglesia repartirán 20,000 folletos colgados en las puertas de sus vecindarios, con el plan de que cada miembro de la iglesia se ponga en contacto con 10 vecinos. Esa primera introducción conducirá a más conversaciones, que puedan llevar a dar un El camino a Cristo y una invitación para asistir a una reunión de la iglesia. El objetivo final es repartir 10.000 El camino a Cristo, 3.000 La fe de Jesús, y 3.500 Biblias.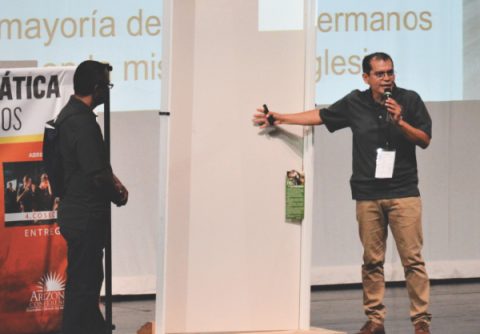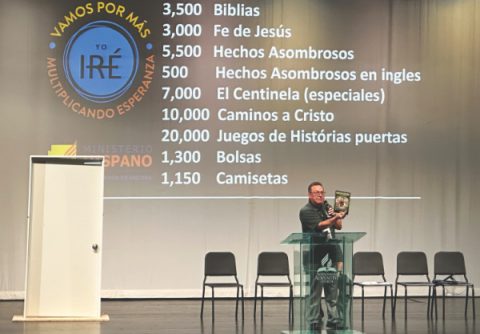 Ese evangelismo de grupos pequeños llevará a programas evangelísticos más grandes que comienzan en diciembre de 2023 con eventos tanto en Tucson como en Phoenix. Los grupos pequeños estarán activos a lo largo de 2024 y concluirán con el gran evento evangelístico que tendrá lugar en enero de 2025 con el pastor Alejandro Bullón, quien dirigirá reuniones de evangelismo de una semana de duración consecutiva en Phoenix, Tucson y Yuma. 
Después de un «desfile» de delegaciones en el escenario principal, el Dr. José Espinoza presentó su mensaje sobre las cuatro características de un discípulo de Jesús. Música especial y un concierto por la tarde estuvieron a cargo de Felipe Garibo.
____________________
Por Jeff Rogers