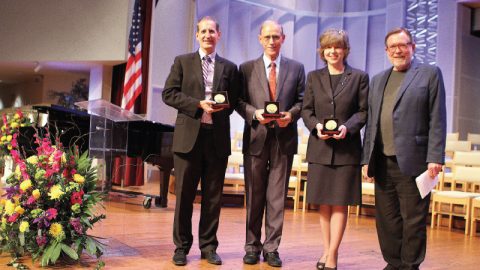 Colloquially referred to as the Adventist Oscars, the Weiniger awards ceremony in late February measured up to expectations when it honored a musician, three educators, and a bioethicist for notable achievements and contributions.
The Charles Elliott Weniger Society for Excellence 47th Annual Awards presented medallions to five individuals and recognized 13 student scholarship recipients during its annual meeting at the Loma Linda University church on Feb. 19. Medallion awardees included three current and former faculty members from La Sierra University's music department, School of Education, and H.M.S. Richards Divinity School: violinist and former music professor Lyndon Johnston Taylor; former education school division chair and author Gilbert M. Valentine; and current New Testament studies professor, author, and pastor Kendra Haloviak Valentine.
La Sierra University Master of Divinity student Christian Botello was among the evening's 13 scholarship awardees.
Taylor serves as principal second violin for the Los Angeles Philharmonic and is a teaching artist in residence at Occidental College in Los Angeles. He held faculty positions at La Sierra between 1991 and 2004.
Taylor noted renowned Seventh-day Adventist conductor Herbert Blomstedt as "a hero and mentor. A musician as I see it, is a medium for a message from God," Taylor said.
New Zealand native Gilbert Valentine is an author, historian, pastor, educator, and administrator with six books and nearly 80 articles and book chapters to his credit. Much of his work sheds light on the lives, philosophies, and impact of Adventist pioneers. A seventh book has just been released by Oak and Acorn Publishing.
"The task of historical inquiry is to seek a comprehensive, well-informed understanding of people in faith, their decisions in their own time and place," Valentine said.
Weniger executive committee president Richard Osborn and his son Trevan Osborn presented the society's medallion to Haloviak Valentine. The elder Osborn—Haloviak Valentine's former academy principal—provided insights into her background and faith journey. Trevan Osborn described Haloviak Valentine's impact as his teacher nurturing the intellects and faith development of her students.
Haloviak Valentine presented the evening's Clinton Emmerson Annual Address titled "The Irony of Orthodoxy," in which she delved into Weniger's perspectives of the Bible as literature, illustrated through insights into the story of Job.
"As we navigate our way through the crosscurrents of the numerous theological debates, understanding the Bible as literature—sacred, inspiring, authoritative literature—will help us avoid shipwreck," she said. "What new thing is God doing in our time?"
____________________
By Darla Martin Tucker