by Cynthia Mendoza

In 2023, Susie Oliva celebrated 18 years of service as a teacher at Victor Valley Seventh-day Adventist School in Victorville, California, in the Southeastern California Conference. As a third generation Adventist on her father's side and fourth generation on her mother's, Oliva knew from a very young age that becoming a teacher was her calling. 

Oliva's journey in education began in Alhambra, California, where she and her three brothers attended San Gabriel Academy. Oliva's mother believed in Adventist education and wanted her children to experience its benefits and blessings. 

When Oliva was in the fourth grade, her family moved to Victorville, which is in the high desert region of Southern California. However, the young siblings wanted to continue attending San Gabriel Academy. The school was now an hour away, which required Oliva and her brothers to wake up at 3:30 a.m. to get to school on time. And they did. They were never late and had perfect attendance.

Oliva went on to graduate from academy, earn a bachelor's degree with a concentration in psychology from La Sierra University in 2004, and then a Master of Arts in Teaching in elementary education in 2005. She was hired at Victor Valley SDA School shortly after she graduated and has been there ever since—as a K-3 teacher and as a teaching principal the last six years. 

"I wanted to be a teacher by the time I was in first grade. I had so much love and respect for my early teachers," Oliva said of her lifelong dream. "They made my school experience fun and memorable. I knew from that moment on that I wanted to be just like them when I grew up." 

Oliva credits her time at San Gabriel Academy with helping to form who she is today, as well as sealing into her mind the importance of Adventist education. 

"I knew that I not only wanted to be a teacher, but a teacher at our Adventist schools," she said. "Being able to pray with and for the students and being able to have discussions about faith and the Bible are experiences that I cherished as a student and wanted to pass on to my own students—something I would not be able to do in other environments." 

Teaching at Victor Valley has been a joy for Oliva for the many personal connections she has to the school. She loves the students and the community and genuinely wants what's best for them. She feels proud to see the students grow academically and spiritually. 

"I especially love the environment that has been created at our school. We have developed a family-like atmosphere," she said. "Each student from kindergarten to eighth grade really gets to know the others, and they treat each other like family. I love that we have a safe environment that allows students to become comfortable sharing themselves and their love of God with others." 

As an educator, Oliva also appreciates the many practical benefits Adventist education offers as far as academic environments are concerned—such as a low student-teacher ratio, which allows for more individualized instruction and attention. At a small school like Victor Valley, students learn from the teachers as well as from one another in a multigrade learning environment. Since the students are in the classroom for multiple years, it allows her, as their teacher, to really get to know them and what learning styles work for them. 

Oliva loves welcoming new students in kindergarten and then watching them graduate nine years later from eighth grade, full of knowledge and having built personal relationships with God. She admits it is bittersweet to see them go, but she is equally thrilled about having watched them grow academically, emotionally, and spiritually throughout their years. 

 
"I am blessed to have been teaching long enough to have my former students become teachers, pastors, and medical personnel. With Adventist education, the goal is not just educating for now, it is educating for eternity," she said. 
As she reflects on 18 years at Victor Valley SDA School, Susie Oliva is grateful that she got to become the person who caused students to love learning and who made learning fun and that she became to students what her own teachers were for her: a role model. She's glad she became a person who showed kids that someone believed in them—someone who chose to love just like Jesus did. 
"I still cannot imagine doing any other career because I strongly believe that working with children and being a teacher is what God had planned for me. This is the purpose I have in life," she said. "Adventist education shaped my life. I now have three children, and I would not consider any other academic path for them. I love watching my own children grow in Christ and service as well as academically. There's just something different about our schools: God is at the center of everything we do."
_____________________________
Cynthia Mendoza is a freelance writer from Southern California.
Celebrando 18 años de servicio, logros y felices recuerdos
En 2023, Susie Oliva celebró 18 años de servicio como maestra en la Victor Valley Seventh-day Adventist School en Victorville, California, en la Southeastern California Conference. Como adventista de tercera generación por parte de su padre y cuarta generación por parte de su madre, Oliva supo desde muy joven que convertirse en maestra era su vocación. 
El viaje de Oliva en la educación comenzó en Alhambra, California, donde ella y sus tres hermanos asistieron a San Gabriel Academy. La madre de Oliva creía en la educación adventista y quería que sus hijos experimentasen sus beneficios y bendiciones. 
Cuando Oliva estaba en cuarto grado, su familia se mudó a Victorville, que se encuentra en la región desértica del sur de California. Sin embargo, sus hermanos más jóvenes querían seguir asistiendo a San Gabriel Academy. La escuela estaba ahora a una hora de distancia, lo que requería que Oliva y sus hermanos se despertasen a las 3:30 a.m. para llegar a la escuela a tiempo. Y lo hicieron. Nunca llegaban tarde y tuvieron siempre una asistencia perfecta.
Oliva se graduó de la academia, obtuvo una licenciatura con concentración en psicología de La Sierra University en 2004, y dewspués una Maestría de Artes en Enseñanza en educación primaria en 2005. Fue contratada en Victor Valley SDA School poco después de graduarse y ha estado allí desde entonces, como maestra de K-3 y como directora y maestra los últimos seis años. 
«Quería ser maestra cuando estaba en primer grado. Tenía mucho amor y respeto por mis primeros maestros», dijo Oliva sobre su sueño de toda la vida. «Hicieron que mi experiencia escolar fuese divertida y memorable. Desde ese momento supe que quería ser como ellos cuando creciese». 
Oliva acredita su tiempo en San Gabriel Academy por ayudarle a formar lo que es hoy, así como a sellar en su mente la importancia de la educación adventista. 
«Sabía que no solo quería ser maestra, sino maestra en nuestras escuelas adventistas», dijo. «Poder orar con los estudiantes y poder tener conversaciones sobre la fe y la Biblia son experiencias que aprecié como estudiante y quería transmitir a mis estudiantes, algo que no podría hacer en otros entornos». 
Enseñar en Victor Valley ha sido una alegría para Oliva por las muchas conexiones personales que tiene con la escuela. Ella ama a los estudiantes y a la comunidad, y realmente quiere lo mejor para ellos. Se siente orgullosa de ver a sus estudiantes crecer académica y espiritualmente. 
«Me encanta especialmente el ambiente que se ha creado en nuestra escuela. Hemos desarrollado un ambiente familiar», dijo. «Cada estudiante desde el jardín de infantes hasta el octavo grado realmente conoce a los demás y se tratan como familia. Me encanta que tenemos un ambiente seguro que permite a los estudiantes sentirse cómodos compartiendo de sí mismos y su amor por Dios con los demás». 
Como educadora, Oliva también aprecia los muchos beneficios prácticos que ofrece la educación adventista en lo que respecta a los entornos académicos, como una baja proporción de estudiantes por maestro, lo que permite instrucción y atención más individualizadas. En una escuela pequeña como Victor Valley, los estudiantes aprenden de los maestros, así como unos de otros en un entorno de aprendizaje multigrado. Dado que los estudiantes están en el aula durante varios años, le permite, como su maestra, conocerlos realmente y qué estilos de aprendizaje funciona para cada uno de ellos. 
A Oliva le encanta dar la bienvenida a nuevos estudiantes en el jardín de infantes y verlos graduarse nueve años después del octavo grado, llenos de conocimiento y habiendo establecido relaciones personales con Dios. Admite que es agridulce verlos irse, pero igualmente le emociona haberles visto crecer académica, emocional y espiritualmente a lo largo de sus años.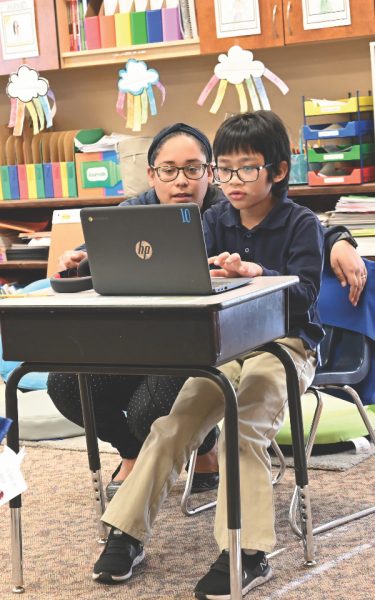 «He tenido la bendición de haber estado enseñando lo suficiente para que mis alumnos se hayan convertido en maestros, pastores y personal médico. Con la educación adventista, el objetivo no es solo educar para ahora, es educar para la eternidad», dijo. 
Mientras reflexiona en sus 18 años en Victor Valley SDA School, Susie Oliva está agradecida de haberse convertido en la persona que hizo que los estudiantes amasen el aprendizaje y de haber hecho que el aprendizaje fuese divertido y haberse convertido para los estudiantes en lo que sus maestros fueron para ella: un modelo a seguir. Ella está contenta de haberse convertido en una persona que mostró a los niños que alguien creía en ellos, alguien que eligió amarles como Jesús. 
«Todavía no me puedo imaginar haciendo otra cosa porque creo firmemente que trabajar con niños y ser maestra es lo que Dios había planeado para mí. Ese es el propósito que tengo en la vida», dijo. «La educación adventista dio forma a mi vida. Ahora tengo tres hijos y no consideraría ningún otro camino académico para ellos. Me encanta ver a mis hijos crecer en Cristo y en el servicio, así como académicamente. Hay algo especial en nuestras escuelas: Dios está en el centro de todo lo que hacemos».
_____________________________
Cynthia Mendoza es una escritora independiente del sur de California.