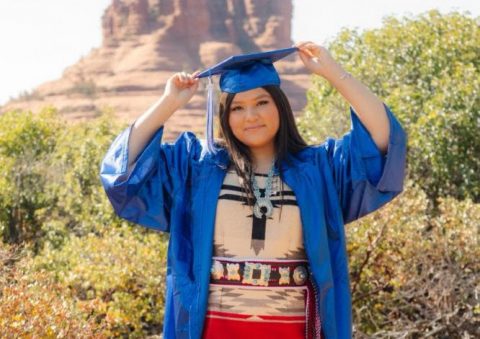 After over four decades, Maricopa Village Christian School (MVCS) in Laveen, Ariz., is still on a mission to educate the indigenous children in the Gila River Indian Community (GRIC) for life and for eternity. Holbrook Indian School freshman Slade Notah and Thunderbird Adventist Academy graduating senior Nahzoni Haycock are two MVCS eighth-grade graduates who continued on to Adventist high schools despite culturally unique challenges of trauma and poverty.
This reality, exacerbated by the pandemic, have not deterred Slade and Nahzoni. Nahzoni is an honors and dual enrollment student, who is involved in NHS, Storm Ministry, and the Student Association as secretary. She is considering a pre-med biophysics major. Slade is freshman class president, a dorm representative, and works as a gardener. He is considering becoming a lawyer.
"As we emerge from the pandemic and celebrate student achievements, MVCS is proud to salute Slade Notah and Nahzoni Haycock," said Al Chatman Jr., director of Maricopa Village Christian School.
Learn more about Maricopa Village Christian School.