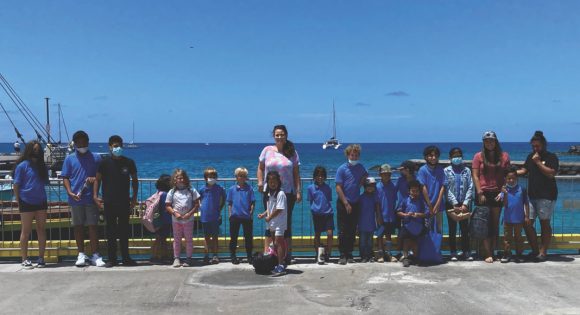 Hawi, HI | Hawaii Conference
Kohala Adventist School (KOA) was recently blessed to be able to take students on an underwater submarine adventure, in which they were able to appreciate the rich sea life of Hawaii up close. Parent drivers safely transported the KOA cohort, and the entire submarine was dedicated to use by the school. Several students had never been on a boat before, and they went from being very wary to expressing pure delight in record time.
The charismatic staff were passionate and knowledgeable about the beautiful creatures God created to live in the sea. Of course, all the students hoped to see a shark more than anything else. Faculty from KOA tried not to get students hopes up, as a sighting was thought unlikely—but one child wanted to spot a shark so much that they prayed about it. The simple faith of that kindergartner was rewarded! At 100 feet below the surface, the group had a premium view of a decent-sized whitetip reef shark, lurking in a shipwreck. They were all elated— even the submarine crew, who hadn't seen a shark in several months.
Learn more about Kohala Adventist School.