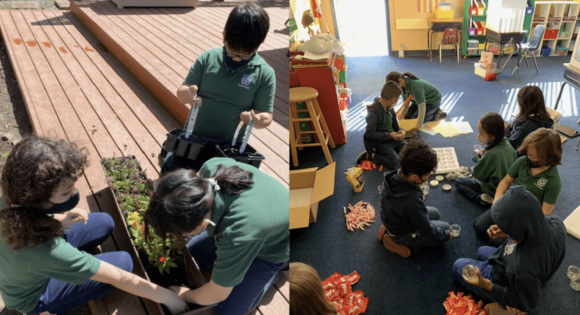 For the last several years, Foothill SDA Elementary in Milpitas, Calif., has committed to make the first day in May a day of service, giving back to their community. COVID-19 hasn't dampened their desire to be Jesus's hands and feet, with each class participating in different service activities.
This year, Kindergarten students walked to the local grocery store, handing out flowers with hand-written notes attached. Afterward, they went to the local park to pick up trash.
The first- and second-grade class made "Jars of Joy" filled with treats to give different leaders in their community.
The third- and fourth-grade class walked to a church member's home and gave their dog a bath, pulled weeds, and washed windows.
The fifth- and sixth-grade class planted flowers at the Milpitas SDA Church, and then delivered handwritten cards and Glow tracts to several of the school's neighbors.
Finally, the seventh- and eighth-grade class packed 100 bags filled with toiletries, masks, and socks for homeless in our community.
It was a fulfilling day, and Foothill's students and teachers were delighted to perform these acts of service in their community and to be a blessing to others.
This school is part of the Central California Conference of Seventh-day Adventists. Click here to learn more about Foothill Elementary.