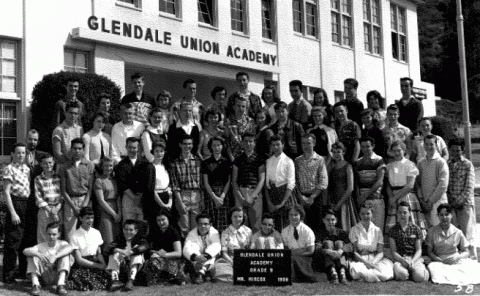 The following is the Educational Report included in the minutes of the 18th regular session (10th Quadrennial Period) of the Pacific Union Conference of Seventh-day Adventists, held in the Civic Auditorium Grove St., San Francisco, CA, February 9-12, 1959—
Elder A. C. Nelson emphasize that education in the Pacific Union Conference is truly "big business." It is in the sense of saving our youth to the church, the mid-century report prepared by the General Conference reveals that of the young people from Adventist families who do not attend our own schools and graduate from public colleges, only 32 percent remain in the church. By contrast, the number of young people who DO attend our schools, graduating from our own colleges, are loyal church members. It is also "big business" in terms of statistics. A total of 18,421 students are enrolled in our schools this year; 13,620 in our 165 elementary and intermediate schools, employing 594 teachers; 3,407 in 18 academies employing 406 teachers; 1,754 in our two colleges employing 164 teachers. This means a total of 1,164 teachers and staff members devoting their lives to the business of Christian education. The constant upgrading of education in America presents us with the problem of better trained teaching personnel and improved physical plants and facilities, as well as an increased understanding of the needs of our children.
This is an excerpt from the Pacific Union Conference Session Minutes for 1959
Learn more about Adventist Education in the Pacific Union.