Love
Without
Limits
Many Americans believe the next decade will be marked by significant societal problems. A majority say they are worried about economic insecurity, political division, environmental imbalance, a sense of a lack of personal safety, the limits of healthcare systems, and other serious challenges (Pew Research Center, 2019).
We need more hope, more nurturing of our deep human identity as God's children, and more love in action. In the midst of these challenges, Adventist Health employees and healthcare providers are living God's love by inspiring health, wholeness, and hope. 
The work of healthcare is deeply ingrained in Adventism. Our church founders—Ellen White, Joseph Bates, James White, William Miller, and others—spoke widely and often in public spheres about the need for health reform at a time when the state of public health in the United States was grim. Their work—our work today—is deeply embedded in the transformational humanitarian movement of Jesus who "healed every disease" and "had compassion" (Matthew 9:35-36).
Adventist Health provides healthcare for human beings within the context of their ultimate identity as creatures made in the image of God. Each executive, physician, and hospital employee is mobilized to carry out this mission, but hospital chaplains carry especially heavy responsibilities to support the emotional and spiritual needs of patients, their family members, caregivers, and healthcare employees. As spiritual care providers, chaplains play an important role in the story of Adventist healthcare and loving in the way of Jesus. We invite you to a glimpse of their work to carry forward our healing ministry.
Healthcare Chaplains Practice Whole-Person Care
A trip to the ER or admission to the hospital can bring anxiety and fear—even when you are confident you are receiving the best possible care. Patients may face unfamiliar procedures, surgery, bad news, difficult decisions, and worries about family members. Many begin thinking about their beliefs and values in ways they haven't considered for a long time or possibly ever. 
It is reassuring for patients to know they are being cared for by knowledgeable, skillful, careful physicians and nurses. It can be equally reassuring—and clinically beneficial—for patients to talk through their worries and fears with a skilled spiritual care provider and to feel supported emotionally. Adventist Health provides spiritual care in clinical settings with the highest standards of training and practice. Hope is healing.
Spiritual Care at Adventist Health by the numbers*
80%
Full-time chaplains with CPE board certification (On track for 100% by 2025)
22
Students enrolled in Clinical Pastoral Education (CPE) training
4
Accredited CPE centers: Kern County, Mendocino County, Portland, and Los Angeles
48
Full-time spiritual care providers
57
Associate chaplains
Yearly
Mission Week events at each hospital
2 
Mission Leadership Residents in six-year clinical chaplain residency
2 
New Mission Leadership Residents started in 2023
6 
Visits to Adventist colleges and universities to build pipeline of new mission leaders
2
Undergraduate students starting Mission Leadership Internship program
Top decile
Press Ganey patient satisfaction scores for spiritual care
*Numbers from 2022

HOSPITAL CHAPLAINS
Help Take Patients From Distress to Rest
Tony Andrews, Mission and Spiritual Care director for Adventist Health Bakersfield, has more than 16 years of experience as a hospital chaplain. He, like all full-time spiritual care providers at Adventist Health, is an ordained minister in the Adventist Church. In addition to his work as a chaplain, Tony is the director of one of Adventist Health's four Clinical Pastoral Education programs, where he provides training for new chaplains.
In a recent interview, Tony shared insight into the ministry of hospital chaplaincy, including the question he asks all patients, things that surprise him about caring for patients, and the most beautiful thing about his work.
What is a typical day like for a hospital chaplain? It depends on the needs of the patients and the nursing staff. We may see patients who are experiencing anxiety about their hospitalization or uncertainty about their diagnosis. Those patients take priority. We have to prioritize who needs us and who needs us more. A nontypical day may include all critical incidents or all referrals from the nursing staff. When that happens, we may never get to rounding, which is a traditional approach where we go to see all patients.
How do you provide spiritual care for non-religious people? Each hospital chaplain has a slightly different approach, but typically we don't ask patients if they would like prayer. Instead, we ask, "How are you? What is bothering you?" As clinical chaplains, we want to assess how patients are coping during their hospitalization so we can provide the most appropriate interventions that meet the immediate needs of patients and their family members.
Most of our visits are not religious based. There might be some religious subtext to a patient's story, but generally we're caring for any anxiety related to a patient's hospitalization. Does God come up in conversations? Yes, and that is generally during end-of-life conversations or when there is a new diagnosis. At times like that, people start thinking about how they could be closer to God or get their life right. For those who do believe, we help them remember God is in control and to hand things over to Him.
Hospital chaplains today are often called "clinical chaplains." What does the term "clinical chaplain" mean? The term "clinical chaplain" has roots in the Latin word clinicus, meaning in a sick-bed, alongside a sick-bed, or at the bedside. So, we come alongside the patient as they go through their experience in the hospital. In that role, we'll ask the patient, "How are you coping today?" 
There is more of a psychodynamic assessment of the patient's condition, and we provide the care and interventions that are most needed. That's where you may think a pastor would have prayer or read Scripture to provide comfort. I'm not saying clinical chaplains don't do this, but we try to understand the cause of the problem.
For instance, people may ask for prayer, and we will say, "Certainly! Let's talk about the need for prayer first. What's bothering you? What's causing you distress?" Once we know more, we can provide more customized care to address a specific anxiety rather than praying for the patient but having no idea what specifically to pray for. The prayers and rituals become more meaningful and richer when we have done that prework.
What has surprised you about being a hospital chaplain? One thing that has surprised me is the amount of emotional, sexual, and physical abuse within families. I hear it too often. There is so much hurt and pain out there in private homes that you think are happy and good.
Most of the worries or issues we face are nonreligious. That's where the tension is. We hear the term "spiritual needs" all the time, but what is the need? It's human relationships. 
Human relationships are the foundation of spirituality. If you take a 30,000-foot view of the Bible, it's all about restoring relationships—restoring our relationships with God, each other, our communities, and with ourselves. So spiritual care is the restoration of the soul, connecting relationships, and building and keeping those relationships.
When we talk about religion, we often talk about religious acts or rituals, praying this or doing that. There is a place for rituals—they are symbols full of meaning. God gives us symbols to practice and remind us of something. 
Prayer is important as we build, mend, restore, and keep relationships, but when patients want to talk at length, it really isn't religiously based. The hospital is not a church. People come to the hospital because of a physical problem. What is most on their mind is getting better.
How religiously diverse are the people you care for? Why is it important to honor those religious beliefs within an Adventist healthcare system? We care for people from all religions and walks of life—Muslim, Hindu, atheist. It doesn't matter who you are. We care for the human condition. 
Some patients think we're coming in to talk religion to them, but converting people is not the role of clinical chaplaincy. Within the ethics of chaplaincy, it's not our role to proselytize or convert but rather for patients to feel cared for and comforted. 
When possible and appropriate, when patients from other religions have special needs, we ensure their religious needs are met whether or not we can perform them as Adventist chaplains. We will call in a religious leader from another faith tradition.
I've cared for and trained people from all religious backgrounds, and one of the biggest things I've learned is that we have this in common: We all need to be heard, loved, and understood. Period. That's universal no matter where you go.
What is the most joyful part of your work? The most joyful part is seeing a patient light up in discovery. It is a transformation and healing. In that moment, it is the most wonderful, satisfying thing. It's seeing someone go from distress to rest. The rest comes from the patient understanding why they are feeling a certain way or why they are scared about something. It's beautiful.
We all need to be heard, loved, and understood. Period. That's universal no matter where you go.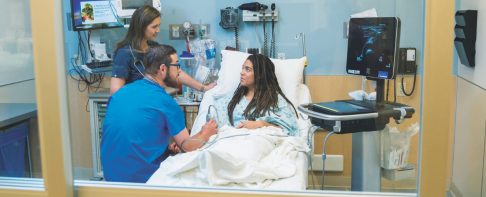 A DAY IN THE LIFE
of a Hospital Chaplain
Chaplains care for patients and tend to the well-being of hospital staff members as well. They sit on committees, lead out in devotional messages throughout the hospital, and are involved in a variety of community initiatives. We invite you to follow along as we take a look inside a day in the life of three Adventist Health chaplains.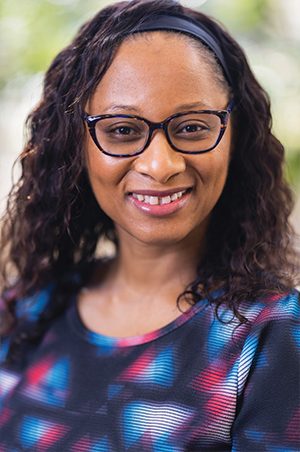 Sidany Barclay
Adventist Health
Portland chaplain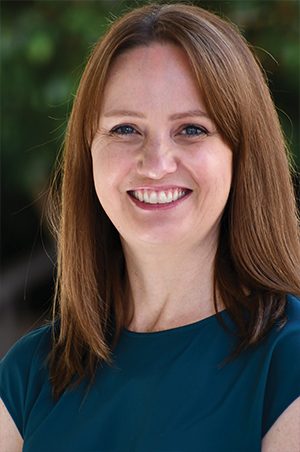 Kelly Kessinger
Adventist Health
Glendale chaplain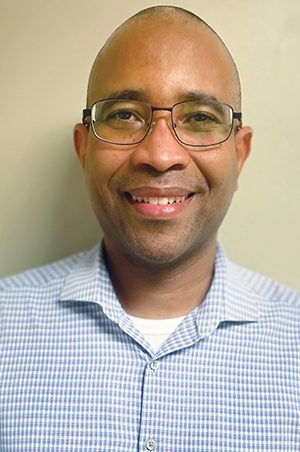 John King
Adventist Health
Bakersfield chaplain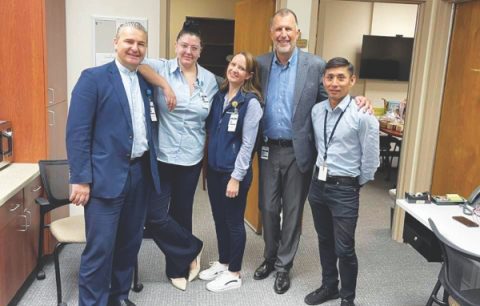 8 a.m.
Prepping for the Day
Kelly Kessinger, chaplain at Adventist Health Glendale (center), arrives at the hospital and begins preparing the census for the day. This involves identifying newly admitted patients the team of chaplains will visit, taking note of patients who have requested a visit from a chaplain, and identifying patients the chaplains have seen before who may benefit from a follow-up visit.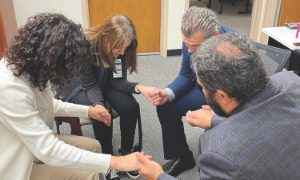 8:30 a.m.
Starting with Prayer
Kelly and the rest of the Adventist Health Glendale Spiritual Care team meet to discuss plans for the day and to pray about the work ahead.
9:30 a.m.
Sharing a Good Word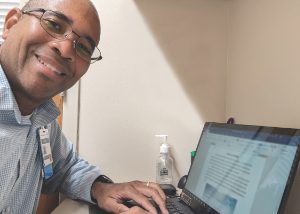 John King, chaplain at Adventist Health Bakersfield, writes a daily devotional thought for the hospital staff. John's devotions are based on the mission and values of Adventist Health blended with events that happen at the hospital.
9:45 a.m.
Meeting with Colleagues
Kelly and the Adventist Health Glendale Spiritual Care team join the daily safety huddle with the hospital executive team and department directors. They share a devotional thought and discuss the day ahead, including the number of patients, planned procedures and surgeries, and any patient safety concerns.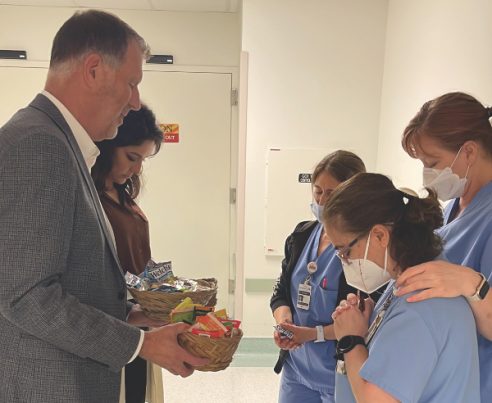 10 a.m.
Supporting Hospital Staff
Chaplains at Adventist Health Glendale begin meeting with patients. As they make rounds, they also check on hospital staff. Supporting the well-being of nurses and other care providers is an important part of chaplaincy and a key element in helping healthcare providers bring the best possible care to patients. Through interactions with the Spiritual Care team, nurses and other staff members also learn about ways chaplains can help patients and family members who are struggling.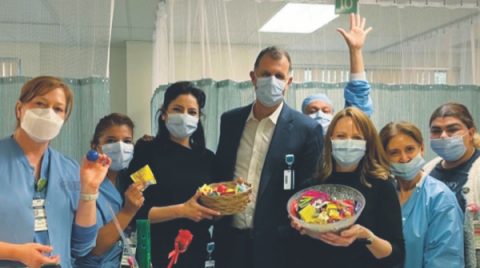 ---
10 a.m.
Keeping Morale High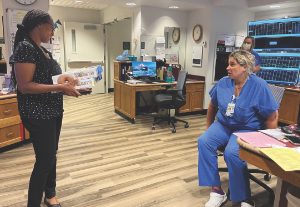 Sidany Barclay, chaplain at Adventist Health Portland, delivers donuts and a card from the Family Birth Center team to the ICU team, which was having a particularly difficult time. Sidany started this gift-giving initiative and facilitates all the details to help boost staff morale. It's a win-win-win: The unit doing the giving feels good about making a difference for another team, the unit receiving the gift feels loved and supported, and the Spiritual Care team knows that hospital staff are being cared for.
12 p.m.
A Little Self-Care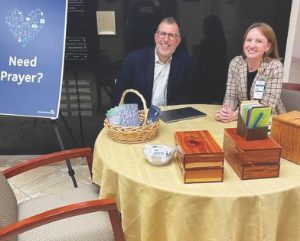 Chaplains at Adventist Health Glendale take time midday to unwind, chat with fellow spiritual care providers, and rejuvenate. Conversations range from lighthearted topics to deep theological issues or helping one another process a difficult patient visit. After a break, chaplains are back on the floors visiting patients and talking with hospital staff. Chaplains chart all patient visits immediately after they take place.
1 p.m.
Part of Jesus' Healing Ministry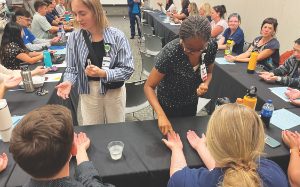 Sidany leads out in the Blessing of Hands, a ceremony for new graduate residents as they begin their careers in healthcare. The service reminds them of their call to be part of the healing ministry of Jesus.
1:45 p.m.
Making Difficult Decisions
A meeting of the Healthcare Decision-Making Team is called at Adventist Health Portland. The team includes the physician who is chair of the hospital ethics committee, the physician who asked for the meeting, representatives from Risk Management, Social Work, and the Spiritual Care department, and a community member. An HDT meeting is called when a patient's care requires a medical decision—such as a necessary procedure, removal of life support, etc.—when the patient is unable to make the decision themselves due to their condition and when there is no family member or legal power of attorney to make the decision for them.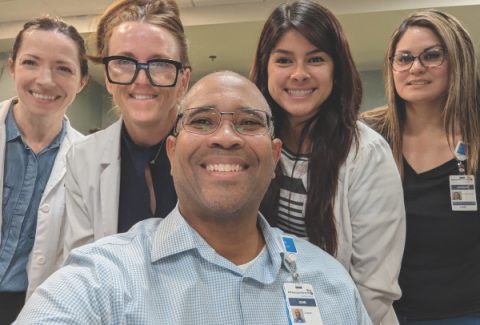 2 p.m.
Cross-Sectional Expertise
John participates in an interdisciplinary meeting with the Palliative Care and Social Work teams to discuss changes in a patient's care. Interdisciplinary meetings may also address any spiritual or religious needs of a patient that are important to providing the best medical support.
---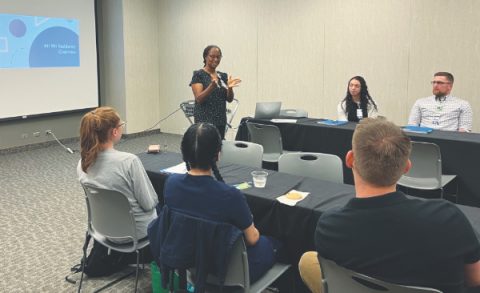 2 p.m.
Nurturing the Next Generation
Sidany presents a devotional message for a group of students at Adventist Health Portland.
3:30 p.m.
Alleviating Fears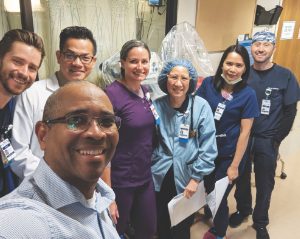 John takes part in interdisciplinary ICU rounds along with other hospital teams. His role is to contribute to the whole-person care of patients and family members by providing pastoral support, such as prayer and comfort, but also to help assess and meet spiritual needs that can impact medical care. These include refusal of treatment based on fears and anxieties, which John works to alleviate.
4 p.m.
Focusing on the Heart of Mission
Chaplains sit on various hospital committees, and today Kelly meets with the Employee Well-being Committee. At committee meetings, chaplains provide input from a Mission and Spiritual Care perspective and often open meetings with prayer.
4 p.m.
Supporting One Another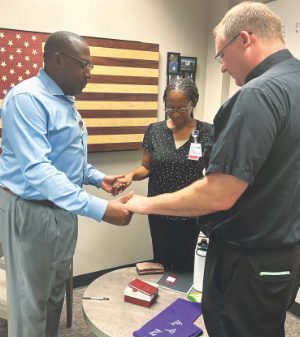 Sidany prays with a local priest. "This was the most moving for me," she said. "The local priest stopped by the chaplain's office just to talk about the difficulties and joys of ministry. Then he asked us to pray for him."
5 p.m.
Finding Meaning and Hope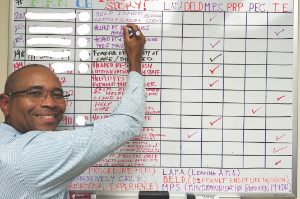 The Mission Story Board helps keep the Spiritual Care team at Adventist Health Bakersfield engaged in the practical ways they impact medical outcomes. While chaplains support, comfort, and pray for patients daily, this board records the ways they have helped improve care specifically by improving communication, preventing departures Against Medical Advice, and supporting what they call "transformational experiences"—times when they help patients reconnect to their faith and find new meaning and hope.
7 p.m.
Meeting for Inspiration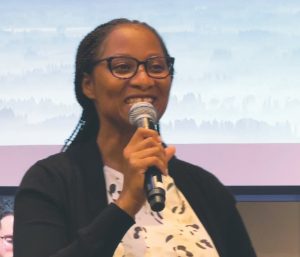 Sidany participates in First Friday, an inspirational community event led by a local church partner on the first Friday of every month. Sidany said, "It is so good to see people just show up to be inspired with no strings attached."

SACRED SPACE
Three Stories of Chaplains in Action
Hospital chaplains never quite know what a day will bring. They may be chatting with a patient about football one moment and comforting a grieving family member the next. With a welcoming spirit, they take on the perspective of the patients they care for. They search for the right words at times and at other times provide comfort without saying a word.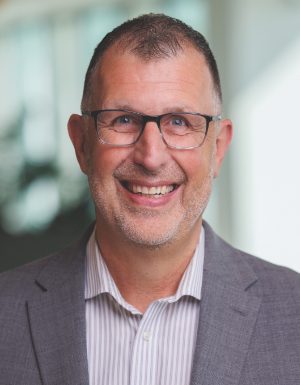 Saying "I do"
She was the first girlfriend he'd ever had. He was the first boyfriend she'd ever had. They were in love and expecting their first child. They didn't have much money. He worked. She worked until her pregnancy didn't allow it anymore.
Eight months after they discovered they were pregnant, they were in the labor and delivery unit at Adventist Health Glendale, ready to bring a new life into the world.
As they waited for the blessed event, they talked. What kind of world did they want to welcome their child into? They realized they wanted more for their little one than they had originally thought. They cried, they embraced, and they asked the unit nurse to call the chaplain's office. Could a chaplain perform a wedding ceremony so their baby could come into the world with a married mother and father?
In a beautiful twist of events, the delivery was delayed long enough to have a simple wedding ceremony in the hospital chapel. A couple was married, and a baby was born to a mother and father united in love and faith.
This isn't the end of the story.
In January 2023, the chaplain's office received a phone call. A man on the line said, "Twenty-four years ago, my wife and I were married in your chapel before our first child was born. Six of our seven children were born at your hospital! We were wondering, can we reserve the chapel in February 2024 so we can renew our vows on our 25th anniversary?"
The chapel is booked. The reunion is set. And God is smiling.
The woman by the fountain
The entryway of the building where I work at Adventist Health Glendale has a beautiful waterfall surrounded by a bench. As I come and go from my office, I see people sitting around the fountain, waiting for their ride from the hospital after an appointment. Most of the time I walk by, nod, and smile.
One day as I was returning from a lunch appointment off campus, something caught my attention as I entered the fountain area. A young woman was sitting on the bench. She wasn't crying. She didn't look angry. She just looked vacant, like there was nothing left. She was sitting by herself and looked like she needed someone to say something, anything to her. So I did.
"Hi! Are you waiting for a ride?"
She looked up at me with hollow eyes, "I just lost my baby."
I quickly sat down and took her hand. "Oh no. I'm so sorry to hear this. Tell me what happened."
Her words spilled out with her tears. She came to the hospital for a routine check-up. There were no obvious signs that anything was wrong. She and her husband were expecting their third child. And then suddenly, they weren't.
She explained to me that nobody knew what had happened. She had called her husband to pick her up but hadn't yet told him the awful truth. I learned her name, about her family, and she shared her dreams for the little girl they had been expecting.
Sometime just before her husband pulled up, she asked me what I did at the hospital. 
"I'm a chaplain. I look out for the spiritual care of our patients."
She tightened her grip on my hand, "Would you pray for me and my baby?"
I did. I prayed for my young friend and prayed that one day she would be able to hold her baby again when all things are made new.
As her husband pulled up, he got out of the car and saw immediately that something was wrong. We helped her to her seat. I gently closed the car door and said goodbye.
Doing the right thing
Labor and Delivery is one of those units that everybody loves. Nurses love working there. Patients arrive with eager expectations of delivering and bonding with the new little life they've created. And chaplains enjoy blessing the infants with small gifts and Bibles from the chaplain's office.
Chaplain Kelly was doing rounds one morning when she heard sobs coming from one part of the unit. She made her way over to the space where a husband and wife, with their doctor, were pondering the horrible news that the couple's baby had suffered fetal demise. 
As Kelly sat with the couple, she discovered they were Catholic by faith and had been devout most of their lives. With tears in her eyes, the mother asked, "Could you please baptize my baby before I deliver her?"
Of course, in Catholicism, baptism is a sacrament reserved for live babies post-birth. 
Chaplain Kelly came back to the office and spoke with our on-call Catholic priest about the request. Without hesitation, they both went up to the room and provided the sacrament. 
After the fetus was delivered, she was placed in a small decorative box so the parents could hold her and spend time with her. Our chaplains stayed with them and prayed for the family and for the soul of their daughter.
Situations like this are difficult. These times of suffering are when chaplains provide kindness, compassion, quiet grace, and hopeful peace.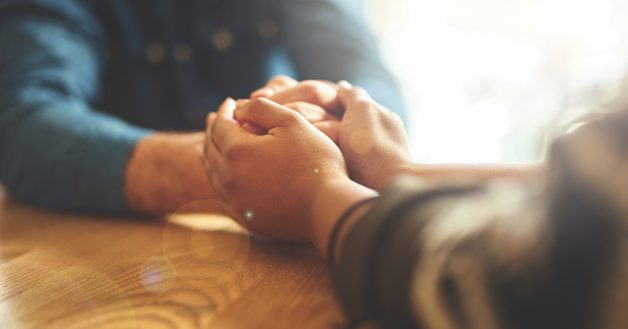 BEYOND LOSS
A New Culture Around Grief
Living through a pandemic may have left you experiencing some form of grief. That could feel like losing a sense of freedom, joy, safety, or normalcy, or perhaps feeling slightly disoriented for reasons you can't explain. It could be you've lost a job or had another change in employment. Maybe you're experiencing a broken friendship, broken marriage, or the illness or death of a loved one.
"There is grief all around us," said Adena Sarkian, spiritual care specialist at Adventist Health Glendale and leader of the Adventist Health Beyond Loss program. "We learn to carry grief. In our grief support work through Beyond Loss, we often talk about the liminal space—the space between what was before the grief and what happens after the grief. The liminal space is a space of the unknown. It's a stressful space, but it is also a space of transformation."
The Beyond Loss program that Adena leads works to create safe spaces for people to process grief within community. "We're creating a new culture around grief, acknowledging that grief is present and we live with it. We're changing the terminology from 'moving on' to 'moving forward,'" she said.
Adena began leading Beyond Loss at Adventist Health Glendale in 2019. Since then, the program has met the needs of so many patients and community members that it has been expanded to all Adventist Health hospitals as an online program. At each online group meeting, highly trained facilitators lead out and fellow group members provide additional support. There is a strict code of confidentiality to foster open communication. Adena emphasizes that Beyond Loss is an open, ongoing program that meets in small groups every week, all year round. Participants join as needed.
In addition to bereavement support, Beyond Loss includes groups for the unique needs of survivors of suicide and for ambiguous loss, such as moving to a new location, divorce, an adverse health diagnosis, or even the emotional upheaval of navigating a pandemic. Beyond Loss services include a quarterly newsletter with resources for living with grief; advocacy for the bereaved; intervention following traumatic events for individuals, families, and communities; and education and workshops about grief and loss. Beyond Loss helps those who are grieving develop a plan for coping with holidays, anniversaries, and other milestones, and it helps people understand what they can do to love and care for themselves.
One Beyond Loss participant said, "Eight years ago, my husband Tom died, and four months later my daughter Tammy followed. My whole life changed, and suddenly there was only one of me; the house was empty and there was no one for me to take care of. I went to the Beyond Loss grief support groups, and for the first few sessions all I did was cry. With the help of the wonderful facilitators, I learned to incorporate my grief into my life and learn to live with it rather than having it take over me. Grief is love—I didn't stop loving them just because they died, and I did not stop grieving them either. The group taught me how to live with the grief."
Adena said, "We want to move away from grief being task-oriented—a list of things we do to move on—and support our participants in walking through the liminal space and finding their way back to joy, which is where the future is. What we establish in this in-between time is taken forward to the future and to what is now, where we establish new relationships, roles, and rituals. We embrace the goal to carry both the grief and the joy with us as we move forward in our journeys. We recognize that grief is love with nowhere to go."
For more information about the online Beyond Loss program, visit AdventistHealth.org/BeyondLoss or call 818-409-8008.
7 tips for coping with grief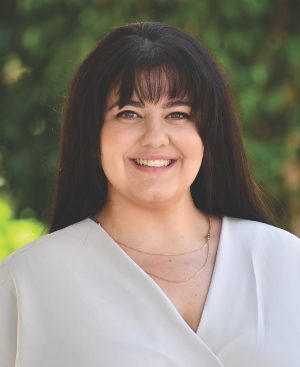 1. Acknowledge the presence of grief.
You aren't bad or good for experiencing grief. It's simply important to acknowledge that grief is present, that it is something you are feeling and experiencing. On some days it may feel more present than other days. Recognize there is no time limit for grief.
2. Normalize your unique needs.
Understand that your grieving process is unique to you. What used to be "abnormal" prior to the presence of grief may be considered "normal" for you now. Some examples include scheduling a nap during the day or intentionally planning days off.
3. Be kind to yourself.
Grief is exhausting, and it influences our physiology more than we know. While we are grieving, it is not helpful to have the same level of expectations for ourselves that we had prior to grieving.
4. Plan for events. 
Whether it is an anniversary, birthday, or holiday, set a plan for what you would like the day to look like. Whether it's sharing a meal with friends or family or going to your loved one's favorite hiking place, plan a day that is meaningful to you. It is easier to cancel plans at the last minute than to wait too long to plan.
5. Find ways to express your grief.
Expressing grief is a crucial part of moving forward. That expression may come through journaling, joining a support group, painting, or another process that is meaningful to you. Holding in grief can lead to complicated grief and unhealthy coping mechanisms.
6. Create a routine.
When we lose a loved one, we lose more than the person. We lose all of the roles they were associated with and our routine—our Sunday morning brunch partner, our church-going partner, our tax person, the person who hangs our Christmas lights. Acknowledging the secondary losses that come with grief and working to create a new routine will support you in moving forward in the grief process.
7. Share your grief.
The journey of grief is not one to be walked alone. The more support you have and the more outlets you have to share your grief, the healthier and easier your grief process will be.
ESTÁS HECHO PARA MÁS

Amor
sin
límites
Muchos estadounidenses creen que la próxima década estará marcada por importantes problemas sociales. La mayoría dice estar preocupada por la inseguridad económica, la división política, el desequilibrio ambiental, la sensación de falta de seguridad personal, los límites de los sistemas de salud y otros desafíos graves (Pew Research Center, 2019).
Necesitamos más esperanza, más nutrición de nuestra profunda identidad humana como hijos de Dios y más amor en acción. En medio de esos desafíos, los empleados y proveedores de atención médica de Adventist Health están viviendo el amor de Dios inspirando salud, plenitud y esperanza. 
El trabajo de la salud está profundamente arraigado en el adventismo. Los fundadores de nuestra iglesia, Ellen White, Joseph Bates, James White y otros, hablaron ampliamente y a menudo en esferas públicas sobre la necesidad de una reforma pro-salud en un momento en que el estado de la salud pública en los Estados Unidos era sombrío. Su trabajo, nuestro trabajo de hoy, está profundamente arraigado en el movimiento humanitario transformador de Jesús, quien «sanó toda enfermedad» y «tuvo compasión» (Mateo 9:35-36).
Adventist Health brinda atención médica a los seres humanos dentro del contexto de su identidad final como criaturas hechas a imagen de Dios. Cada ejecutivo, médico y empleado del hospital se moviliza para llevar a cabo esa misión, pero los capellanes de los hospitales tienen responsabilidades especialmente pesadas para apoyar las necesidades emocionales y espirituales de los pacientes, su familia, cuidadores y empleados de atención médica. Como proveedores de atención espiritual, los capellanes desempeñan un papel importante en la historia de la atención médica adventista y el amor a la manera de Jesús. Te invitamos a echar un vistazo a su trabajo para llevar adelante nuestro ministerio de sanidad.
LOS CAPELLANES DE ATENCIÓN MÉDICA PRACTICAN EL  
CUIDADO INTEGRAL
Una visita a la sala de urgencias o la admisión al hospital pueden generar ansiedad y temor, incluso cuando se está seguro de que se está recibiendo la mejor atención médica posible. Los pacientes pueden enfrentarse a procedimientos desconocidos, cirugías, malas noticias, decisiones difíciles y preocupaciones por los miembros de la familia. Muchos comienzan a pensar en sus creencias y valores de maneras que no habían considerado durante mucho tiempo o posiblemente nunca.
Es reconfortante para los pacientes saber que están siendo atendidos por médicos y enfermeras conocedores, hábiles y cuidadosos. Puede ser igualmente tranquilizador, y clínicamente beneficioso, para los pacientes hablar sobre sus preocupaciones y temores con un proveedor de atención espiritual capacitado y sentirse apoyados emocionalmente. Adventist Health brinda atención espiritual en entornos clínicos con los más altos estándares de capacitación y práctica. Somos conscientes de que la esperanza es sanadora. 
La atención espiritual en Adventist Health en cifras*
80%
De los capellanes de tiempo completo con certificación de la junta de CPE (en camino al 100% para 2025)
22
Estudiantes inscritos en la capacitación de Educación Pastoral Clínica (CPE)
4
Centros de CPE acreditados: Condados de Kern, Mendocino, Portland y Los Angeles
48
Proveedores de atención espiritual a tiempo completo
57
Capellanes asociados
Anual
Eventos de la Semana de la Misión en cada hospital
2 
Residentes de Mission Leadership en residencia de capellán clínico de seis años
2 
Comienzan la nueva residencia de Liderazgo de la Misión en 2023
6 
Visitas a colegios y universidades adventistas para crear una cartera de nuevos líderes misioneros
2
Estudiantes de pregrado que inician el programa de pasantías de liderazgo misionero
Decil superior
Puntajes de satisfacción del paciente de Press Ganey para la atención espiritual
*Datos de 2022

LOS CAPELLANES
ayudan a los pacientes a superar la angustia
Tony Andrews, director de Misión y Atención Espiritual de Adventist Health Bakersfield, tiene más de 16 años de experiencia como capellán de hospital. Al igual que todos los proveedores de atención espiritual de tiempo completo en Adventist Health, es un pastor ordenado de la Iglesia Adventista. Además de su trabajo como capellán, Tony es el director de uno de los cuatro programas de Educación Pastoral Clínica de Adventist Health, donde brinda capacitación a los nuevos capellanes.
En una entrevista reciente, Tony compartió información sobre el ministerio de la capellanía hospitalaria, incluyendo la pregunta que hace a todos los pacientes, las cosas que le sorprenden sobre la atención a los pacientes y lo más hermoso de su trabajo.
¿Cómo es un día típico para un capellán de hospital? Depende de las necesidades de los pacientes y del personal de enfermería. Es posible que veamos pacientes que experimentan ansiedad por su hospitalización o incertidumbre sobre su diagnóstico. Esos pacientes tienen prioridad. Tenemos que priorizar quién nos necesita y quién nos necesita más. Un día atípico puede incluir todos los incidentes críticos o todas las derivaciones del personal de enfermería. Cuando eso sucede, es posible que nunca lleguemos a hacer toda la ronda, que es un enfoque tradicional en el que vamos a ver a todos los pacientes.
¿Cómo se brinda atención espiritual a las personas no religiosas? Cada capellán de hospital tiene un enfoque ligeramente diferente, pero por lo general no preguntamos a los pacientes si les gustaría orar. En cambio, preguntamos: «¿Cómo está? ¿Hay algo que le molesta?» Como capellanes clínicos, queremos evaluar cómo los pacientes están lidiando con su hospitalización para poder proporcionar las intervenciones más adecuadas que satisfagan las necesidades inmediatas de los pacientes y su familia.
La mayoría de nuestras visitas no son religiosas. Puede haber algún subtexto religioso en la historia de un paciente, pero generalmente nos ocupamos de cualquier ansiedad relacionada con la hospitalización de un paciente. ¿Aparece Dios en las conversaciones? Sí y eso es generalmente durante las conversaciones sobre el final de la vida o cuando hay un nuevo diagnóstico. En momentos como esos, las personas comienzan a pensar en cómo podrían estar más cerca de Dios o enmendar su vida. Para aquellos que creen, les ayudamos a recordar que Dios está en control y a poner su vida en sus manos.
Hoy en día, a los capellanes de hospital a menudo se les llama «capellanes clínicos». ¿Qué significa ese término? El término «capellán clínico» tiene sus raíces en la palabra latina clinicus, que significa en una cama de enfermo, junto a una cama de enfermo o al lado de la cama. Por lo tanto, acompañamos al paciente en su experiencia en el hospital. En ese rol, le preguntamos al paciente: «¿Cómo la está llevando?» 
Hay más de una evaluación psicodinámica de la condición de un paciente y brindamos la atención y las intervenciones que más se necesitan. Ahí es donde se podría pensar que un pastor oraría o leería las Escrituras para brindar consuelo. No estoy diciendo que los capellanes clínicos no hagan eso, pero tratamos de entender la causa del problema.
Por ejemplo, la gente puede pedir que se ore por ella y nosotros diremos: «¡Por supuesto! Hablemos primero de la necesidad de la oración. ¿Qué le molesta? ¿Qué es lo que le causa angustia?» Una vez que sabemos más, podemos brindar una atención más personalizada para abordar una ansiedad específica en lugar de orar por el paciente sin tener idea de por qué orar específicamente. Las oraciones y los rituales se vuelven más significativos y valiosos cuando hemos hecho ese trabajo previo.
¿Qué le ha sorprendido de ser capellán de hospital? Una cosa que me ha sorprendido es la cantidad de abuso emocional, sexual y físico en las familias. Lo escucho con demasiada frecuencia. Hay tanto sufrimiento y dolor en las casas privadas que uno pensaría que son felices y buenas.
La mayoría de las preocupaciones o problemas a los que nos enfrentamos no son religiosos. Ahí es donde está la tensión. Escuchamos el término «necesidades espirituales» todo el tiempo, pero ¿cuál es la necesidad? Las relaciones humanas. 
Las relaciones humanas son la base de la espiritualidad. Si tomamos una visión a 30,000 pies de altura de la Biblia, se trata de restaurar las relaciones humanas, restaurar nuestra relacion con Dios, con los demás, con nuestra comunidad y con nosotros mismos. Así que el cuidado espiritual es la restauración del alma, la conexión de las relaciones humanas, y la edificación y el mantenimiento de esas relaciones.
Cuando hablamos de religión a menudo hablamos de actos o rituales religiosos, orar esto o hacer aquello. Hay un lugar para los rituales, son símbolos llenos de significado. Dios nos da símbolos para practicar y recordarnos algo. 
La oración es importante a medida que edificamos, reparamos, restauramos y mantenemos relaciones humanas, pero cuando los pacientes quieren hablar, en realidad no tienen una base religiosa. El hospital no es una iglesia. La gente viene al hospital por un problema físico. Lo que más les preocupa es mejorar su salud.
¿Qué tan diversas son las religiones de las personas que atiende? ¿Por qué es importante honrar esas creencias religiosas dentro de un sistema de salud adventista? Nos preocupamos por personas de todas las religiones y estilos de vida: musulmanes, hindúes, ateos. No importa quién sea. Atendemos la condición humana. 
Algunos pacientes piensan que venimos a hablarles de religión pero convertir a la gente no es el papel de la capellanía clínica. Dentro de la ética de la capellanía, nuestro papel no es hacer proselitismo o convertir, sino que los pacientes se sientan atendidos y reconfortados. 
Cuando es posible y apropiado, cuando los pacientes de otras religiones tienen necesidades especiales, nos aseguramos de que sus necesidades religiosas sean satisfechas, ya sea que podamos o no desempeñarlas como capellanes adventistas. Lo que hacemos es llamar a un líder de su tradición religiosa.
He atendido y capacitado a personas de todos los orígenes religiosos y una de las cosas más importantes que he aprendido es que tenemos esto en común: todos necesitamos ser escuchados, amados y comprendidos. Eso es universal sin importar a dónde vayas.
¿Cuál es la parte más alegre de tu trabajo? La parte más alegre es ver el rostro de un paciente iluminarse en el descubrimiento. Es una transformación y sanación. En ese momento es lo más maravilloso y satisfactorio. Es ver a alguien pasar de la angustia al descanso. El resto proviene de que el paciente entienda por qué se siente de cierta manera o por qué tiene miedo de algo. Es maravilloso.
Todos necesitamos ser escuchados, amados y comprendidos. Eso es universal sin importar a dónde vayas.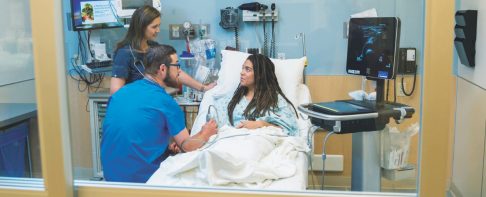 UN DÍA
en la vida de un capellán de hospital
Los capellanes atienden a los pacientes y también se ocupan del bienestar de los miembros del personal del hospital. Forman parte de comités, presentan mensajes devocionales en todo el hospital y participan en una variedad de iniciativas comunitarias. Lo invitamos a dar un vistazo al interior de un día en la vida de tres capellanes de Adventist Health.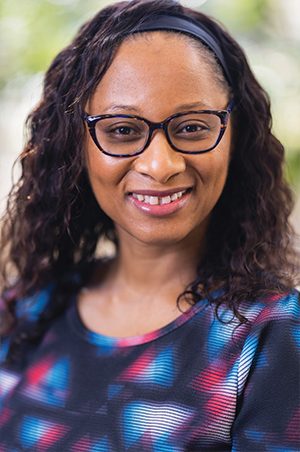 Sidany Barclay
Capellán de Adventist Health Portland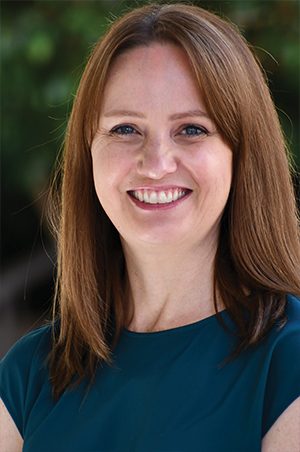 Kelly Kessinger
Capellán de Adventist Health Glendale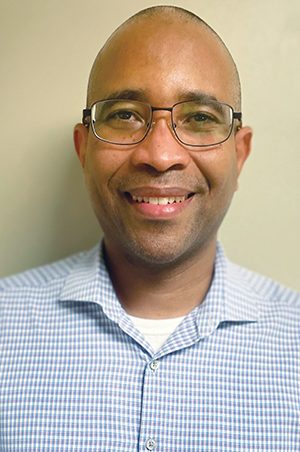 John King
Capellán de Adventist Health Bakersfield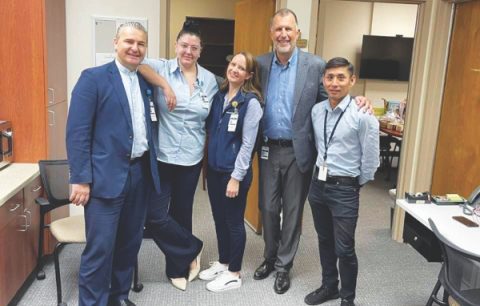 8 a.m.
Preparándose para el día
Kelly Kessinger, capellán de Adventist Health Glendale [centro], llega al hospital y comienza a preparar el censo para el día. Esto implica identificar a los pacientes recién admitidos que visitará el equipo de capellanes, tomar nota de los pacientes que han solicitado una visita de un capellán e identificar a los pacientes que los capellanes han visto antes y que pueden beneficiarse de una visita de seguimiento.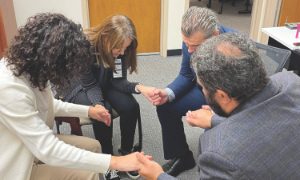 8:30 a.m.
Inicio con oración
Kelly y el resto del equipo de Atención Espiritual de Adventist Health Glendale se reúnen para hablar de los planes para el día y orar por el trabajo que tienen por delante.
9:30 a.m.
Compartir una buena palabra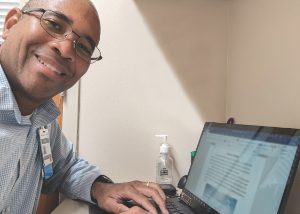 John King, capellán de Adventist Health Bakersfield, escribe un pensamiento devocional diario para el personal del hospital. Las devociones de John se basan en la misión y los valores de Adventist Health, mezclados con los eventos que ocurren en el hospital.
9:45 a.m.
Reunión con colegas
Kelly y el equipo de Atención Espiritual de Adventist Health Glendale se unen a la reunión diaria de seguridad con el equipo ejecutivo del hospital y los directores de departamentos. Comparten un mensaje devocional y hablan del día siguiente, incluyendo el número de pacientes, los procedimientos y cirugías planificados, y cualquier preocupación por la seguridad del paciente.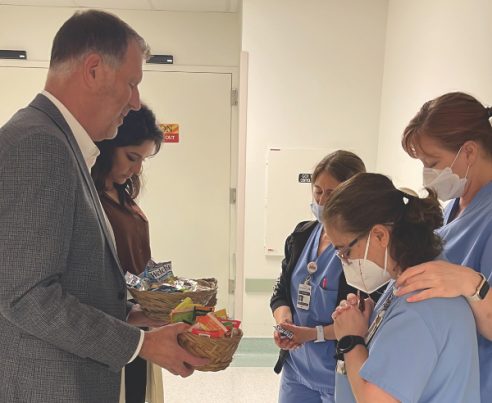 10 a.m.
Apoyo al personal del hospital
Los capellanes de Adventist Health Glendale comienzan a reunirse con los pacientes. A medida que hacen rondas, también chequean al personal del hospital. Apoyar el bienestar de las enfermeras y otros proveedores de atención médica es una parte importante de la capellanía y un elemento clave para ayudar a los proveedores de atención médica a brindar la mejor atención posible a los pacientes. A través de las interacciones con el equipo de Atención Espiritual, las enfermeras y otros miembros del personal también aprenden sobre la forma como los capellanes pueden ayudar a los pacientes y familiares que tienen problemas.
---
10 a.m.
Mantener la moral alta
Sidany Barclay, capellán de Adventist Health Portland, entrega donas y una tarjeta del equipo del Centro Familiar de Maternidad al equipo de la UCI, que estaba pasando por un momento particularmente difícil. Sidany inició esa iniciativa de entrega de regalos y facilita todos los detalles para ayudar a elevar la moral del personal. Es una situación en la que todos ganan: la unidad que hace la donación se siente bien al hacer un impacto positivo en el equipo, la unidad que recibe la donación se siente amada y apoyada, y el equipo de Atención Espiritual sabe que el personal del hospital está siendo atendido.
12 p.m.
Un poco de auto-cuidado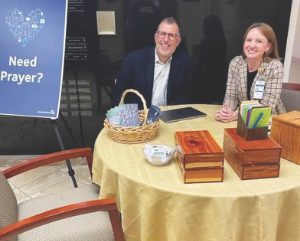 Los capellanes de Adventist Health Glendale toman tiempo a mediodía para relajarse, conversar con otros proveedores de atención espiritual y revigorarse. La conversación va desde temas alegres hasta cuestiones teológicas profundas o ayudarse mutuamente a procesar una visita difícil a un paciente. Después de un descanso, los capellanes vuelven a los pisos visitando pacientes y hablando con el personal del hospital. Los capellanes registran todas las visitas de los pacientes inmediatamente después de que se llevan a cabo.
1 p.m.
Parte del ministerio de sanidad de Jesús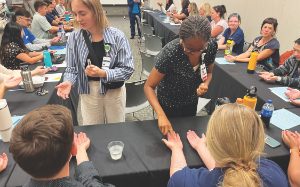 Sidany dirige la Bendición de las Manos, una ceremonia para los residentes recién graduados que comienzan sus carreras en la atención de la salud. El servicio les recuerda su llamado a ser parte del ministerio de sanidad de Jesús.
1:45 p.m.
Tomar decisiones difíciles
Se convoca una reunión del Equipo de Toma de Decisiones de Atención Médica en Adventist Health Portland. El equipo incluye al médico que preside el comité de ética del hospital, al médico que solicitó la reunión, a representantes de Gestión de Riesgos, Trabajo Social y al departamento de Atención Espiritual, y a un miembro de la comunidad. Una reunión del equipo se convoca cuando la atención de un paciente requiere una decisión médica, como un procedimiento necesario, la extracción del soporte vital, etc., cuando el paciente no puede tomar la decisión por sí mismo debido a su afección y cuando no hay un miembro de la familia o una carta poder para tomar la decisión por él.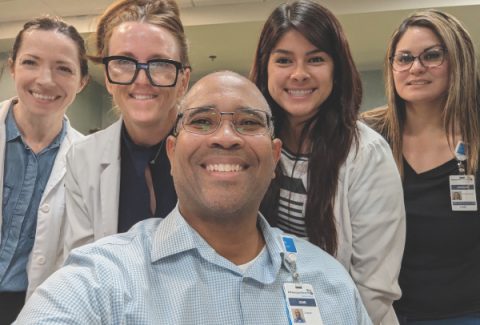 2 p.m.
Experiencia transversal
John participa en una reunión interdisciplinaria con los equipos de Cuidados Paliativos y Trabajo Social para discutir los cambios en la atención médica de un paciente. Las reuniones interdisciplinarias también pueden abordar cualquier necesidad espiritual o religiosa de un paciente que sea importante para brindar el mejor apoyo médico.
---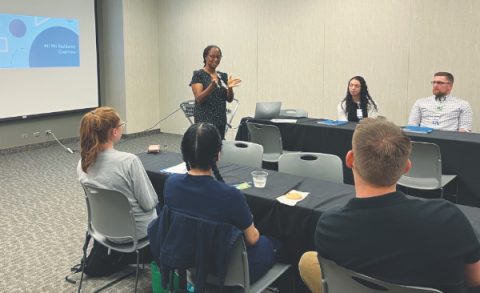 2 p.m.
Nutrir a la próxima generación
Sidany presenta un mensaje devocional a un grupo de estudiantes de Adventist Health Portland.
3:30 p.m.
Aminorar temores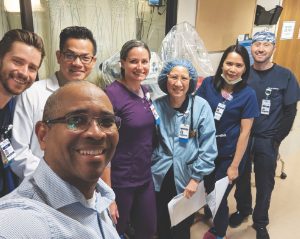 John participa en rondas interdisciplinarias de la UCI con otros equipos del hospital. Su función es contribuir a la atención integral de los pacientes y familiares brindando apoyo pastoral, como oración y consuelo, pero también ayudar a evaluar y satisfacer las necesidades espirituales que pueden afectar la atención médica. Eso incluye el rechazo del tratamiento basado en temores y ansiedades, que John trabaja para aminorar.
4 p.m.
Enfoque en el corazón de la misión
Los capellanes forman parte de varios comités del hospital y hoy Kelly se reúne con el Comité de Bienestar de los Empleados. En las reuniones del comité, los capellanes brindan información desde la perspectiva de la Misión y la Atención Espiritual y, a menudo, inician las reuniones con una oración.
4 p.m.
Apoyo mutuo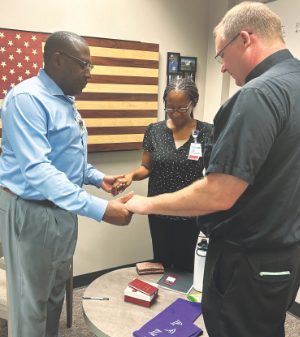 Sidany ora con un sacerdote. «Eso fue lo más conmovedor para mí», dijo. «El sacerdote pasó por la oficina del capellán solo para hablar de las dificultades y alegrías del ministerio. Después nos pidió que oráramos por él».
5 p.m.
Encontrar sentido y esperanza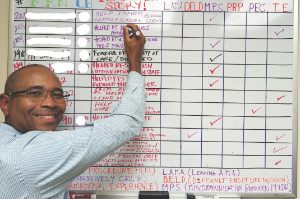 El esquema gráfico de la misión ayuda a mantener al equipo de Atención Espiritual de Adventist Health Bakersfield comprometido con las formas prácticas como impactan los resultados médicos. Si bien los capellanes apoyan, consuelan y oran por los pacientes a diario, registra la forma como han ayudado a mejorar la atención médica, específicamente al mejorar la comunicación, prevenir las desviaciones en contra del consejo médico y apoyar lo que llaman «experiencias transformadoras», momentos en los que ayudan a los pacientes a reconectarse con su fe y encontrar un nuevo significado y esperanza.
7 p.m.
En busca de inspiración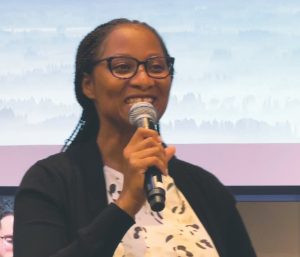 Sidany participa en el Primer Viernes, un evento comunitario inspirador dirigido por un miembro de iglesia el primer viernes de cada mes. Sidany dijo: «Es tan bueno ver a la gente simplemente venir para inspirarse sin condiciones».

ESPACIO SAGRADO
Tres historias de capellanes en acción
Los capellanes de los hospitales nunca saben muy bien lo que les deparará un día. Pueden estar charlando con un paciente sobre fútbol en un momento y consolando a un familiar afligido al siguiente. Con un espíritu acogedor, asumen la perspectiva de los pacientes que atienden. A veces buscan las palabras adecuadas y otras veces les brindan consuelo sin decir una palabra.
.Decir «Sí, quiero»
Era la primera novia que había tenido en su vida. Era el primer novio que había tenido en su vida. Estaban enamorados y esperando su primer hijo. No tenían mucho dinero. Trabajó. Trabajó hasta que su embarazo ya no se lo permitió.
Ocho meses después de descubrir que estaba embarazada, estaban en la sala de partos de Adventist Health Glendale, listos para traer una nueva vida al mundo.
Mientras esperaban el bendito acontecimiento, hablaron. ¿En qué tipo de mundo querían dar la bienvenida a su hijo? Se dieron cuenta de que querían más para su pequeño de lo que habían pensado originalmente. Lloraron, se abrazaron y le pidieron a la enfermera de la unidad que llamara a la oficina del capellán. ¿Podría un capellán llevar a cabo una ceremonia de boda para que su bebé pudiera venir al mundo con una madre y un padre casados?
En un hermoso giro de los acontecimientos el parto se retrasó lo suficiente como para tener una sencilla ceremonia de boda en la capilla del hospital. La pareja se casó y nació un bebé de una madre y un padre unidos en amor y fe.
Ese no es el final de la historia.
En enero de 2023, la oficina del capellán recibió una llamada telefónica. Un hombre al otro lado de la línea le dijo: «Hace veinticuatro años, mi esposa y yo nos casamos en su capilla antes de que naciera nuestro primer hijo. ¡Seis de nuestros siete hijos nacieron en su hospital! Nos preguntábamos, ¿podemos reservar la capilla en febrero de 2024 para poder renovar nuestros votos en nuestro 25º aniversario?».
La capilla está reservada. El reencuentro está listo. Y Dios sonríe.
La mujer junto a la fuente
La entrada del edificio donde trabajo en Adventist Health Glendale tiene una hermosa cascada rodeada por un banco. Mientras entro y salgo de mi oficina, veo a la gente sentada alrededor de la fuente, esperando que los lleven desde el hospital después de una cita. La mayor parte del tiempo paso, asiento con la cabeza y sonrío.
Un día, cuando regresaba de una cita para almorzar fuera, algo me llamó la atención al entrar en el área de la fuente. Una mujer joven estaba sentada en el banco. No lloraba. No parecía enojada. Parecía vacía, como si todo se hubiese acabado en su vida. Estaba sola y parecía que necesitaba que alguien le dijera algo, cualquier cosa. Así lo hice.
«¡Hola! ¿Está esperando que la lleven?»
Me miró con los ojos vacíos. «Acabo de perder a mi bebé», me dijo.
Rápidamente me senté y tomé su mano. «Oh, no. Lo lamento. Cuénteme qué pasó».
Sus palabras se derramaron con sus lágrimas. Acudió al hospital para un chequeo de rutina. No había señales obvias de que algo estaba mal. Ella y su esposo esperaban su tercer hijo. Después, de repente, ya no.
Me explicó que nadie sabía lo que había pasado. Había llamado a su marido para que la recogiera, pero aún no le había dicho la terrible verdad. Me enteré de su nombre, de su familia, y compartió sus sueños para la niña que habían estado esperando.
En algún momento, justo antes de que su esposo llegara, me preguntó qué hacía en el hospital. 
«Soy capellán. Me preocupo por la atención espiritual de nuestros pacientes».
Apretó mi mano con más fuerza, «¿Podría orar por mí y por mi bebé?»
Oré por mi joven amiga y oré para que un día pudiera volver a sostener a su bebé cuando todas las cosas fueran nuevas.
Cuando su esposo llegó, salió del auto e inmediatamente vio que algo estaba mal. La ayudamos a subir al auto. Cerré suavemente la puerta del coche y me despedí.
Hacer lo correcto
La sala de partos es una de esas unidades que a todo el mundo le encanta. A las enfermeras les encanta trabajar ahí. Los pacientes llegan con ansiosas expectativas de dar a luz y vincularse con la nueva pequeña vida que han creado. Y los capellanes disfrutan bendiciendo a los niños con pequeños regalos y Biblias de la oficina de capellanía.
El capellán Kelly estaba haciendo rondas una mañana cuando escuchó sollozos provenientes de una parte de la unidad. Se dirigió al espacio donde un hombre y una mujer, junto con su médico, estaban reflexionando sobre la horrible noticia de que el bebé de la pareja había sufrido la muerte fetal. 
Cuando Kelly se sentó con la pareja, descubrió que eran católicos y que habían sido devotos la mayor parte de su vida. Con lágrimas en los ojos, la madre preguntó: «¿Podría bautizar a mi bebé antes de que lo dé a luz?».
Por supuesto, en el catolicismo, el bautismo es un sacramento reservado para los bebés después del nacimiento. 
El capellán Kelly regresó a la oficina y habló con nuestro sacerdote católico de guardia sobre la solicitud. Sin dudarlo, ambos subieron a la habitación y proporcionaron la Santa Cena. 
Después de que el feto naciera, se colocó en una pequeña caja decorativa para que los padres pudieran sostenerla y pasar tiempo con ella. Nuestros capellanes se quedaron con ellos y oraron por la familia y por el alma de su hija.
Situaciones como esa son difíciles. En esos momentos de sufrimiento es cuando los capellanes brindan bondad, compasión, tranquila gracia y paz esperanzadora.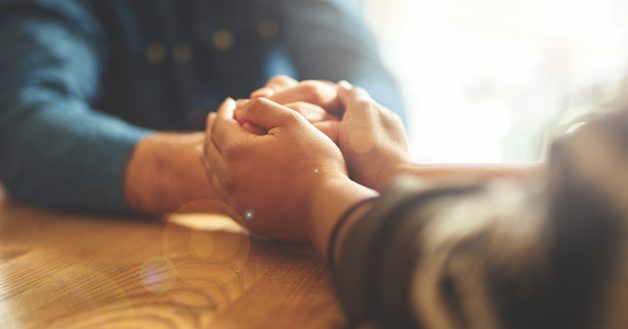 MÁS ALLÁ DEL DOLOR
Una nueva cultura en torno al duelo
El haber vivido por una pandemia puede haberte dejado experimentando algún tipo de duelo. Eso podría sentirse como perder la sensación de libertad, alegría, seguridad o normalidad, o tal vez sentirse un poco desorientado por razones que no se pueden explicar. Podría ser que se haya perdido un trabajo o haya ocurrido otro cambio de empleo. Tal vez se esté experimentando una amistad terminada, un matrimonio quebrantado o la enfermedad o muerte de un ser querido.
«Hay dolor a nuestro alrededor», dijo Adena Sarkian, especialista en atención espiritual de Adventist Health Glendale y líder del programa Salud Adventista Más Allá de la Pérdida. «Aprendemos a lidiar con el dolor. En nuestro trabajo de apoyo al duelo a través de Más allá de la Pérdida, a menudo hablamos del espacio liminal, el espacio entre lo que era antes del duelo y lo que sucede después del duelo. El espacio liminal es un espacio de lo desconocido. Es un espacio estresante, pero también es un espacio de transformación».
El programa Más Allá de la Pérdida que dirige Adena se esfuerza por crear espacios seguros para que las personas procesen el duelo dentro de la comunidad. «Estamos creando una nueva cultura en torno al duelo, reconociendo que el duelo está presente y que vivimos con él. Estamos cambiando la terminología de "seguir adelante" para "avanzar"», dijo.
Adena comenzó a dirigir Más Allá de la Pérdida en Adventist Health Glendale en 2019. Desde entonces, el programa ha satisfecho las necesidades de tantos pacientes y miembros de la comunidad que se ha expandido a todos los hospitales de Adventist Health como un programa en línea. En cada reunión grupal en línea, facilitadores altamente capacitados lideran y los demás miembros del grupo brindan apoyo adicional. Existe un estricto código de confidencialidad para fomentar la comunicación. Adena enfatiza que Más Allá de la Pérdida es un programa disponible y continuo que se reúne en pequeños grupos cada semana, durante todo el año. Los participantes se unen según sea necesario.
Además del apoyo para el duelo, Más Allá de la Pérdida incluye grupos para las necesidades especiales de los sobrevivientes de suicidio y para pérdidas ambiguas, como mudarse a un nuevo lugar, divorciarse, un diagnóstico de salud adverso o incluso la agitación emocional de navegar por una pandemia. Los servicios de Más Allá de la Pérdida incluyen un boletín trimestral con recursos para vivir con el duelo; la defensa de los dolientes; intervención después de eventos traumáticos para individuos, familias y comunidades; y educación y talleres sobre el duelo y la pérdida. Más Allá de la Pérdida ayuda a las personas que están en duelo a desarrollar un plan para hacer frente a las fiestas, los aniversarios y otros hitos, y ayuda a las personas a comprender lo que pueden hacer para amarse y cuidarse a sí mismas.
Un participante de Más Allá de la Pérdida dijo: «Hace ocho años, mi esposo Tom murió, y cuatro meses después mi hija Tammy lo siguió. Toda mi vida cambió, y de repente estaba sola; la casa estaba vacía y no había nadie a quien cuidar. Fui a los grupos de apoyo para el duelo de Más Allá de la Pérdida, y durante las primeras sesiones todo lo que hice fue llorar. Con la ayuda de los maravillosos facilitadores, aprendí a incorporar el dolor en mi vida y aprender a vivir con él en lugar de dejar que se apoderara de mí. El dolor es amor—no dejé de quererlos solo porque murieron, y tampoco dejé de llorarlos—. El grupo me enseñó a vivir con el dolor».
Adena dijo: «Queremos alejarnos del duelo orientado a la tarea, una lista de cosas que hacemos para seguir adelante, y apoyar a nuestros participantes para que caminen por el espacio liminal y encuentren el camino de regreso a la alegría, que es donde está el futuro. Lo que establecemos en este tiempo intermedio es llevado hacia el futuro y hacia lo que es ahora, donde establecemos nuevas relaciones, roles y rituales. Abrazamos el objetivo de llevar tanto el dolor como la alegría con nosotros a medida que avanzamos en nuestro peregrinaje. Reconocemos que el duelo es amor sin ningún lugar a donde ir».
Para obtener más información sobre el Más Allá de la Pérdida, visite AdventistHealth.org/BeyondLoss o llame al 818-409-8008.
7 consejos para el duelo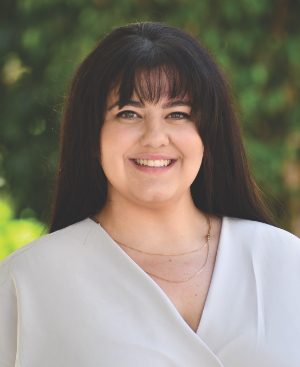 1. Reconocer la presencia del dolor.
No se es malo ni bueno por experimentar duelo. Simplemente es importante reconocer que el dolor está presente, que es algo que se está sintiendo y experimentando. Algunos días se puede sentir más presente que otros. Hay que reconocer que no hay límite de tiempo para el duelo.
2. Normalizar las necesidades especiales.
Comprender que el proceso de duelo es especial para cada uno. Lo que solía ser «anormal» antes de la presencia del duelo puede considerarse «normal» ahora. Algunos ejemplos incluyen programar una siesta durante el día o planificar, intencionalmente, días libres.
3. Ser amable con uno mismo.
El duelo es agotador e influye en nuestra fisiología más de lo que creemos. Mientras estamos de duelo, no es útil tener el mismo nivel de expectativas para nosotros mismos que teníamos antes del duelo.
4. Planificar eventos. 
Ya sea un aniversario, un cumpleaños o un día festivo, hay que establecer un plan para cómo le gustaría a uno que fuera el día. Ya sea que se trate de compartir una comida con amigos o familiares o ir al lugar de senderismo favorito del ser querido, hay que planificar un día que sea significativo para uno. Es más fácil cancelar planes en el último minuto que esperar demasiado para planificar.
5. Buscar maneras de expresar el dolor.
Expresar el dolor es una parte crucial para seguir adelante. Esa expresión puede venir a través de escribir un diario, unirse a un grupo de apoyo, pintar o algún  otro proceso que sea significativo. Contener el duelo puede llevar a complicaciones y a mecanismos de afrontamiento poco saludables.
6. Crear una rutina.
Cuando perdemos a un ser querido, perdemos más que a la persona. Perdemos todos los roles con los que estaban asociados y nuestra rutina: nuestro compañero de brunch del domingo por la mañana, nuestro compañero de ir a la iglesia, nuestra persona en los impuestos, la persona que cuelga nuestras luces de Navidad. Reconocer las pérdidas secundarias que vienen con el duelo y trabajar para crear una nueva rutina ayudará a avanzar en el proceso de duelo.
7. Compartir el dolor.
El recorrido del duelo no se puede recorrer solo. Cuanto más apoyo se tenga y más medios se tengan para compartir el dolor, más saludable y fácil será el proceso de duelo.