Central California Conference's Digital Evangelism Initiative
The advances in technology in our society continue to benefit the purpose of the Adventist Church in many ways. The goal to spread Christ to every person has been at the center of the Adventist message since the church was founded, but how that is accomplished continues to change. 
Beginning July 2023, the Central California Conference (CCC) implemented a digital evangelism campaign that combines the benefits of digital evangelism with the benefits of in-person outreach. This uses multiple methods to connect the church with the local community, including prayer ads, online pastoral care, community involvement, Bible study, and public evangelism meetings.
Offering prayer to the local community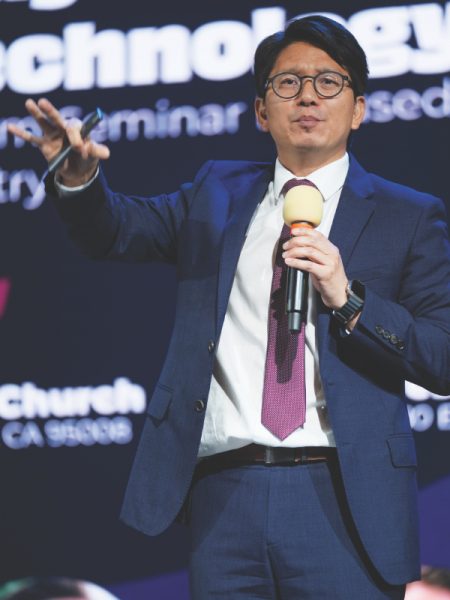 "Marketing is the secular term—present an item and get people to take it," explained Justin Kim, director of Digital Evangelism for the CCC. "However, in the context of the church, we say evangelism. We present the gospel and get people to take it. We utilize digital marketing strategies to target local communities within a 10-mile radius. Specifically, we focus on our own church community and emphasize prayer in our campaigns, as research from the General Conference has shown that prayer-based advertisements are most effective."
Two months ago, CCC initiated its outreach strategy with the collaboration and mentorship of the Adventist Information Ministry (AIM) from the North American Division (NAD) and the communication department of the General Conference (GC). In April and August of 2023, four digital evangelism training seminars took place at Fresno Central church, Sunnyvale church, Clovis church, and Milpitas church, facilitated by experts from the GC and NAD.
The results have been outstanding. We now have 1,358 contacts from the community who are engaging daily with an online pastoral care team from AIM. They are in constant daily contact, offering love, care, and spiritual guidance alongside meaningful conversations. They send prayers enriched with pertinent Bible verses, aiming to uplift and spiritually nourish those they connect with day after day. 
We've seen a week-over-week increase in the number of visits to our churches. Seventeen of these contacts have started attending church services without any direct invitation, and one has been baptized—on August 19, Joel Mayol was baptized at the Milpitas church.
Expanding the project
"We are now going to phase two," said Kim. "In phase one we had six churches, and in phase two we now have 30 churches." The primary objective of phase two is to equip local churches with the tools and methodologies they need to take the lead in implementing the digital evangelism initiative. "We are mobilizing digital missionaries from local churches," added Kim. "We have around 200 digital missionaries who will engage and pray for seekers as a part of this project." 
Pastor Daniel Gouveia from Fresno Central church, one of the participating congregations, shared his own experience: "Our church has made contact with over 400 individuals through this project. What's even more exciting is that many of these people are voluntarily stepping forward to be part of our community."
Pastor Mark Ferrell from San Francisco Central church, another participant in the project, said, "During my ministry I've tried various methods of evangelism, but I've found the digital and community-oriented approach to be the most effective way to reach our community in these modern times."
Kim added that in phase two, the main goal is to train local churches how to run this digital evangelism by themselves. "Phase two is a six-month plan, and after six months, the churches can do it again by themselves," he explained. This can continue reaching people in their area and make the program an ongoing piece of the church's outreach.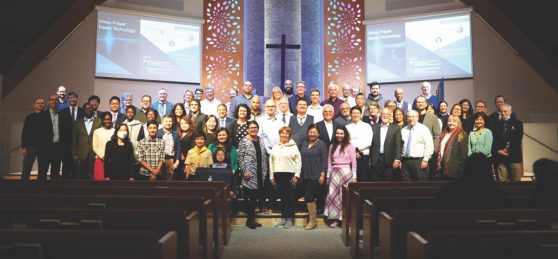 The project's potential impact is vast, especially given its strategic testing ground in Silicon Valley, part of the Central California Conference. "We're excited about this approach, which we see as the future for the church's digital strategies. When prayer meets technology, we can truly save souls," said Kim. The initiative aligns with the Adventist Church's broader mission of bringing Christ to every individual.
____________________
By Brennan Hallock
Encuentro de la oración con la tecnología
Iniciativa de evangelismo digital en la Central California Conference
Los avances en la tecnología en nuestra sociedad continúan beneficiando el propósito de la Iglesia Adventista de muchas maneras. El blanco de llevar a Cristo a cada persona ha estado en el centro del mensaje adventista desde que se fundó la iglesia, pero la forma como se lleva a cabo continúa cambiando. 
A partir de julio de 2023, la Central California Conference (CCC) implementó una campaña de evangelismo que combina los beneficios del evangelismo digital con los beneficios del evangelismo personal. Eso utiliza múltiples métodos para conectar a la iglesia con la comunidad, incluyendo anuncios de oración, atención pastoral en línea, participación comunitaria, estudios bíblicos y reuniones públicas de evangelismo.
Ofrecer oración a la comunidad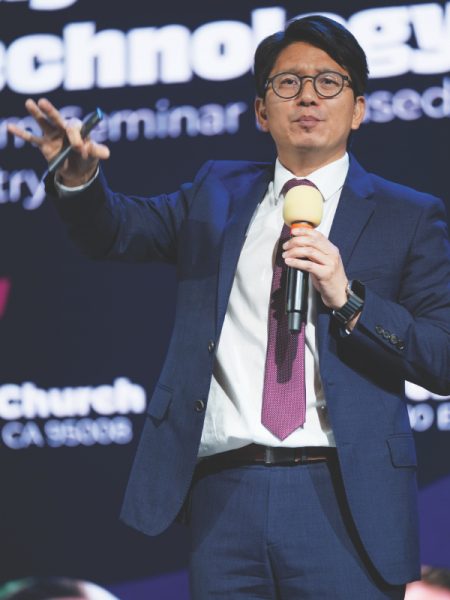 «Marketing es el término secular: presentar un artículo y hacer que la gente lo compre», explicó Justin Kim, director de evangelismo digital de la CCC. «Sin embargo, en el contexto de la iglesia, decimos evangelismo. Presentamos el evangelio y esperamos que la gente lo acepte. Utilizamos estrategias de marketing digital para dirigirnos a las comunidades dentro de un radio de 10 millas. Específicamente, nos enfocamos en nuestra comunidad y enfatizamos la oración en nuestras campañas, ya que la investigación de la Conferencia General ha demostrado que los mensajes basados en la oración son más efectivos».
Hace dos meses, CCC inició su estrategia de evangelismo con la colaboración y tutoría del Ministerio Adventista de Información (AIM) de la División Norteamericana (NAD) y el departamento de comunicación de la Conferencia General (CG). En abril y agosto de 2023 se llevaron a cabo cuatro seminarios de capacitación en evangelismo digital en la iglesia central de Fresno, la iglesia Sunnyvale, la iglesia de Clovis y la iglesia de Milpitas, facilitados por expertos de la CG y la NAD.
Los resultados han sido destacados. Ahora tenemos 1,358 contactos de la comunidad que se involucran diariamente con un equipo de atención pastoral en línea de AIM. Están en contacto diario constante, ofreciendo amor, atención y guía espiritual además de conversaciones significativas. Elevan oraciones enriquecidas con versículos bíblicos pertinentes, con el objetivo de elevar y nutrir espiritualmente a aquellos con los que se conectan día tras día. 
Hemos visto un aumento semana tras semana en el número de visitas a nuestras iglesias. Diecisiete de esos contactos han comenzado a asistir a los servicios de la iglesia sin ninguna invitación directa y el 19 de agosto, Joel Mayol fue bautizado en la iglesia de Milpitas.
Ampliación del proyecto
«Ahora vamos a la fase dos», dijo Kim. «En la fase uno teníamos seis iglesias y en la fase dos ahora tenemos 30 iglesias». El objetivo principal de la fase dos es equipar a las iglesias con las herramientas y metodologías que necesitan para tomar la iniciativa de liderazgo en la implementación de la iniciativa de evangelismo digital. «Estamos movilizando misioneros digitales en esas iglesias», agregó Kim. «Tenemos alrededor de 200 misioneros digitales que se involucrarán y orarán por las personas como parte de ese proyecto». 
El pastor Daniel Gouveia de la iglesia Fresno Central, una de las congregaciones participantes, compartió su experiencia: «Nuestra iglesia ha hecho contacto con más de 400 personas a través de este proyecto. Lo que es aún más emocionante es que muchas de esas personas están dando un paso voluntariamente para ser parte de nuestra comunidad».
El pastor Mark Ferrell de la Iglesia Central de San Francisco, otro participante en el proyecto, dijo: «Durante mi ministerio he probado varios métodos de evangelismo, pero he encontrado que el enfoque digital orientado a la comunidad es la forma más efectiva de llegar a nuestra comunidad en estos tiempos modernos».
Kim agregó que en la fase dos el objetivo principal es capacitar a las iglesias sobre cómo ejecutar ese evangelismo digital por sí mismas. «La fase dos es un plan de seis meses y después de seis meses las iglesias pueden hacerlo de nuevo por sí mismas», explicó. Así puede continuar llegando a las personas en su área y hacer que el programa sea una parte continua del evangelismo de la iglesia.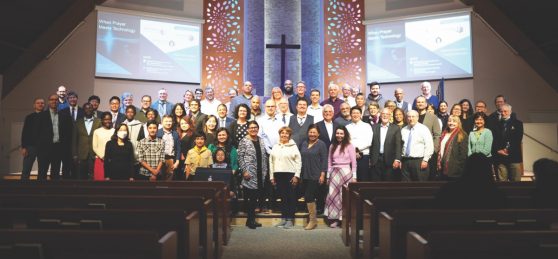 El impacto potencial del proyecto es enorme, especialmente dado su campo de pruebas estratégico en Silicon Valley, parte de la Central California Conference. «Estamos entusiasmados con este enfoque, que vemos como el futuro de las estrategias digitales de la iglesia. Cuando la oración se encuentra con la tecnología, realmente podemos salvar almas», dijo Kim. La iniciativa se alinea con la misión más amplia de la Iglesia Adventista de llevar a Cristo a cada individuo.
____________________
Por Brennan Hallock