Lake Perris and Perris 5th Street churches have joined together as the Perris Seventh-day Adventist Community Church. Although the Executive Committee of Southeastern California Conference (SECC) officially voted for the churches to merge on April 22, 2020, the inauguration program was held on January 25, 2023, to initiate their fellowship as one church. 
"I love the way we plan, work, and worship together. Our cultures are learning to love, respect, and understand one another," said Loida Bernard, an elder at Perris Community.
A ribbon-cutting ceremony was held on the front steps of the Lake Perris site, symbolizing the new congregation's integrity and role in the community. The Perris Community church has set goals to mingle and network within the community and to become a visible figure to assist its citizens through their services, resources, and ministries, including Bible study, a community food bank, the Harvest Festival, health clinics and fairs, women's ministry, homeless outreach, VBS, and prayer groups.
During the program, a brief history of both churches was presented. Robert Edwards, SECC vice president for Black Ministries, engaged the church members in a responsive covenant of unity, which established a vow for members to be one in service, one in church family, and one in Christ as the Son and Father are one. Jonathan Park, SECC president, presented a powerful message entitled "A MUST with a Fresh Start." He cautioned the members that in order to have a successful church we MUST possess the power of the Holy Spirit abiding with us daily. The music of the Inland Empire Filipino Church Ensemble and the former praise team of Perris 5th Street resounded in the sanctuary as voices were lifted to God in songs of praise. 
Through the power of many prayers, the guidance of the Holy Spirit, and the work of pastors, members, and conference workers, the Lake Perris and the Perris 5th Street churches are now one congregation, sharing the gospel message with the community of Perris.
____________________
By Dorothy Washington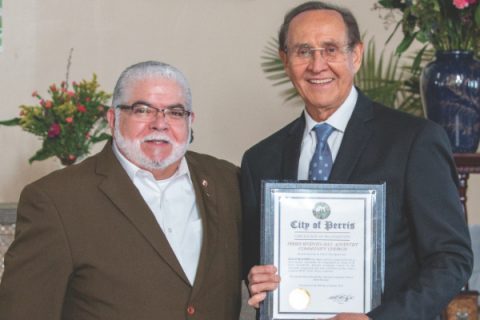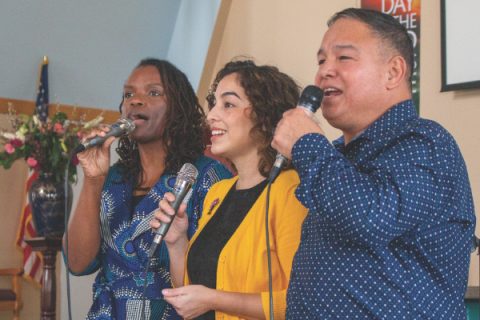 Dos se convierten en una
Las iglesias de Lake Perris y Perris 5th Street se han unido como Perris Seventh-day Adventist Community Church. Aunque el Comité Ejecutivo de la Southern California Conference (SECC) votó oficialmente para que las iglesias se fusionaran el 22 de abril de 2020, el programa de inauguración se llevó a cabo el 25 de enero de 2023 para iniciar su comunión como una sola iglesia. 
«Me encanta la forma como planeamos, trabajamos y adoramos juntos. Nuestras culturas están aprendiendo a amarse, respetarse y entenderse unos a otros», dijo Loida Bernard, una anciana de la Perris Community.
Una ceremonia de corte de cinta se llevó a cabo en los escalones delanteros de Lake Perris, simbolizando la integridad de la nueva congregación y el papel en la comunidad. Perris Community Church ha establecido metas para establecer contactos con la comunidad y convertirse en una figura visible para ayudar a sus ciudadanos a través de sus servicios, recursos, y ministerios, incluyendo estudios bíblicos, un banco de alimentos, el Festival de la Cosecha, clínicas y ferias de salud, ministerio de la mujer, ministerio a personas sin hogar, EBV y grupos de oración.
Durante el programa, se presentó una breve historia de ambas iglesias. Robert Edwards, vicepresidente de SECC para Ministerios Negros, involucró a los miembros de la iglesia en un pacto receptivo de unidad, que estableció un voto para que los miembros sean uno en servicio, uno en la familia de la iglesia y uno en Cristo como el Hijo y el Padre son uno. Jonathan Park, presidente de SECC, presentó un poderoso mensaje titulado «Un imperativo con un nuevo comienzo». Advirtió a los miembros que para tener una iglesia exitosa es imperativo poseer el poder del Espíritu Santo que more con nosotros diariamente. La música del Inland Empire Filipino Church Ensemble y el antiguo equipo de alabanza de Perris 5th Street resonaron en el santuario mientras las voces se elevaban a Dios en cantos de alabanza. 
A través del poder de muchas oraciones, la guía del Espíritu Santo, y el trabajo de pastores, miembros y obreros de la conferencia, las iglesias de Lake Perris y Perris 5th Street son ahora una congregación, compartiendo el mensaje del evangelio con la comunidad de Perris.
____________________
Por Dorothy Washington