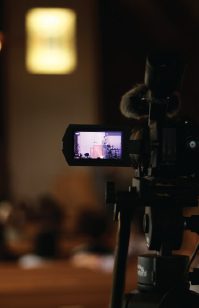 I am a youth pastor intern at the Kaneohe church, located on the island of Oahu, Hawaii. Because I grew up with technology, I have gravitated toward bringing it into my life and ministry. The ways the gospel can be shared now are innumerable. But where do we start? Can a small local church be capable of these things, or is it only possible for mega churches? How does a church get to the point where members are being reached six times a week instead of one—and where messages can be enjoyed from homes, hospitals, nursing homes, or even overseas?
When I landed in Hawaii, those were some of the questions I asked myself. My passion was grounded in media and what it can do for the church—but where do I fit into that equation? Do I simply throw all this new technology at the church and its already set routine and hope it sticks? How do I help without overreaching or giving the impression that the media team needs an update on terms and resources? As I answer these questions and find out what works and what doesn't, I invite you to join me so that you too can see what media and the church can look like.
When I arrived at the church, I was happy to see that the media team was doing well already. The church had a streaming service, a few cameras, quality microphones, and even some online presence. Great! I thought to myself, how hard could this be? Spoiler alert—it was going to be quite the challenge. While the idea of simply hopping on a streaming site like YouTube or Facebook and uploading sermons is good, the process doesn't end there. This is a new generation I am trying to reach through media, but we can't forget the other members of the church. What about those who aren't ready for that change yet or who need guidance so that they can enjoy it too?
The church I am working at has a great online presence, but it's almost too much (at least for now). I began talking to the pastor and the elders of the church and found out that there were multiple social media accounts under the church's name. And that there could possibly be a YouTube channel, but no one can remember who has the password. Let's just say we needed a fresh start.
My first step in building the online presence was to create a YouTube channel. This is a simple step that helps members and guests listen and enjoy the worship service without leaving home. Here are some steps to get started.
Sign into your Google account. (Having a Google account doesn't automatically give you a YouTube channel, but it sure does help!)
Head to your YouTube Settings (whether that's the mobile or desktop site).
Hit the " Create Channel" button and get creative! From here on out, simply follow the instructions to give yourself a name and photos so that others will recognize who you are.
Now that wasn't so hard, was it? Well, that was just the beginning, but the good news is that if your church is currently meeting every Sabbath, you already have content. We can talk about different levels of content later, but for now just begin to record your Sabbath worship services online and upload them onto your YouTube channel.
As I began to do this with the "Kaneohe SDA Church" YouTube channel, I realized that this first step in putting our church online means so much to others—especially while we are still trying to figure out the pandemic and the variants that keep arising. This also gives listeners a way to listen to the message again whenever they like.
I'm happy to bring you along on this journey of media ministry in the church, and I hope you can take away some useful ideas.
____________________
By Miguel Manzo