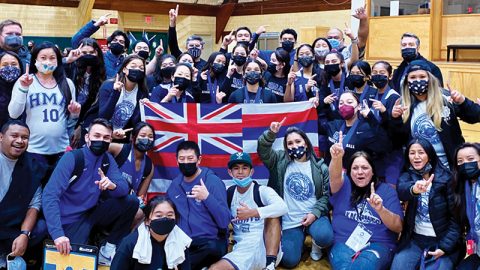 Down by 2, with 11 seconds left on the clock, it seemed like the game was all over for the Hawaiian Mission Academy (HMA) Knights. After a missed free throw by the other team, HMA senior Micah Castillo was able to grab the rebound and toss the ball full court to fellow senior Kristoff Ramirez, who would make a layup to tie the game, sending it to overtime. The Knights would go on to eventually win the game, but once it was all over, they ran to embrace their opponents. When a team wins a close game, or any game, you don't typically see them running to celebrate with their opponents.
This was the norm for the Knights at the Pacific Union College Pioneer Invitational this past January. For the past two years, we at Hawaiian Mission Academy have been fighting to give our students a sense of normalcy. With the COVID pandemic lasting longer than initially hoped, sports have continually been affected. Fortunately, we have slowly and carefully been able to restore opportunities back to our students.
One opportunity that has been reestablished is the mainland trip to Pacific Union College for their annual basketball tournament. Before the COVID pandemic hit, HMA had traveled to PUC each year for their "Pioneer Invitational." This year we were blessed to have a chance to attend this tournament once again. We COVID-tested, masked up, and headed on a flight to California.
The unique opportunity with this trip is for our students to get the chance to meet students from other SDA academies. Being located in Hawaii, our students do not have many opportunities to meet other Adventist high school students or travel to the mainland in general. At PUC, the students have a chance to stay in the college dormitories with other Adventist high schoolers, go to vespers together, and go to church together. Our students took full advantage of the situation and made friendships with almost every team they met or played against.
Being the team from the farthest away, the students knew they had a lot to prove. In previous years, they heard many different things like, "Do they even know how to play basketball in Hawaii?" While this didn't fuel our teams with anger, it inspired them to prove to everyone that they belonged there. Our boys' team was able to make the third place game, where they played against many of their newly made friends from Newbury Park Academy. While the game did not turn out in our favor, the actions after the buzzer remained the same—they ran to embrace their opponents.
It was now time for the championship. At center court, our girls faced off against Redlands Adventist Academy. Instead of sitting off in a corner by themselves, the boys mixed in with teams from many other schools to help gather support for our girls. Throughout much of the game you could hear most of the gym filled with the sound of chants for HMA. Even though we were so far from home, we felt like we belonged. With the support of our fans, our girls were able to win first place and bring home the championship.
After the final buzzer sounded, PUC handed out multiple tournament awards, which many of our students received. Senior Roczen Simeona won the overall "Champion of Character" sportsmanship award, and sophomore Shynastee Ahina won the "Most Valuable Player" award. Seniors Micah Castillo and Kristoff Ramirez and sophomores Shynastee Ahina and Ariyana Simeona were awarded with the "All Tournament Team" awards.
At PUC, our HMA students were able to prove that they belonged, and they made lifelong friendships along the way. While we were all ready to return home to the warm weather, the memories that we made during that trip will last a lifetime. As we move forward and out of the pandemic, we hope to provide more and more opportunities for our student athletes to grow to their fullest potential.
____________________
By Kyle Bullington