by Marlene Rodriguez

When I'm asked why I chose to become a pastor, I'm not sure how to answer. It's not something that I chose; rather, it chose me. Up until a certain point in my life, I had never dreamed or even thought of being a minister.

I was a late bloomer in terms of knowing what I wanted to do with my life. But God is patient and longsuffering, not willing that any should perish (2 Peter 3:9). He saved me through this work. I said yes to His call because it was the only way I could thank Him for all that He has done for me. 
Regardless of where God leads me, I know that I want to be an encouragement to others.
My family came to the United States from El Salvador when I was one. My parents came from a very humble background. My mom finished high school and my dad dropped out of elementary school to work. Without much education, my dad had a desire to come to America, and when an opportunity presented itself, he leaned into it. A chance meeting with an old friend of his at a soccer game led to our family making the long drive from San Salvador to San Francisco. I mention this only to highlight what God has done for me and my family. 
I went on to get a good education. I attended San Francisco Junior Academy (SFJA) starting in the fifth grade. At the time, I was not excited about leaving public school, but SFJA really impacted my life. This tiny school was overflowing with diversity. Our teachers treated us equally, and we all had access to opportunities. They poured love and knowledge into us as though we were their own children. Our gender, ethnicity, socio-economic level, or the color of our skin were never a barrier to opportunity; we were all truly equal.
It wasn't until I left SFJA that I was told that I was different, that I was a minority, and that I was poor. I was not aware of any of these things until they were pointed out to me. My desire to go to college was questioned, and I was made to feel I could not aspire to be anything more than a fast-food employee or secretary. Those experiences crushed my confidence, and to this day I have to push past those thoughts.
Nonetheless, I graduated from Pacific Union College and earned a Master of Divinity degree from San Francisco Theological Seminary in order to pursue a career in chaplain ministries. There were too many Black and Brown people incarcerated, and I felt a call to pursue this path. But those careers were hard to come by, and I was limited as to the job opportunities that I could take because my spouse's job has him very anchored in northern California. I quickly realized chaplaincy was not going to be an option for me. My academic advisor mentioned CPE (Clinical Pastoral Education) and encouraged me to apply. God opened not one but two opportunities for me to pursue, which I did by faith.
It was through sitting and listening to people during the darkest and happiest times of their hospital experiences that I felt a pull to share Christ with them. But hospital chaplains are trained to meet people where they are and not impose our ideas or faith into our conversations. My soul longed to share the relief and assurance that is found in Jesus, but I couldn't. Sitting in the silence and shadow of death and pain without being able to offer hope has taught me much of the human experience.
But instead of being sad about it, I began to pray for opportunities to share this God that had captivated my own life and healed me from hurt, pain, and deep sadness. And every day that I prayed for that, someone asked me to tell them about my God. I was blown away!
As I was wrapping up CPE, I felt an impression so deep it was almost audible: "I want you to try a church context." My heart sank. That was such a foreign thought and was not the life I saw for myself. I never felt like I was pastor material. I eventually told my husband, who helped me process all that came with that conversation, and I decided to give it a try.
I started as a volunteer at Pleasant Hill church under Pastor Jim Lorenz, and then I became a local hire. My senior pastor and the church affirmed me and the voice and gifts that I brought to the church, but what mostly made me stick with it is how I saw God do things that I know I was not able to do on my own, like leading someone to Christ. It always blows my mind that God allows me to partner up with Him to do something as amazing as that.
In 2019, I received an official call to serve as an associate pastor under Pastor Walt Groff at Gracepoint church in Rocklin, Calif. I had been given a grant in partnership with the NAD, PAC, and NCC that would cover my salary for three years, and I was ordained in July of 2022.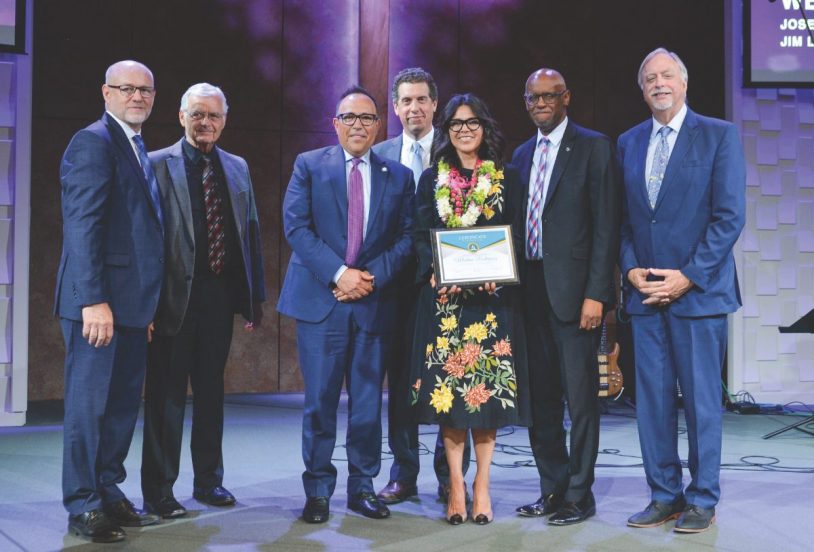 In spite of the incredible ways God has worked in my family and in my life, there have also been many challenges and much pain. In 1996, my only brother, William, was murdered at the age of 28. The trauma sent me into a depression for a few years. And while that experience broke me, what I remember the most was how God was working in and through all the pain and trauma.
But through that horrific pain, there has also been a lot of growth and learning. Prior to my brother's death, I had been reading The Desire of Ages, a book that changed my life. It led me to the Bible, and it was that Book that helped me to see God in the darkness. Prior to this, I thought that God was in my life when things were good and absent when they were not good. 
My brother's death was the beginning of a journey of understanding that the God of the mountain is also the God of the valley. God is not defined by the circumstances of my situation, nor is He confined to them. 
As cliché as it sounds, the Bible really has changed my life. I constantly mess up, but that Book also tells me that I'm no longer defined by my shortcomings but rather by what Christ has already done. As Ephesians 2:6 says, "For he raised us from the dead along with Christ and seated us with him in the heavenly realms because we are united with Christ Jesus" (NLT). I try to serve and teach others from this place of certainty because it's what has changed my life.
Regardless of where God leads me, I know that I want to be an encouragement to others. I would encourage young people, particularly young women, to pursue God's calling on their life. There will be challenges, but don't stay in that space. Pray daily for the opportunity to use those gifts, and God will put someone in your path who needs your gift. Trust that God, not an institution, will take you to the place He has prepared for you, and reach out to female clergy and others in the ministry you want to pursue to help process some of your journey.
As much as I would like to say I have a clear vision for my ministry for the next few years, I cannot say so definitively. If God shows me too much, I get overwhelmed quickly. Therefore, the way God has worked with me is by showing me small pieces at a time. If I have to offer one thought about that vision, it would be to make God so accessible in my community that they can't say no to Him. 
_____________________________
Marlene Rodriguez is the first Hispanic female pastor ordained in the Northern California Conference. She was ordained in July of 2022. She is married to Marc Woodson, NCC president. You may view photos and more details about the ordination service at: https://www.adventistfaith.com/media/recorder/marlene-rodriguez-ordained.
Seguir a Cristo sin importar el rumbo
Cuando me preguntan por qué elegí ser pastora, no estoy segura de cómo responder. No es algo que yo elegí; más bien, me eligió a mí. Hasta cierto momento de mi vida, nunca había soñado o incluso pensado en el ministerio.
Mi florecimiento fue tardío en relación con saber lo que quería hacer con mi vida. Pero Dios es paciente y sufrido, no quiere que nadie perezca (2 Pedro 3:9). Él me salvó a través de este trabajo. Dije que sí a su llamado porque era la única manera en que podía agradecerle por todo lo que él había hecho por mí.
«Sin importar a dónde Dios me guíe, sé que quiero ser un estímulo para los demás».
Mi familia llegó a los Estados Unidos desde El Salvador cuando yo tenía un año. Mis padres provenían de un entorno muy humilde. Mi mamá terminó la escuela secundaria y mi papá abandonó la escuela primaria para trabajar. Sin mucha educación, mi padre tenía el deseo de venir a Estados Unidos y cuando se presentó una oportunidad, la aprovechó. Un encuentro casual con un viejo amigo suyo en un partido de fútbol llevó a nuestra familia a hacer el largo viaje de San Salvador a San Francisco. Menciono esto solo para resaltar lo que Dios ha hecho por mí y mi familia.
Obtuve una buena educación. Asistí a San Francisco Junior Academy (SFJA) a partir del quinto grado. En ese momento, no estaba emocionada por dejar la escuela pública, pero SFJA realmente impactó mi vida. Esa pequeña escuela estaba llena de diversidad. Nuestros maestros nos trataban por igual y todos teníamos acceso a las mismas oportunidades. Derramaron amor y conocimiento en nosotros como si fuésemos sus hijos. Nuestro sexo, etnia, nivel socioeconómico o el color de nuestra piel nunca fueron una barrera; todos éramos verdaderamente iguales.
No fue hasta que dejé SFJA que me dijeron que era diferente, que era una minoría y que era pobre. No estaba al tanto de ninguna de esas cosas hasta que me las señalaron. Mi deseo de ir a un college fue cuestionado y eso me hizo sentir que no podía aspirar a ser nada más que una empleada de comida rápida o una secretaria. Esas experiencias desplomaron mi autoestima y hasta el día de hoy tengo que superar esos pensamientos.
No obstante, me gradué de Pacific Union College y obtuve una Maestría en Divinidad del San Francisco Theological Seminary para seguir una carrera en el ministerio de capellanía. Había demasiadas personas negras y latinas encarceladas, y sentí un llamado a seguir esa carrera. Pero esos puestos eran difíciles de conseguir y estaban limitados en cuanto a las oportunidades de trabajo que podía tomar porque el trabajo de mi cónyuge lo tiene muy anclado en el norte de California. Rápidamente me di cuenta de que la capellanía no iba a ser una opción para mí. Mi asesor académico mencionó CPE (Educación Pastoral Clínica) y me animó a aplicar. Dios me abrió no una, sino dos oportunidades para que las siguiera, lo cual hice por fe.
Fue a través de sentarme y escuchar a las personas durante los momentos más oscuros y felices de sus experiencias en el hospital que sentí la atracción de compartir a Cristo con ellas. Pero los capellanes de los hospitales están capacitados para conocer a las personas en su lugar y no imponer nuestras ideas o fe en nuestras conversaciones. Mi alma anhelaba compartir el alivio y la seguridad que se encuentra en Jesús, pero no podía. Sentarme en silencio a la sombra de la muerte y el dolor sin poder ofrecer esperanza me ha enseñado mucho de la experiencia humana.
Pero en lugar de sentirme triste, comencé a orar por oportunidades para compartir a este Dios que había cautivado mi vida y me había sanado del sufrimiento, el dolor y la profunda tristeza. Cada día que oraba por ello, alguien me pedía que le hablase de Dios. ¡Eso me impresionó mucho!
Mientras terminaba CPE, sentí una impresión tan profunda que era casi audible: «Quiero que lo pruebes en el contexto de la iglesia». Mi corazón se encogió. Ese era un pensamiento tan extraño y no era la vida que veía por mí. Nunca me sentí como si fuese material pastoral. Finalmente se lo conté a mi esposo, quien me ayudó a procesar el contenido de esa conversación, y decidí ponerlo a prueba.
Comencé como voluntaria en la iglesia de Pleasant Hill bajo el pastor Jim Lorenz, y después la iglesia me dio empleo. El pastor y la iglesia me afirmaron y a la voz y los dones que traje a la iglesia, pero lo que más me hizo seguir en ese sendero fue el ver a Dios hacer cosas que sé que no podía hacer por mi cuenta, como guiar a alguien a Cristo. Siempre me sorprende que Dios me permita asociarme con él para hacer algo tan asombroso.
En 2019, recibí un llamado oficial para servir como pastora asociada bajo el pastor Walt Groff en la iglesia Gracepoint en Rocklin, California. Me habían dado una subvención en asociación con NAD, PUC y NCC que cubriría mi salario durante tres años, y fui ordenada en julio de 2022.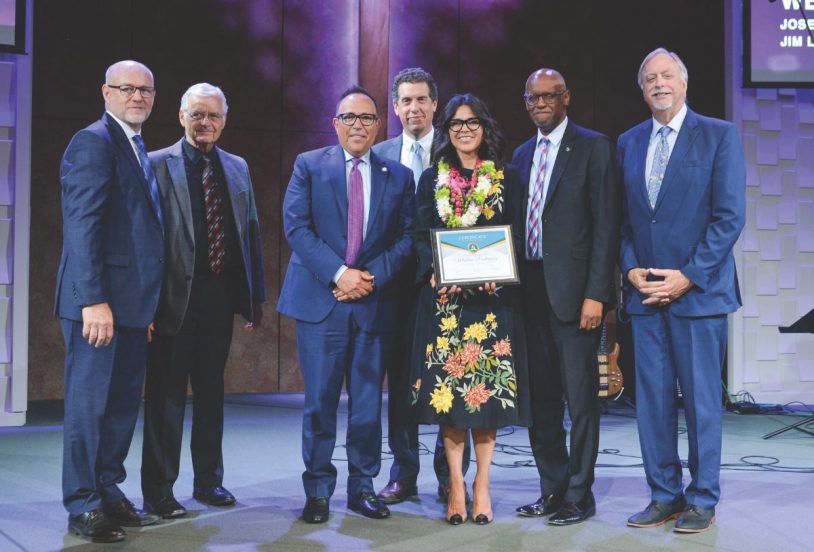 A pesar de las increíbles formas como Dios ha obrado en mi familia y en mi vida, también ha habido muchos desafíos y mucho dolor. En 1996, mi único hermano, William, fue asesinado a la edad de 28 años. El trauma me deprimió mucho durante años. Aunque esa experiencia me quebrantó, lo que más recuerdo es cómo Dios estuvo trabajando a través de todo ese dolor y trauma.
Pero a través de ese horrible dolor, también ha habido mucho crecimiento y aprendizaje. Antes de la muerte de mi hermano, había estado leyendo El deseo de todas las gentes, un libro que transformó mi vida. Me llevó a la Biblia y ese libro me ayudó a ver a Dios en la oscuridad. Antes de eso, pensaba que Dios estaba en mi vida cuando las cosas eran buenas y ausente cuando no lo eran.
La muerte de mi hermano fue el comienzo de un viaje de comprensión de que el Dios de la montaña es también el Dios del valle. Dios no está definido por las circunstancias de mi situación, ni está confinado a ellas.
Aunque suena como un cliché, la Biblia realmente ha transformado mi vida. A menudo soy un desastre, pero ese libro también me dice que ya no estoy definida por mis defectos, sino por lo que Cristo ya ha hecho. Como dice Efesios 2:6: «En unión con Cristo Jesús, Dios nos resucitó y nos hizo sentar con él en las regiones celestials» (NVI). Trato de servir y enseñar a otros desde ese punto de certidumbre porque es lo que ha transformado mi vida.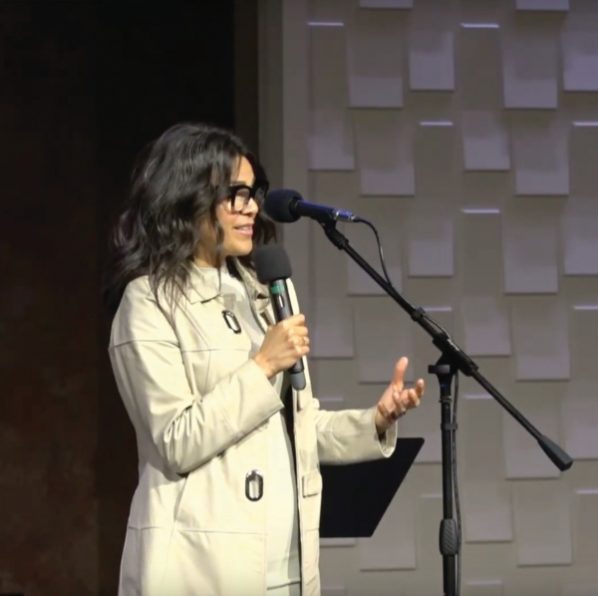 Sin importar a dónde Dios me guíe, sé que quiero ser un estímulo para los demás. Animaría a los jóvenes, especialmente a las jovencitas, a seguir el llamado de Dios en su vida. Habrá desafíos, pero no te quedes estancada. Ora diariamente por la oportunidad de usar tus dones y Dios pondrá a alguien en tu camino que necesite tu don. Confía en que Dios, no una institución, te llevará al lugar que ha preparado para ti, y acércate a las mujeres y a otras personas en el ministerio que deseas seguir para ayudarte a procesar tu derrotero.
Por mucho que me gustaría decir que tengo una visión clara para mi ministerio para los próximos años, no puedo decirlo definitivamente. Si Dios me muestra demasiado, me siento abrumada rápidamente. Por lo tanto, la forma como Dios ha trabajado conmigo es mostrándome poco a poco a la vez. Si tengo que ofrecer mi opinión sobre ese proceso, sería hacer que Dios sea tan accesible en mi comunidad que no puedan decirle no. 
_____________________________
Marlene Rodríguez es la primera pastora hispana ordenada en la Northern California Conference. Fue ordenada en julio de 2022. Está casada con Marc Woodson, presidente dela  NCC. Puede ver fotos y más detalles sobre el servicio de ordenación en: https://www.adventistfaith.com/media/recorder/marlene-rodriguez-ordained.