​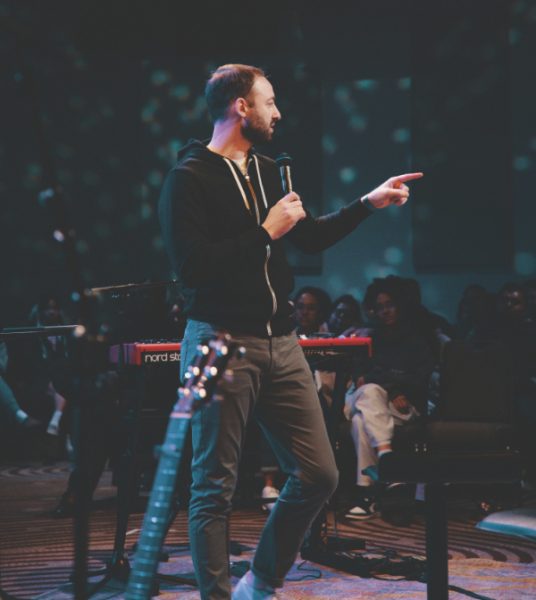 ​On February 11, 2023, Southeastern California Conference (SECC) hosted a young adult night of worship. The night of worship was a collaborative effort by several young adult departments from the conference.
The vision for this night started before the pandemic, explained Aren Rennacker, the youth and young adult director for SECC. He shared that he regularly meets with the young adult leaders to support their goals for their congregations. The idea for "Young Adult Night" originated in one of those meetings. However, when the pandemic hit, planning for the event was put on pause. 
The leaders knew they did not want this event to be virtual, so they opted to wait until it was safe to meet in person. When that time came, and planning resumed, the world had changed dramatically. Many leaders had experienced a shift in attendance and felt their young adults were struggling. They hoped that a joint worship of this caliber could jump-start some of the ministries that had tapered out during the pandemic.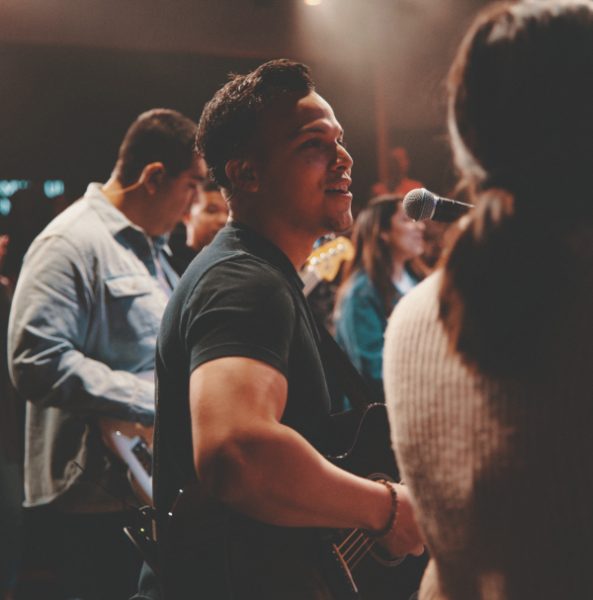 The leadership team, comprised of the planning, music, hospitality, and creative teams, wanted to create a young adult gathering tailored to address what young adults genuinely need. Rennacker explained that one of the team's primary objectives was leaning into creativity, and he shared a message about clarity. When asked why he chose that theme, he responded that he hadn't. The leaders chose the theme based on different conversations with their young adults. The team felt that a message on that topic would be meaningful. Based on the responses of the young adults, the theme was relevant to them.
Pastor Filip Milosavljevic, young adult pastor for the Loma Linda University church, said, "This young adult gathering was a huge success and met my expectations and so much more. The worship experience opened up a safe space for young adults to be themselves and see God stirring a revival."
Though this night of collaborative worship was the first of its kind, Rennacker expressed that young adult pastors across the conference hope to hold more events like this as it was clear the young adults found meaning in this space. They hope to continue planning events that foster a space for young adults to feel seen and supported by their conference and local churches. 
___________________
By Ezrica Bennett
SECC organiza primera noche para adultos jóvenes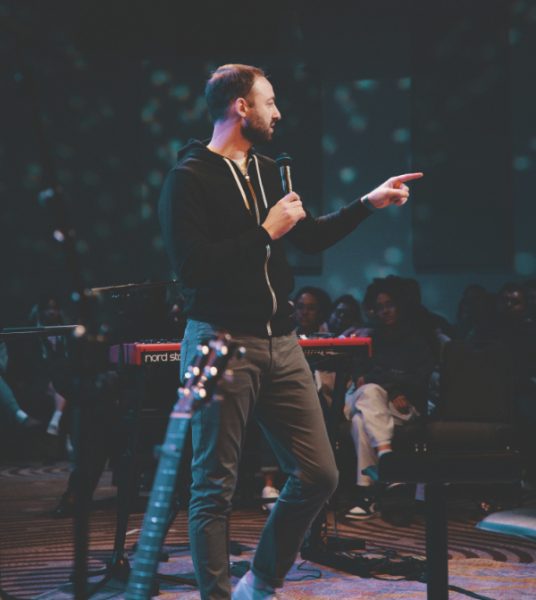 El 11 de febrero de 2023, la Southeastern California Conference (SECC) organizó una noche de adoración para jóvenes adultos. La noche de adoración fue una colaboración de varios departamentos de jóvenes de la conferencia.
La visión de esa noche comenzó antes de la pandemia, explicó Aren Rennacker, director de jóvenes de SECC. Compartió que se reúne regularmente con los líderes de jóvenes para apoyar sus metas para sus congregaciones. La idea de la «Noche de Jóvenes Adultos» se originó en una de esas reuniones. Sin embargo, cuando llegó la pandemia, la planificación del evento se tuvo que posponer. 
Los líderes sabían que no querían que ese evento fuese virtual, por lo que optaron por esperar hasta que fuese seguro reunirse en persona. Cuando llegó ese momento y se reanudó la planificación, el mundo había cambiado drásticamente. Muchos líderes habían experimentado un cambio en la asistencia y sentían que sus jóvenes estaban luchando. Esperaban que una adoración conjunta de ese calibre pudiese impulsar algunos de los ministerios que habían disminuido durante la pandemia.
El equipo de liderazgo, compuesto de planificación, música, hospitalidad y creatividad, quería crear una reunión de jóvenes adaptada para abordar lo que los jóvenes realmente necesitan. Rennacker explicó que uno de los principales objetivos era apoyarse en la creatividad y compartió un mensaje sobre la claridad. Cuando se le preguntó por qué eligió ese tema, respondió que no había sido él. Los líderes eligieron el tema basados en diferentes conversaciones con los jóvenes. El equipo consideró que un mensaje sobre ese tema sería significativo. El tema ciertamente fue relevante para ellos.
El pastor Filip Milosavljevic, pastor de jóvenes de la iglesia de Loma Linda University, dijo: «Esa reunión de jóvenes fue un gran éxito y cumplió con mis expectativas y mucho más. La experiencia de adoración abrió un espacio seguro para que los jóvenes vean a Dios en un reavivamiento».
Aunque esa noche de adoración fue la primera de su tipo, Rennacker expresó que los pastores de jóvenes de toda la conferencia esperan celebrar más eventos como ese, ya que estaba claro que los jóvenes encontraron significado en ese evento. Esperan continuar planeando eventos que fomenten un espacio para que los jóvenes adultos se sientan vistos y apoyados por su conferencia y sus iglesias. 
___________________
Por Ezrica Bennett