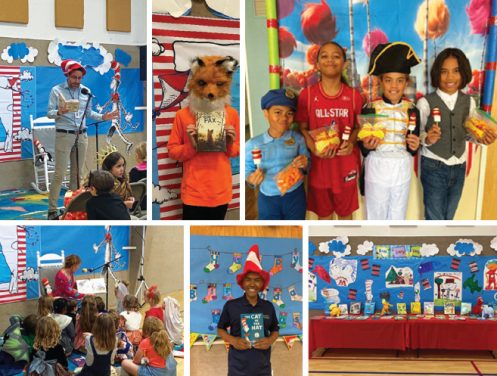 Wednesday, March 2nd, was Read Across America Day for the nation. Riverview Christian Academy (RCA) participated by celebrating reading and its foundational importance in the development of literacy. This day of recognition was established in 1997 to commemorate the contributions to children's literature made by Theodor Seuss Geisel, otherwise known as Dr. Seuss.
Riverview's celebration involved a morning filled with exciting guest readers and more! Former associate pastor of the Riverview church, Damon Washington, drove back from California to read to the excited students. Guest readers joining the event included a member of the Reno police department; Fernando Lista, NUC education superintendent; a representative from the Reno city council; former student and now local television newscaster Landon Miller; and many more.
All the RCA students in grades PK-8 were invited to come to school dressed as a character from one of their favorite books. Prizes and trophies were awarded for various categories of costumes. Selah Phillips won the trophy for the cutest costume, dressing as Cindy Lou Who from the book How the Grinch Stole Christmas, while her sister, Autumn, won the prettiest costume trophy for her Fancy Nancy look from the book Fancy Nancy. Their mother, Becky Phillips, was delighted with the event. "Such a fun and special day at their school!"
An invitation was also made to a number of homeschooled students in the Riverview church.  Larissa Beddoe was grateful to be there with her daughter, Brinley.  "Thank you for having us! It's such a great event you put on!"
Impressed with the event, and grateful for the encouragement to the students, Fernando Lista shared his appreciation to the event organizers. "Thank you for organizing such a wonderful event! It was amazing!" Lista read the book entitled A Bargain for Frances. His sons Kian and Dallan Lista enjoyed participating as Tom Brady and Pax.
God truly blessed the day with lots of participation. Two local television stations honored Riverview Christian Academy by broadcasting stories about the event (see QR codes).
____________________
By Mariann Beddoe