It is rare for a Pathfinder club to reach the division level of the Pathfinder Bible Experience (PBE) after one year. However, the Riverside Korean Pathfinder Club, Riverside United, received this honor at the annual Pathfinder Bible Experience, hosted by the North American Division in Tampa, Florida. During the event in April, the six Pathfinder club members proved their Bible proficiency through memorization and comprehension, joining 155 Pathfinder clubs from around the world to worship and flex their theological prowess. Jukes Namm, director of the Riverside Korean Pathfinder Club, reflected on the event with gratitude, saying "Despite all the turmoil in this world, there are still thousands of young people who have written God's Word in their hearts and minds."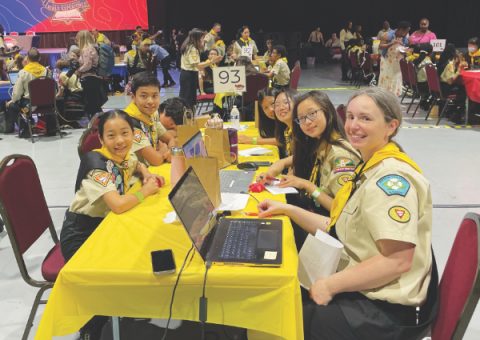 Riverside United's success was not achieved overnight. The weekend event was the culmination of three months of dedicated study and memorization. PBE is a year-long process in which teams of six Pathfinder club members study and memorize a designated book of the Bible, including assigned portions of Adventist commentary books. The competition consists of four levels of testing: county area, conference, union, and division. Though testing locations were limited as PBE reconvened after the pandemic, Riverside United persevered, with Juke Namm; Meshach Soli, SECC club ministries associate youth director; and Pastor Kevin Morris, then SCC club ministries director, collaborating to accommodate available testing areas.
During every step of the process, Riverside United was championed by the Riverside Korean church. The club has been an inspiration for many of the other members, encouraging them to also dive into the Scriptures and practice memorization. This is not the last time we will see Riverside United at PBE. When asked about their plans for the future, the club said they have hopes of entering two teams next year. 
Overall, the Pathfinder Bible Experience contained immense blessing, community, and worship. One club member, Ethan Yoon, reflected, "It was a great experience. The Pathfinder Bible Experience encouraged me because I thought I was incapable of memorizing God's Word, but as soon as I started memorizing verse by verse, they taught me how to be faithful and live out God's Word." In preparation for next year's event, we are eager to see what the next Pathfinder Bible Experience has in store.
____________________
By Nicole Dominguez
Riverside United Reaches the Division Level in Pathfinder Bible Experience
Es raro que un club de Conquistadores alcance el nivel de división de la Experiencia Bíblica de Conquistadores (PBE) en un año. Sin embargo, el Club de Conquistadores Coreanos de Riverside, Riverside United, recibió este honor en la Experiencia Bíblica Anual de Conquistadores, organizada por la División Norteamericana en Tampa, Florida. Durante el evento en abril, los seis miembros del club de Conquistadores demostraron su dominio de la Biblia a través de la memorización y la comprensión, uniéndose a 155 clubes de Conquistadores de todo el mundo para adorar y flexionar su destreza teológica. Jukes Namm, director del Club de Conquistadores Coreanos de Riverside, reflexionó sobre el evento con gratitud y dijo: «A pesar de toda la agitación en este mundo, todavía hay miles de jóvenes que han escrito la Palabra de Dios en sus corazones y sus mentes».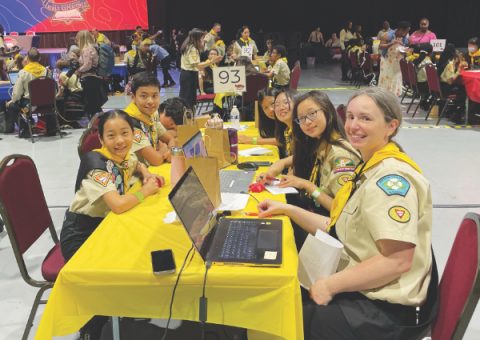 El éxito de Riverside United no se logró de la noche a la mañana. El evento del fin de semana fue la culminación de tres meses de dedicado estudio y memorización. PBE es un proceso de un año de duración en el que equipos de seis miembros de clubs de Conquistadores estudian y memorizan un libro de la Biblia, incluyendo porciones de libros de comentarios adventistas. La competencia consta de cuatro niveles de prueba: área del condado, conferencia, unión y división. Aunque los lugares de prueba eran limitados cuando PBE volvió a reunirse después de la pandemia, Riverside United perseveró, con Juke Namm, Meshach Soli, director juvenil asociado del ministerio de clubes de SECC y el pastor Kevin Morris, entonces director del ministerio de clubs de SCC, colaborando para acomodar las áreas de prueba disponibles.
Durante cada paso del proceso, Riverside United fue defendido por la iglesia coreana de Riverside. El club ha sido una inspiración para muchos de los otros miembros, alentándolos a ahondarse en las Escrituras y practicar la memorización. Esta no es la última vez que veremos a Riverside United en PBE. Cuando se le preguntó sobre sus planes para el futuro, el club dijo que tienen esperanzas de ingresar a dos equipos el próximo año. 
En general, la Experiencia Bíblica de Conquistadores contuvo una inmensa bendición, comunidad y adoración. Un miembro del club, Ethan Yoon, reflexionó: «Fue una gran experiencia. La Experiencia Bíblica de Conquistadores me animó porque pensaba que era incapaz de memorizar la Palabra de Dios, pero tan pronto como comencé a memorizar versículo por versículo, me enseñó cómo ser fiel y vivir la Palabra de Dios». En preparación para el evento del próximo año, estamos ansiosos por ver lo que la próxima Experiencia Bíblica de Conquistadores tiene reservada.
____________________
Por Nicole Domínguez