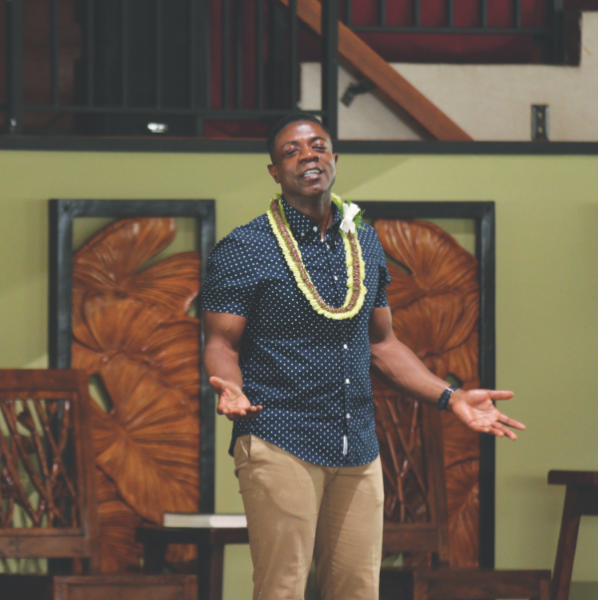 On February 25, 2023, the larger church family gathered from across Oahu for Convocation, hosted at Honolulu Central church. This event marked the resumption of Convocation, as it had been on pause due to covid for the past three years. The joy of meeting together was felt by all who attended, and "the house was packed out," with every pew filled to the edges on Sabbath.
The joy of meeting together was felt by all who attended, and "the house was packed out," with every pew filled to the edges on Sabbath.
Preparations were prayerfully and intentionally planned months in advance. Church and conference leadership plunged into the opportunity to consider all components of Convocation. It became clear that all were in support of an inter-generational worship experience, with youth and kūpuna (older persons) together. Some new ideas emerged and were successfully implemented.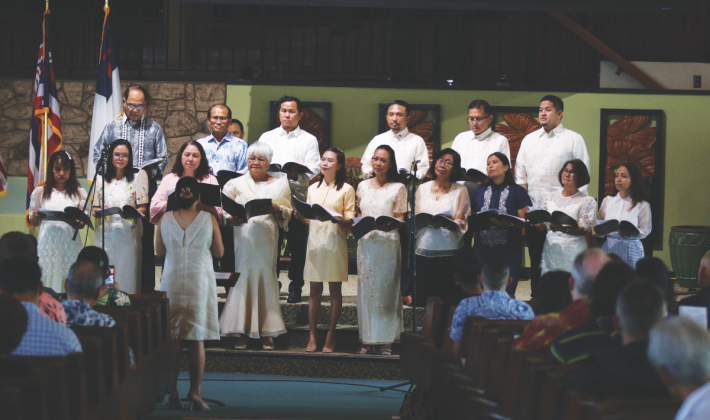 The worship team incorporated both old and new songs and hymns so that there would be something that would appeal to every age. Special musical numbers were shared throughout the services. Teachers and schools across the island were introduced and featured in short videos. Ministries were given the chance to spotlight their work, share their testimonies, and let God's miracles shine. Initiatives in health ministry, homeless ministry, and community support inspired many to see that God has been faithful to pour out His calling on His children through every circumstance and season. 
Outside of the main sanctuary, many elements came into play. The keiki (children) were engaged with songs, stories, and hands-on activities. Potluck structure was re-allocated back to local congregations, bringing a more intimate feel to gatherings spread across the campus. Following the last meeting, interactive workshops were held to train elders, church treasurers, Sabbath School teachers, deacons, and greeters. Many members stayed by and became empowered and better equipped to serve in their unique arena of ministry. 
Elder Dwain Esmond, who is an associate director and editor for the E.G. White Estate, was the speaker, and he was joined by his lovely wife and son. He brought clarity and passion to a thorough review of the three angels' messages of Revelation 14. He didn't hold back when it came to reminding us that "Fear God and give glory to Him, for the hour of His judgment has come" (Revelation 14:7, NKJV) is really a call to closeness and togetherness with our Savior.  He also emphasized how the call to come out of Babylon is a timely message of love to every person who lives on this earth. Elder Esmond culminated his message by sharing an amazing testimony of how he was able to witness to an unbeliever, and he followed that up with a moving appeal to start fresh again. Virtually the entire congregation came forward in response.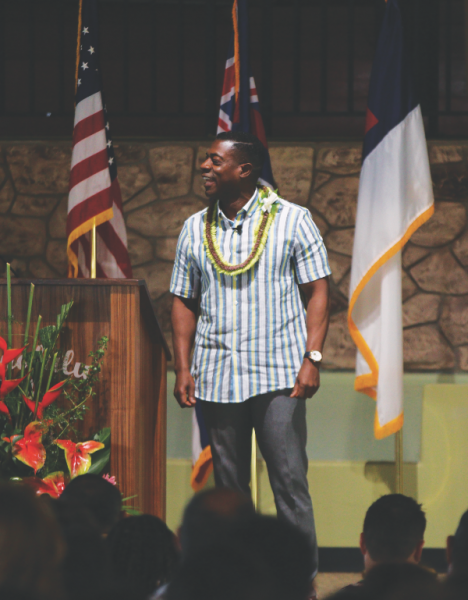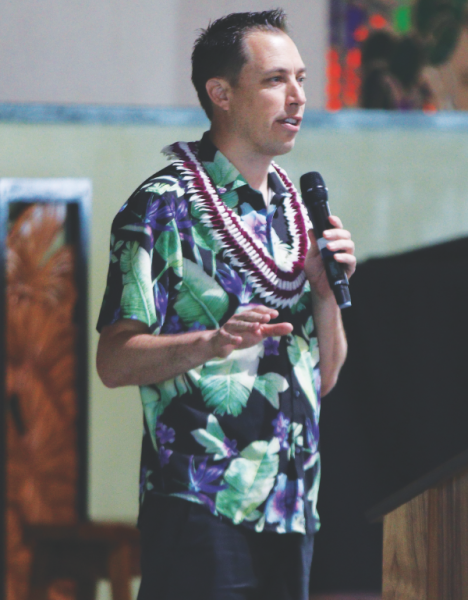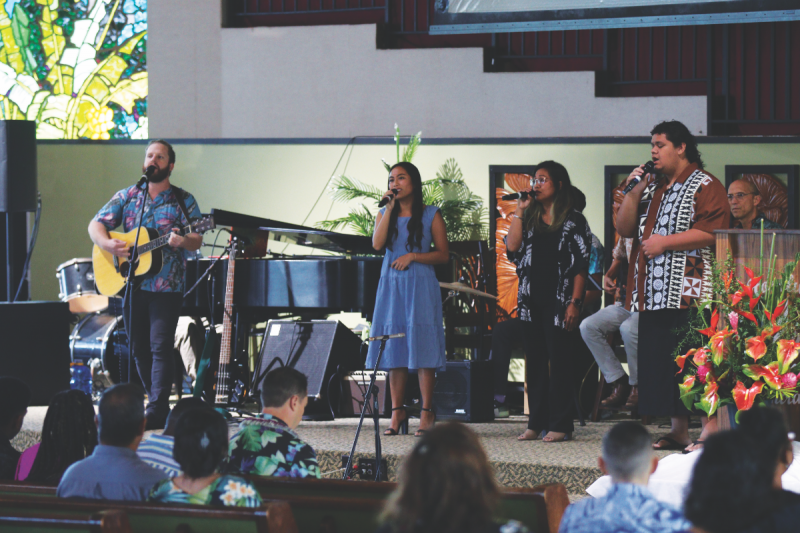 God is to be praised as young and old came away from Convocation equipped, inspired, and refreshed! 
____________________
By Jana VanDenburgh
Oahu Ohana se reune alegremente en su Convocación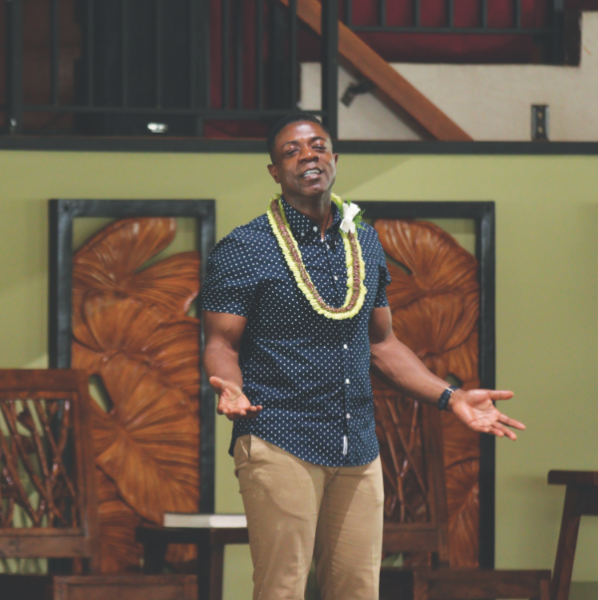 El 25 de febrero de 2023, la más grande familia de iglesia de todo Oahu se reunió para la Convocation, organizada en la iglesia central de Honolulu. Ese evento marcó la reanudación de la Convocation, ya que había estado cancelada debido a covid durante los últimos tres años. La alegría de reunirse fue sentida por todos los que asistieron, y «la casa estaba llena», el sábado con cada banco lleno hasta los bordes.
La alegría de reunirse fue sentida por todos los que asistieron, y «la casa estaba llena», el sábado con cada banco lleno hasta los bordes.
Los preparativos fueron planeados con oración e intencionalmente con meses de anticipación. Los líderes de la Iglesia y de la conferencia se sumieron en la oportunidad de considerar todos los componentes de la Convocation. Quedó claro que todos apoyaban una experiencia de adoración intergeneracional, con jóvenes y kūpuna (personas mayores) juntos. Algunas nuevas ideas surgieron y se implementaron con éxito.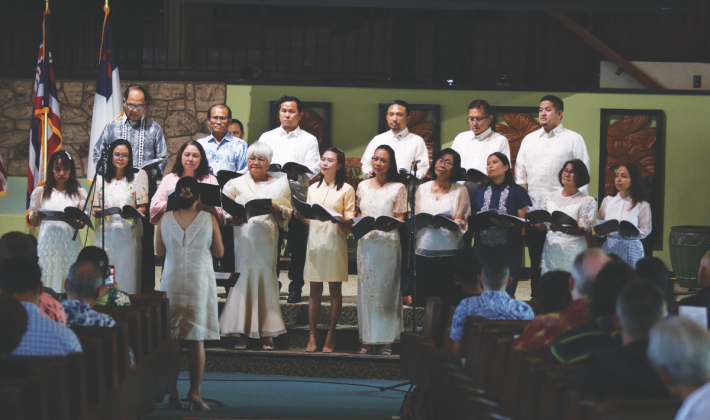 El equipo de adoración incorporó cantos e himnos antiguos y nuevos para que hubiese algo que atrajese a todas las edades. Se compartieron números musicales especiales a lo largo de los servicios. Los maestros y las escuelas de toda la isla estuvieron presentes y presentados en videos cortos. A los ministerios se les dio la oportunidad de destacar su trabajo, compartir sus testimonios y dejar brillar los milagros de Dios. Las iniciativas en el ministerio de salud, el ministerio de personas sin hogar y el apoyo comunitario inspiraron a muchos a ver que Dios ha sido fiel al impartir su llamado a sus hijos a través de cada circunstancia y ocasión. 
Fuera del santuario principal, muchos elementos entraron en juego. Los keiki (niños) se involucraron con cantos, historias y actividades prácticas. La estructura del Potluck fue reasignado a las congregaciones locales, proveyendo una sensación más íntima a las reuniones llevadas a cabo por todo el campus. Después de la última reunión, se llevaron a cabo talleres interactivos para capacitar a los ancianos, tesoreros de la iglesia, maestros de Escuela Sabática, diáconos y ujieres. Muchos miembros participaron y se equiparon mejor para servir en su ámbito de ministerio. 
El pastor Dwain Esmond, quien es director asociado y editor de E.G. White Estate, fue el orador, y se le unieron su encantadora esposa y su hijo. Trajo claridad y pasión a una revisión exhaustiva de los mensajes de los tres ángeles de Apocalipsis 14. Fue muy franco al señalar que que «temer a Dios y darle gloria, porque ha llegado la hora de su juicio» (Apocalipsis 14: 7) es realmente un llamado a la cercanía de su regreso y la necesidad de una unión estrecha con nuestro Salvador. También enfatizó cómo el llamado a salir de Babilonia es un mensaje oportuno de amor para cada persona que vive en esta tierra. El pastor Esmond culminó su mensaje compartiendo un asombroso testimonio de cómo pudo testificar a un incrédulo, y siguió con un conmovedor llamado para ser renovados. Prácticamente toda la congregación respondió pasando al frente.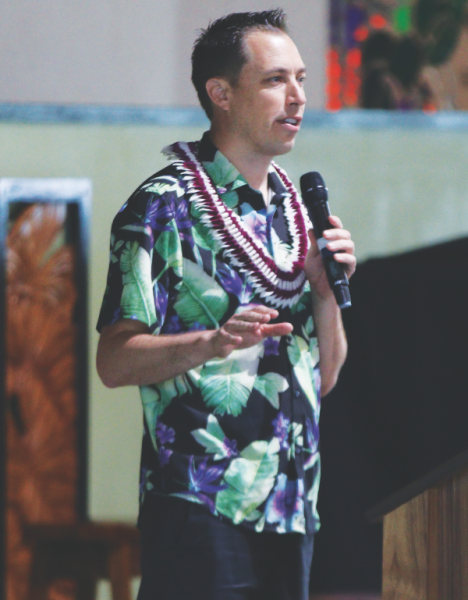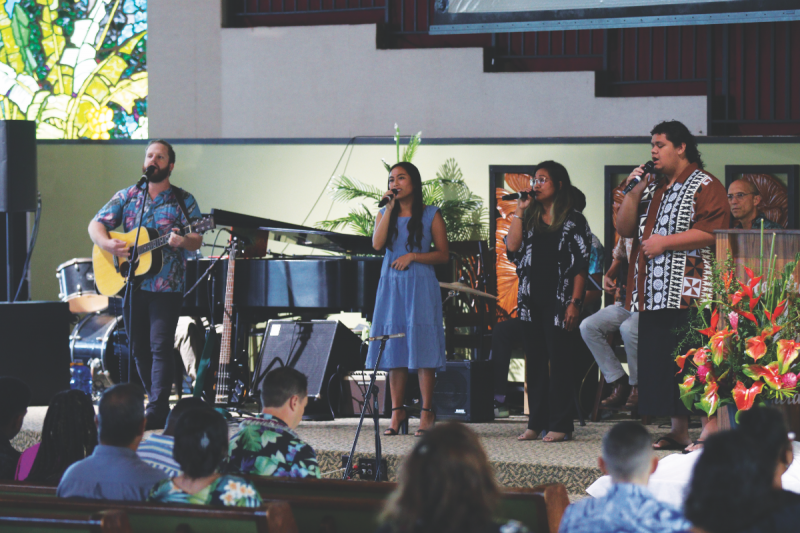 ¡Dios debe ser alabado ya que jóvenes y viejos salieron de la Convocation equipados, inspirados y renovados! 
____________________
Por Jana VanDenburgh