On the weekends of February 18 and 25, Pine Hills Academy showcased its live presentation of Les Misérables, which became a community-relevant outreach.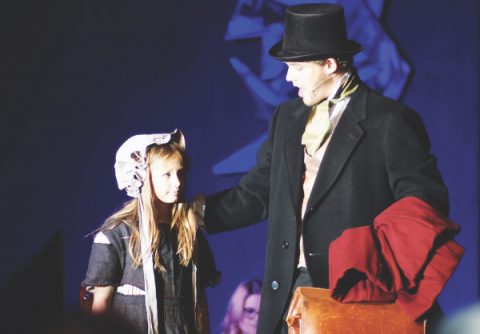 The two-weekend theatrical production marked the 10th year of drama at Pine Hills. First-time stage director and producer Lorelie Krussow stated, "Creating this production was an incredible experience that included community, parents, students, and school staff to pull off."
The famous story of ex-convict Jean Valjean's reformation in 19th-century France featured spectacular costumes created by parents Heather Wells, Deborah Price, and a cast of volunteers. According to Krussow, "The wardrobe team found or made each garment from curtains, sheets, and any source of fabric they could find."
Parent Jenell Wareham reported that 31 of the school's 36 students were involved in the production. Responsibilities included singing, acting, lighting, audio-visual, curtains, and every other job behind the scenes. Krussow, also the school's English teacher, said, "The transformation we see in students year after year after going through the play is difficult even to articulate—but what we see clearly is authentic teamwork at its peak."
Musical director Terri Taaffe was responsible for turning high school students into Broadway-esque performers. Several volunteers said, "Terri was an inspiration who motivated and inspired the students to reach deep when performing this complex musical." Students even sang a number from the play live on Sacramento's Fox40 television.
With the added attention, one community attendee with no affiliation with Pine Hills said, "I never knew this school was in my community! I couldn't believe the quality of the production I saw tonight." Reflecting on similar interactions, Krussow stated, "One lady from our community asked for a stack of flyers to distribute among her neighbors!"
Krussow concluded, "The overall production of a play builds student confidence. We see confidence transfer from drama to leadership roles they take on, their public speaking skills, and their willingness to participate upfront in their local churches."
Principal David Carreon added, "This wasn't just another theater production. It was a community builder that included musicians, volunteers, and even donors without school or church affiliation. This event truly connected Pine Hills to our community."
____________________
By Ken Miller
Musical inspira a estudiantes y comunidad
Los fines de semana del 18 y 25 de febrero, Pine Hills Academy mostró su presentación en vivo de Les Misérables, que se convirtió en un ministerio relevante para la comunidad.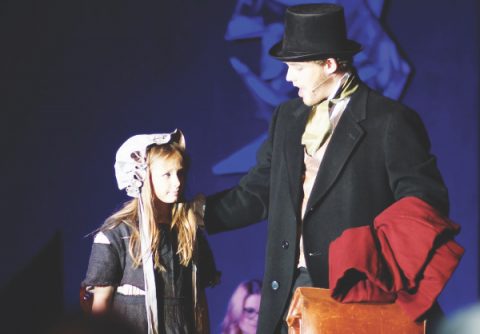 La producción teatral de dos fines de semana marcó el 10º año de drama en Pine Hills. La directora de escena y productora por primera vez, Lorelie Krussow, declaró: «Crear esa producción fue una experiencia increíble que incluyó a la comunidad, a los padres, a los estudiantes y al personal de la escuela para lograrlo».
La famosa historia de la reforma del exconvicto Jean Valjean en la Francia del siglo XIX contó con trajes espectaculares creados por Heather Wells, Deborah Price y un elenco de voluntarios. Según Krussow, «El equipo de vestuario encontró o hizo cada prenda con cortinas, sábanas y cualquier tipo de tela que pudieron encontrar».
Jenell Wareham, madre de uno de los chicos, informó que 31 de los 36 estudiantes de la escuela participaron en la producción. Las responsabilidades incluyendo cantar, actuar, iluminación, audiovisuales, cortinas y cualquier otro trabajo detrás de escena. Krussow, profesora de inglés de la escuela, dijo: «La transformación que vemos en los estudiantes año tras año después de pasar por la obra es difícil incluso de articular, pero lo que vemos claramente es un auténtico trabajo en equipo a lo máximo».
La directora musical, Terri Taaffe, fue responsable de convertir a los estudiantes de high shcool en artistas al estilo de Broadway. Varios voluntarios dijeron: «Terri fue una inspiración que motivó e inspiró a los estudiantes a profundizar la interpretación de esa compleja obra musical. Los estudiantes incluso cantaron un número de la obra en vivo en Fox40 de Sacramento».
Un asistente de la comunidad sin afiliación con Pine Hills dijo: «¡Nunca supe que esta escuela estaba en mi comunidad! No podía creer la calidad de la producción que vi esta noche».  Reflexionando sobre interacciones similares, Krussow declaró: «¡Una señora de nuestra comunidad pidió volantes para distribuir entre sus vecinos!»
Krussow concluyó: «La producción general de una obra de teatro genera confianza en los estudiantes. Vemos que la confianza se transfiere del drama a los roles de liderazgo que asumen, sus habilidades para hablar en público y su voluntad de participar en sus iglesias».
El director David Carreon agregó: «No fue solo otra producción teatral. Fue un constructor de comunidad que incluía músicos, voluntarios e incluso donantes sin afiliación escolar o religiosa. Ese evento realmente conectó a Pine Hills con nuestra comunidad».
____________________
Por Ken Miller