God could have chosen angels as His representatives here on earth. Instead, He chose to give this privilege to His human family. "Every true disciple is born into the kingdom of God as a missionary. He who drinks of the living water becomes a fountain of life.
The dictionary defines a missionary as "a person sent on a religious mission, especially one sent to promote Christianity in a foreign country." Typically, the idea of a missionary causes us to imagine travels to distant lands—with thoughts of people who are thirsting for the Word of God or a mental picture of a land set in poverty with minimal education opportunities and a comparatively substandard lifestyle.
But here is the twist—a Messianic Jewish Adventist family was called by God to leave Israel and travel to North America as missionaries to spread the gospel of Jesus Christ. 
The Netan family is 10 strong with siblings, children, in-laws, and parents ranging in age from 8 to 45. They are self-supporting missionaries here in the United States. Over the last four years they have been to 49 states, witnessing in snow, rain, and heat to bring the gospel to Americans. At one point, they were asking for prayers for their young son to have relief from the pain in his legs caused by the 21 miles of walking he had done that day, sharing the gospel with the community. 
In the Reno/Sparks area alone, the family has given away over 5,000 pieces of literature and books over the last six weeks. The majority of the publications they distribute are Steps to Christ, GLOW tracts, and Sign of the Times tracts. In Testimonies for the Church, they read: "There are whole families who might be missionaries, engaging in personal labor, toiling for the Master with busy hands and active brains, devising new methods for the success of His work" (vol. 9, p. 40). This family has taken this challenge from Ellen White to heart.
As they give testimonies in churches, their faces beam with the love and glory of God as they count it a privilege to be co-labors with Christ.
They will be heading home to Israel soon. To the Netan family, we say thank you for coming to America and bringing the gospel in a way no others can. May there be many more who catch the vision as you have. God bless you.
____________________
By Brian Bilbrey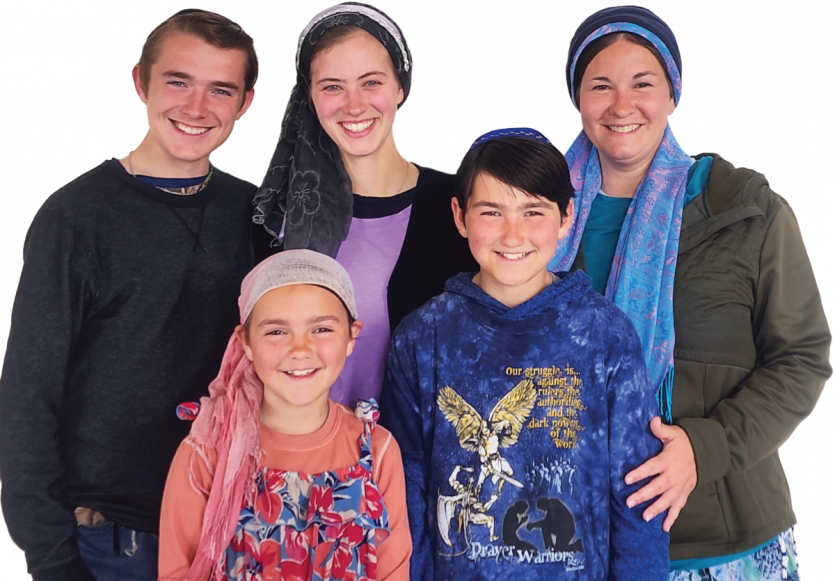 Misioneros en Nortemérica
Dios podría haber escogido ángeles como sus representantes aquí en la tierra. En cambio, Él eligió dar este privilegio a su familia humana. «Cada verdadero discípulo nace en el reino de Dios como misionero. El que bebe del agua viva, llega a ser una fuente de vida».
Un diccionario define a un misionero como «una persona enviada en una misión religiosa, especialmente una enviada para promover el cristianismo en un país extranjero». Por lo general, la idea de un misionero nos hace imaginar viajes a tierras lejanas, con la imagen mental de personas sedientas de la Palabra de Dios o una tierra en la pobreza con oportunidades mínimas de educación y un estilo de vida comparativamente deficiente.
Pero aquí está algo curioso: una familia adventista judía mesiánica fue llamada por Dios a salir de Israel y viajar a Norteamérica como misioneros para difundir el evangelio de Jesucristo. 
La familia Netan consta de 10 personas con hermanos, hijos, suegros y padres de edades comprendidas entre los 8 y los 45 años. Son misioneros autosuficientes aquí en los Estados Unidos. En los últimos cuatro años han estado en 49 estados, testificando en la nieve, la lluvia y el calor para llevar el evangelio a los estadounidenses. En un momento dado, estaban pidiendo oraciones para que su hijo pequeño tuviese alivio del dolor en sus piernas causado por haber caminado 21 millas ese día, compartiendo el evangelio con la comunidad. 
Solo en el área de Reno/Sparks, la familia ha regalado más de 5,000 piezas de literatura y libros en las últimas seis semanas. La mayoría de las publicaciones que distribuyen son Steps to Christ, tratados de GLOW y Sign of the Times. En Testimonios para la iglesia, han leído que: «Hay familias enteras que podrían ser misioneras y dedicarse a la obra personal, y trabajar por el Maestro ocupando activamente las manos y el cerebro y creando nuevos métodos para el éxito de la obra» (vol. 9, pág. 33). Esa familia ha tomado en serio ese desafío de Ellen White.
Al dar su testimonio en las iglesias, sus rostros brillan con el amor y la gloria de Dios, ya que consideran un privilegio colaborar con Cristo.
Pronto regresarán a Israel. A la familia Netan, les decimos gracias por venir a Estados Unidos y traer el evangelio de una manera que ningún otro puede hacerlo. Que haya muchos más que capten la visión como ustedes. Que Dios los bendiga.
____________________
Por Brian Bilbrey