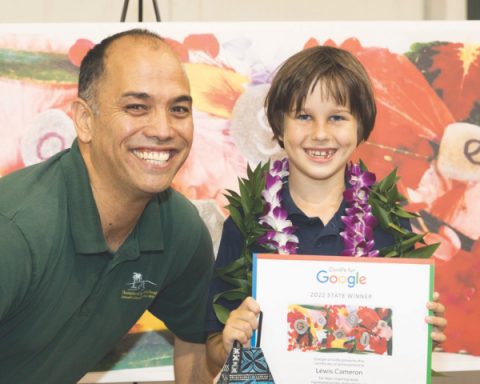 Lewis Cameron, a second-grader from Mauna Loa School in Hilo, entered this year's Doodle for Google contest. In this competition, which was open to students from kindergarten to high school, participants created their own version of the Google logo.
The theme was "I care for myself by.…" Lewis called his entry "Connect to Nature." In his logo design, he drew flowers and other plants, drawing inspiration from creation—especially his family's garden.
Lewis was one of the 54 state and U.S. territory winners. His doodle was selected from thousands of entries. A television news crew was present to film the announcement of the winner from Hawaii. The surprise on Lewis' face when he hears his name is priceless! You can watch it at https://www.youtube.com/watch?v=BQpR42aXvP8.
Congratulations to Lewis and Mauna Loa School!
Well done!
____________________
By Staff Writer