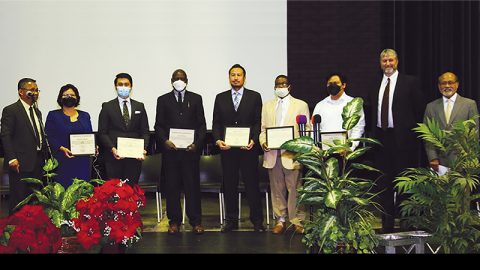 " Many Cultures, One Message, One Savior" is the motto of the Arizona Conference Multilingual Ministries department. That outlook was on display at a recent convocation that brought together 12 congregations with African, Southeast Asian, Korean, Pacific Island, and Filipino heritages. The hybrid meeting was held in the auditorium on the campus of Thunderbird Adventist Academy.

The different sounds and languages were evident from the outset of the convocation as the El Shaddai Choir opened the meeting with a "Singspiration" in their native African tongue. Opening prayer was a joint effort from the Kenyan Fellowship and Phoenix Myanmar groups. With special musical numbers provided by the Ubumwe church, the Kenyan Fellowship group, and the Chandler Fil-Am church, the atmosphere of the auditorium portrayed the diversity of the Arizona Conference.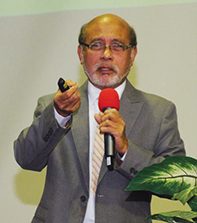 Pacific Union Conference Vice President for Asian/ Pacific Ministries VicLouis Arreola was the keynote speaker for the convocation. His message was divided into three seminar-style sections based around the theme "The Doorways of Discipleship." Beginning with "Spiritual Values of a Leadership Team," Arreola explained how to be effective church leaders, followed by ways to identify the health of your church with "Reality Check: Is Your Church Growing or Dying?" Finally, his session on "Effective Evangelistic Planning in the Local Church" provided the tools for a church to successfully begin the growth process.
A highlight of the convocation was ordaining and recognizing elders in the various churches of the ministry. Arizona Conference President Ed Keyes, Arreola, and Villamor Meriales, assistant to the president for Multilingual Ministries, took part in praying, blessing, and ordaining these individuals for their ministry in the local churches.
The opportunity for so many different cultures and styles of worship to come together in one place gives a small glimpse of what heaven might look like—people from all walks of life with one message of hope. The growth in Multilingual Ministries in the Arizona Conference is testament to the way many people of different cultures can worship together as one community.
____________________
By Jeff Rogers