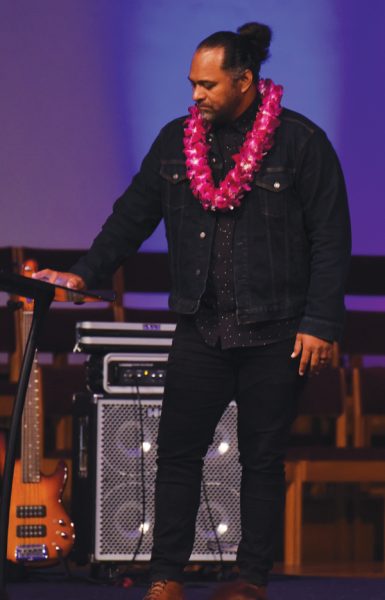 On May 21, 2022, Iki Taimi was installed as senior pastor at La Sierra University church. He is serving with his wife, Melanie, and their two children, Mikayla (9) and Lio (7), by his side. For the Taimis, family is everything, and most Friday nights they can be found having worship together with Pastor Iki's brother, sisters, parents, and all their children.
Growing up in a very spiritual and religious home, worship and prayer with his family felt as natural as breathing.
"We have always been a family that prays together," he recalled. "No matter how much stress was pressing on us, we got together and prayed, worshiped, and sang. We confessed to each other, forgave each other, walked through life's ups and downs together. It was in those worship-filled moments that I grew the most."
It was this model of family support, inclusiveness, community, and connecting with God that has guided Taimi's pastoral career.
"The church offers this great place where different generations, people groups, and families can come together to support, learn from, and grow with each other," Taimi said.
Engaging across generations is something Taimi feels very strongly about, especially in a church like La Sierra University church, where the segmentation of various ages is much more obvious than in many other churches, simply due to the nature of being a university campus-based congregation.
"Often we focus on trying to pull in more of one single group," Taimi pointed out. "But it's a huge table, and we all belong here, so let's come feast together."
In his new role, Taimi hopes to draw from his experience of eight years directing youth and young adult ministries for the Southern California Conference, as well as 16 years of pastoral work. Specifically, his aim is to continue inspiring, educating, and training the church to lean forward into the future.
As the first person of color to serve as senior pastor for La Sierra University church, Taimi said he is honored to be taking that step forward with them, and he eagerly anticipates seeing where they can go together.
"I'm looking forward to getting to know the congregation better and doing ministry together," Taimi said. "I love building relationships, and God always seems to bring around me really fantastic groups of human beings who care for God and the world. I don't know what that looks like yet here in my new role, but I'm excited about the possibilities."
____________________
By Becky St. Clair